Party crashers!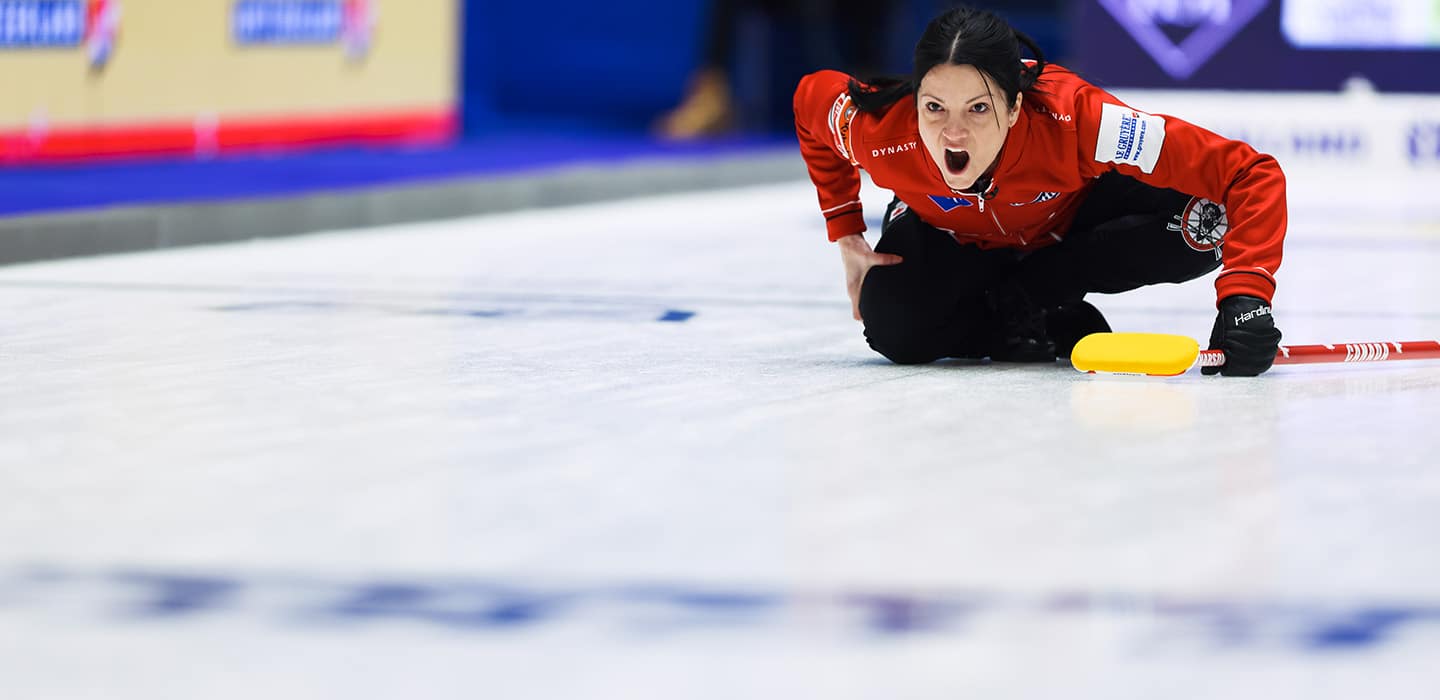 Canada's Team Einarson steals opening round-robin victory from Sweden at worlds
SANDVIKEN, Sweden — From the glittering blue venue lights to the pre-game live music at the 2023 LGT World Women's Curling Championship, presented by New Holland, Sweden was prepared to throw an outstanding party at the gigantic Goeransson Arena on Saturday night. However, Canada's Team Kerri Einarson played the role of party crashers with a come-from-behind victory against the host team skipped by Anna Hasselborg.
Canada stole points in the ninth and 10th ends to secure a 9-4 win against Sweden and picked up a momentous opening round-robin win in front of a pro-Swedish crowd.
"It's really crucial. The fans were totally on their side, but I just went with it. I sang with the crowd in my head because it was very catchy," said skip Einarson of the Swedish songs and chants. "We always want to start an event with a win and we're in good shape right now."
Trailing 4-2 after seven ends, Canada combined sensational shotmaking with pouncing on its opponent's mistakes to close the game out with seven points in the final three ends. Despite a five-point margin of victory, the game was much closer than the final score.
Leading by two, Sweden forced Canada to one point in the eighth end and looked poised to build on its lead in the ninth. However, Team Hasselborg wrecked on a guard and gave up a steal of two, which gave Canada's team from the Gimli Curling Club in Manitoba its first lead of the game since the first end.
Einarson, vice-skip Val Sweeting, second Shannon Birchard and lead Briane Harris nailed a double takeout flawlessly on their last shot in the 10th end to sit four. Team Hasselborg was again light on its draw attempt to tie the game, and Canada emerged with an opening-day win.

"I really zone in and know that if I make it it's good and if I miss it you lose. I just kind of dial in on those shots when I need them," said of Canada's final shot which led to the win.
Canada's team includes alternate Krysten Karwacki, coach Reid Carruthers and national coach Renée Sonnenberg.
Sweden (1-1) was playing its second game of the day following a win against New Zealand (0-1) this afternoon.
"That was a huge win for us. We put the pressure on them in nine and ended up stealing two. That was definitely a momentum shift. Then I had to make a couple of big ones in 10 for us to have a chance to win. I'm really happy with my team's play. We still have more adjusting to do though," Einarson said.
Canada was forced to a single in the first end and felt there was room for improvement from the get-go. The team found it in the second end when Canada landed an outstanding cross-house hit-and-roll on its last to sit behind a corner guard, forcing Sweden to a draw for one.
Sweden stole a point in the third after locking its final shot onto a pair of Canadian stones on the back button. Canada had options on its last and opted for a raise. Team Einarson couldn't hold the line and Sweden took its first lead of the game by a score of 2-1 after three ends. Canada blanked the fourth and got on the board with a single point in the fifth end by getting just enough of a roll off a hit to score.
Canada missed its opportunity to apply a little pressure on Sweden in the seventh end. Team Hasselborg rolled out on its first skip stone and Canada had an opportunity to draw into the house behind a centre guard. Canada came up short and it set up Sweden's hit for two, the first crooked number of the game. However, Canada responded in the final three ends to secure the win.
"This draw has no easy games and we start off with a few really hard ones. To get this win is really big for us," Einarson said.
Canada has two challenging games on Sunday. First, it takes on Team Tabitha Peterson of the United States (0-1) at 4 a.m. (all times ET), followed by Norway's Team Marianne Roervik (1-0) at 2 p.m.
For Team Canada updates, go to www.curling.ca. Follow us on Twitter, Instagram and Facebook.
TSN/RDS2, the official broadcast partners of Curling Canada's Season of Champions, will provide live coverage of Canada's round-robin games and all playoff games. CLICK HERE for their complete broadcast schedule.
The list of teams, schedule information and live scoring can be found on the event website.
The French version of this story will be posted as soon as possible at www.curling.ca/?lang=fr