One step closer!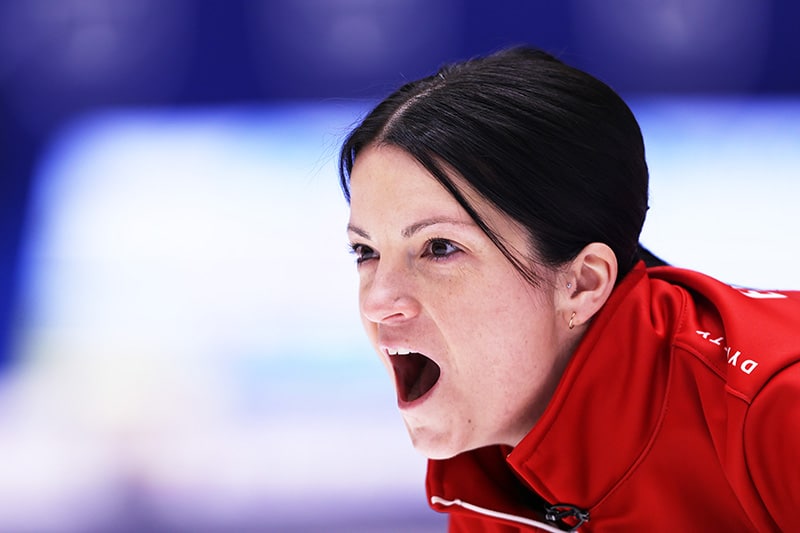 Canada hones in on playoffs following win against Turkey at world women's
SANDVIKEN, Sweden — Canada is one step closer to the playoffs at the 2023 LGT World Women's Curling Championship, presented by New Holland, following a crucial victory on the last day of the round-robin competition.
On Friday morning, Canada's Team Kerri Einarson of Gimli, Man., bested Turkey's Team Dilsat Yildiz by a score of 10-4 in eight ends at Goeransson Arena in Sandviken, Sweden.
Einarson, vice-skip Val Sweeting, second Shannon Birchard, lead Briane Harris, alternate Krysten Karwacki, coach Reid Carruthers and national coach Renée Sonnenberg improved to 7-4 with the win.
However, with numerous teams still alive for the six playoff spots, the Canadians will have to wait for at least one more draw to determine seeding and qualification officially.
Team Canada ended the game against Turkey on a high note with a run double takeout to score four. Turkey had a favourable set-up with centre guards early, but Birchard made two runbacks to clear the house with her second stones. Canada strategically arranged the house to set up the runback for the win. It was a sweet reward for an exceptionally well-played eighth end.
"Making those doubles is something we haven't been doing this week," Einarson said. "Making those feels good because it opens things up and Shannon made everything that end. It's been about staying patient and making some big shots when we needed them."
Canada intended to start the game with a blank, but its shot rock stuck in the side of the 12-foot for a single point. That did not deter Canada in the second end when it staggered some stones behind a centre guard and stole three after Turkey missed its last-shot draw.
"We kept it light after that and were okay with it," Einarson said of the intended blank. "We had some really great rock placement in the second end and put a lot of pressure on them."
Turkey (5-6) has shown exponential improvements since its 2-10 debut last season and stayed within striking distance of Canada throughout most of the game.
Turkey was forced to one in the third and ramped up the pressure in the fourth. Team Yildiz made a nice in-off double to sit two behind coverage on Turkey's last shot. Team Einarson made a draw around guards to the four-foot and scored one for a 5-1 lead.
After scoring two in the fifth, Turkey forced Canada to one in the sixth when Team Einarson could score as many as three on a runback but had to hit its target more on the nose. Canada forced Turkey to one in the seventh, which gave Canada the hammer in end eight to score four.
"We were playing really well. Even yesterday we were playing really well, it was just one bad end. When we met later, we just said we had to park that and keep going forward by minimizing some of that sloppy play in the mid-half of the game," Einarson said of bouncing back from yesterday's loss to Japan. "We're on the right track. It's nice that we can see we're getting better each game instead of going in the other direction."
Canada's last round-robin game is today at 9 a.m. ET against Denmark's Madeleine Dupont (3-7). There is no evening game for Canada in Sweden, meaning Team Einarson will need to wait for the results of the final draw before learning of its playoff position.
Switzerland's Team Silvana Tirinzoni (11-0) has locked up the first of two semifinal byes in the playoffs. Canada, Sweden's Team Anna Hasselborg (7-3) and Norway's Team Marianne Roervik (7-4) have seven wins in the standings and are in the running for the second bye—however, Sweden's on the inside track with an extra game to play.
Norway qualified for the playoffs after its win against Italy on Friday morning by virtue of its tiebreaking scenarios.
Should last-stone draw distances be needed to determine Canada's ranking, the team is in a good position. Canada has the second-best last-stone draw distance in the 13-team field at 21.64 cm, only behind Sweden.
The top six teams qualify for the playoff round, with the top two receiving a bye while the remaining four play in the first round. The medal games will be played Sunday.
For Team Canada updates, go to www.curling.ca. Follow us on Twitter, Instagram and Facebook.
TSN/RDS2, the official broadcast partners of Curling Canada's Season of Champions, will provide live coverage of Canada's round-robin games and all playoff games. CLICK HERE for their complete broadcast schedule.
The list of teams, schedule information and live scoring can be found on the event website.
The French version of this story will be posted as soon as possible at www.curling.ca/?lang=fr.