Shot at a Sweep!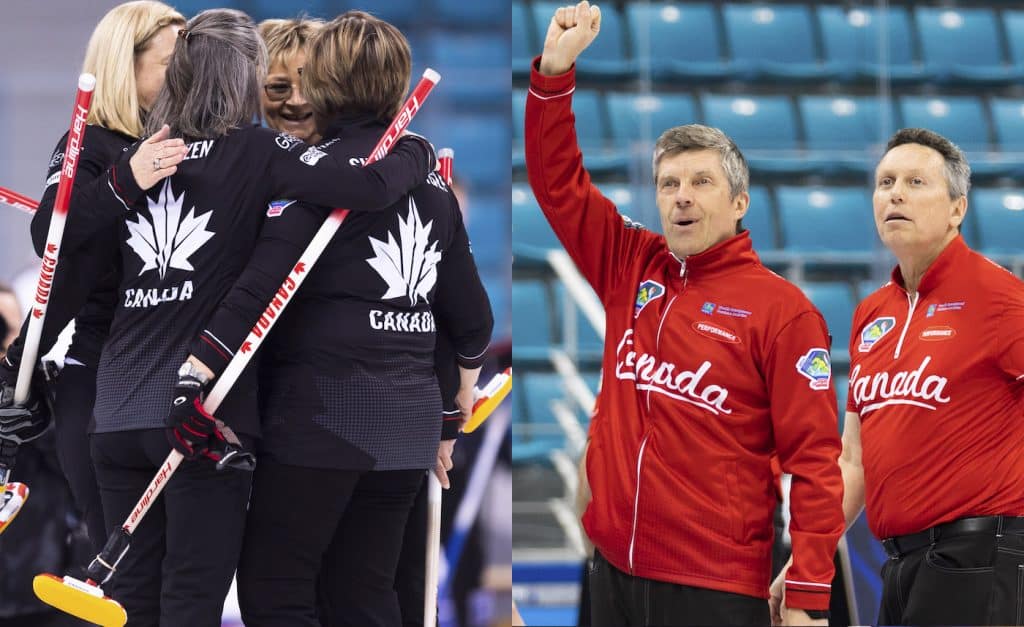 Canadian teams to play for gold at World Senior Championships
Canada's Team Sherry Anderson and Team Howard Rajala are going for gold Saturday at the 2023 World Senior Curling Championships in Gangneung, South Korea.
Both Canadian teams won semifinal showdowns Friday night at the Gangneung Hockey Centre to reach their respective championship games, and both will take on Scottish teams Saturday at 10:30 a.m. (9:30 p.m. Friday ET).
Team Anderson — rounded out by vice-skip Patty Hersikorn, second Brenda Goertzen and lead Anita Silvernagle — will try to win a record third World Senior Women's Championship after defeating Switzerland's Team Monika Gafner 7-3.
One sheet over, Team Rajala — vice-skip Rich Moffatt, second Chris Fulton, lead Paul Madden and alternate Phil Daniel complete the lineup — rolled to an 8-2 win over Team Joel Larway of the United States.
Both teams have Bill Tschirhart working as the national senior coach.
It will be the 17th time since the inception of the World Seniors in 2002 that both Canadian teams have reached the gold-medal game, and on nine previous occasions, both Canadian teams prevailed in those finals.
Team Anderson, which has won all eight of its games in Gangneung, was held to a single point with last rock in the first end, but would get better as the game went on, stealing a deuce in the second end and putting the game practically out of reach by scoring three in the fifth end.
And while Anderson wasn't pleased with her own performance, she was satisfied that her team will have a shot at gold on Saturday.
"It feels good," she said. "That was our goal, to get into that game (Saturday) and hopefully we'll come out and I'll play a little stronger."
Canada will take on a Scottish team skipped by 2002 World women's champion Jackie Lockhart, whose team also is unbeaten at the 2023 World Seniors, and dispatched Japan's Team Miyuki Kawamura 7-2 in the other semifinal.
"We're going to have to have our 'A' game, and I, especially, am going to have to have my 'A' game," said Anderson.
The Canadian team, from Saskatoon, has the opportunity to make history as the first three-time winners at the World Seniors after gold-medal triumphs in 2018 and 2019.
"I think I'm at least as thrilled, if not more thrilled, to reach the final," said Anderson, whose team fell short of the podium last year in Geneva, Switzerland. "You get a little bit older and you just wonder if you're going to get back here. We've been very, very fortunate to get here four times, and we don't take that lightly. So we want to play our best and come out and showcase what we can do."
Team Rajala, meanwhile, will take on Scotland's Graeme Connal for gold after its victory over the U.S., which capped a two-win day. Earlier, the Canadians cruised to a 9-1 win over Team Bill Gray of Ireland in the quarterfinal.
Against the U.S., Team Rajala recovered from a burned rock in the first end and Rajala made a crucial draw under pressure to score a single.
Buoyed by that narrow escape, Canada — Rajala is backed up by vice-skip Rich Moffatt, second Chris Fulton, lead Paul Madden and alternate Phil Daniel — would add a steal of two in the second end and three more in the third and never looked back.
The Canadians will carry an 8-1 overall record into the gold-medal game, in pursuit of a leading 13th World Senior Men's gold medal. The Scots, meanwhile, scraped into the playoffs with a 4-3 record and have added two more wins since then.
And for Rajala, who's getting his first chance to skip a team wearing the Maple Leaf (he was the alternate for Team Bryan Cochrane at the 2017 World Seniors), Saturday will be a thrill.
"You can see the big smile on my face," he said. "It's awesome. I mean, it's been a dream season, and I'm just so happy for the guys. It's amazing. We still have some work to do; Scotland is going to be tough. But it's going to be an awesome experience."
For Team Canada updates, go to www.curling.ca. Follow us on Twitter, Instagram and Facebook.
For the list of teams, draw information and live scoring, visit the event website, worldcurling.org/events/wscc2023/
The French version of this story will be posted as soon as possible at www.curling.ca/?lang=fr