Double gold in Gangneung!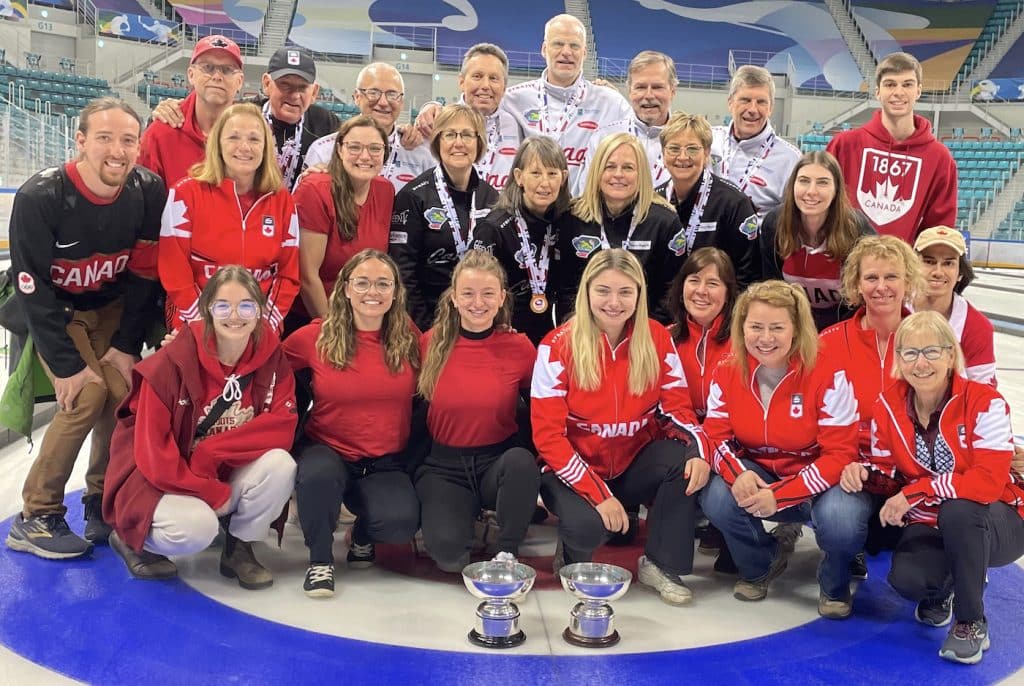 Canadian teams sweep women's and men's World Seniors gold
One team was celebrating for a third time; the other was doing it for the first time. And each celebration was followed by the playing of O Canada. It was that kind of day for Canada's teams at the 2023 World Senior Curling Championships in Gangneung, South Korea.
For the 10th time in the event's history, Canada swept the gold medals on Saturday at the Gangneung Hockey Centre.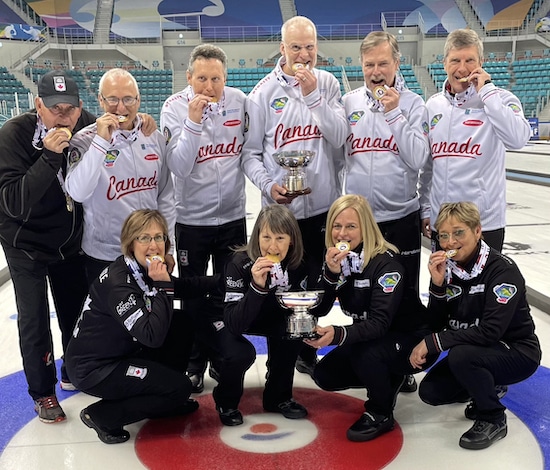 Team Howard Rajala of Ottawa captured its first world championship, downing Scotland's Team Graeme Connal 7-2, while Team Sherry Anderson of Saskatoon made history as the first three-time winners at the World Seniors, earning gold with an 8-4 triumph over Team Jackie Lockhart of Scotland.
It was the culmination of decades of knocking on the door for Rajala and vice-skip Rich Moffatt , second Chris Fulton and lead Paul Madden, and it was sweet to finally make a dream that every Canadian curler has come true: to hear the anthem played with a gold medal around your neck.
"I didn't think it would happen," said an emotional Moffatt. "We had our chance in 2017 to win Canada, and we lost a tough game (to Alberta's Wade White). I thought that was probably the end, but keep plugging away and good things will happen. You're just proud to be a Canadian and represent Canadian curling. You want to do really well. And we're thrilled that we did that."
The Canadian men — rounded out by alternate Phil Daniel and national coach Bill Tschirhart — were in solid form right from the get-go, winning the hammer and then scoring a first-end deuce, stealing one in the second and adding another deuce in the fourth and never looked back
"You curl long enough, you lose a lot of finals," said Rajala. "Both Rich and I lost two national finals (they also lost the 2013 gold-medal game to New Brunswick's Wayne Tallon) and we were wondering, are we ever gonna get there. Having the families here was just fantastic, once in a lifetime, for sure. It hasn't sunk in yet. Not yet. It's awesome."
It was the 13th time Canada has won men's gold at the World Seniors.
For Anderson, vice-skip Patty Hersikorn, second Brenda Goertzen and lead Anita Silvernagle, along with Coach Tschirhart, they were back in familiar territory, but considering the four years that had passed since their second gold medal, in 2019, Saturday's victory seemed even sweeter. The pandemic caused the cancellation of two World Senior Championships, and then last year at Geneva, Switzerland, Team Anderson failed to reach the podium.
"This one's really sweet," said Hersikorn with a smile. "We did what we came here to do. It was not easy. We had some hard-fought battles and we had some misses along the way, but we each picked each other up and we played really solid as a team. We showed a lot of resilience."
They especially did against a Scottish team skipped by Lockhart, a former world women's champion; in a battle of unbeaten teams, Canada would open the scoring with three in the second end, but the Scots roared back with two in the third and stolen points in the fourth and fifth ends to take their first lead.
But Team Anderson would finish strongly, responding with three in the sixth end and then stealing a deuce in the seventh before running Scotland out of rocks in the eighth.
"This is special," said Anderson. "You need to play well, no matter who you play against. We struggled a little bit in that game; each of us had moments, but we made the shots we needed to when it counts."
"We had the drive to do this. We wanted to come back and win again because we knew we could. Coming back the third or fourth time, you don't want to just come to play. No, you want to win, and that's the competitive nature of all of us."
It was Canada's 14th World Senior Women's gold medal.
The French version of this story will be posted as soon as possible at www.curling.ca/?lang=fr