Heading to the Hall!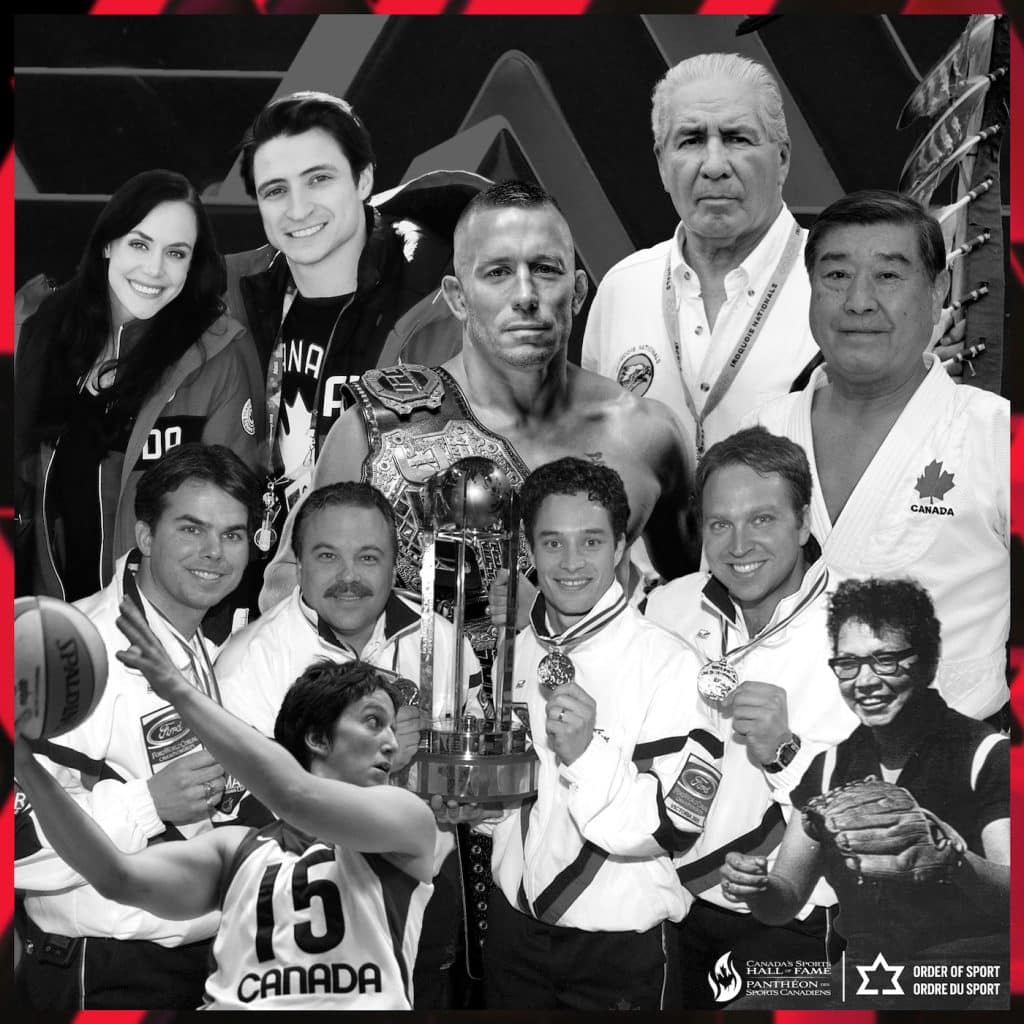 CANADA'S SPORTS HALL OF FAME ANNOUNCES 2023 CLASS
Courtesy, Canada's Sports Hall of Fame
CALGARY, Alberta – Canada's Sports Hall of Fame has revealed its Class of 2023, selected to receive the Order of Sport – Canada's highest sporting honour. This year's Class features three individual athletes, a duo and a foursome who are all renowned for their sporting accomplishments. The two builders being honoured have been widely recognized for their roles in growing and developing their respective sports.
The Class of 2023 will receive the Order of Sport and be formally inducted into Canada's Sports Hall of Fame on October 19, 2023, in Gatineau at the Canadian Museum of History during the 67th Annual Order of Sport Awards, presented by Everest. The Order of Sport is a tribute to Canadians who achieve greatness in sport and continue on to do good for their community. Their stories are shared through Canada's Sports Hall of Fame's mandate of building Canada through the transformative power of sport.
"The Class of 2023, a group of exceptional athletes and builders of sport who have conquered challenges, shattered records, and inspired generations, will officially be inducted into Canada's Sports Hall of Fame and will receive the Order of Sport on October 19, 2023.," said Cheryl Bernard, President and CEO of Canada's Sports Hall of Fame. "From the courts to the fields, from the ice to the Octagon, the Class of 2023 is a testament to the relentless pursuit of greatness."
Canada's Sports Hall of Fame 2023 Class
Phyllis Bomberry – Athlete, Softball (posthumous) – A trailblazing softball superstar, Phyllis Bomberry was born in 1942 on the Six Nations of the Grand River in southwestern Ontario. A Cayuga girl emerging as a star athlete in the 1950's, Phyllis overcame pervasive racial discrimination and postwar sexism to pursue her dreams. Recruited to play catcher for the Carpetland Senior A team in Toronto, she endured racist insults from spectators without support from teammates, coaches or league officials. Playing with courage and grit, Phyllis helped the team win two Canadian Softball Championships as Top Catcher, Top Batter and Most Valuable Player (MVP) in 1967, and Top Catcher in 1968. In 1968 Phyllis became the first female recipient of the Tom Longboat Award that recognizes outstanding Indigenous athletes, and remained one of Canada's top softball players until injury forced her retirement in 1976. Since she passed away in 2019, Phyllis Bomberry has received nationwide recognition and commemoration as a pioneering sport hero for all Canadians.
Hiroshi Nakamura – Builder, Judo – An iconic mentor, trainer and high performance coach, Hiroshi Nakamura has devoted much of his life to developing judo in Canada. Born in Tokyo in 1942, Hiroshi ranked in the top 10 Japanese judokas (by Black Belt Magazine) before injury ended his competitive career. Moving to Canada in 1968, he settled in Montreal and began building the nation's most successful competitive training program, opening the Shidokan Judo Club in 1973. Teaching self-discipline, humility, and perseverance, Sensei Nakamura has empowered generations of athletes to fulfil their potential by focusing on kaizen, or continuous improvement. Coaching Canadian judokas at 13 International Judo Federation World Championships and five Olympic Games between 1969 and 2007, Hiroshi continues to train future Olympians at the Shidokan today. Revered for his exceptional generosity and kindness, Hiroshi has also extended the benefits of judo to ordinary Canadians through programs for at-risk youth and women's self-defence classes, while supporting young judokas in need of financial assistance through the Nakamura Gill Foundation.
Oren Lyons – Builder, Lacrosse – A game-changing advocate for Indigenous rights in the world of sport and beyond, Oren Lyons was born in 1930 on the Onondaga Nation in upstate New York. An outstanding goalie, Oren was recruited to play lacrosse for Syracuse University in 1955 and became a distinguished professor in American Studies at State University of New York in Buffalo. In 1982 he set a historic precedent in lacrosse, co- founding the first (and currently only) sovereign Indigenous team competing in international sport, known today as the Haudenosaunee Nationals. An Onondaga Nation Faithkeeper, Chief of the Onondaga National Council of Chiefs of the Six Nations of the Iroquois Confederacy, and leading voice at the UN permanent Forum on Human Rights for Indigenous People, Oren continues to work tirelessly as a coach, community leader, artist, activist, and author to create a more just, empowering future for Indigenous people everywhere.
Danielle Peers – Athlete, Wheelchair Basketball – Danielle Peers' transformative impact as a para athlete, coach, activist, and artist has changed the conversation surrounding queer people and people living with disabilities in Canadian sport and culture. Danielle began playing wheelchair basketball as a young adult in Edmonton before being diagnosed with muscular dystrophy. Danielle proved their athletic prowess by winning a Bronze medal with Team Canada at the 2004 Paralympic Games and Gold at the World Championships in 2006, where they were named World's MVP. Danielle also challenged gender divisions by playing with the 2005 USA Men's Division II National Champions and becoming the first female tournament MVP of the European Men's Club Championship in 2006. Seeking to level the playing field, they tirelessly advocated for para sport organizations to remove barriers to grassroots participation, improve training for coaches, and diversify representation at the decision-making level. Since retiring from competitive sport, Danielle continues to go beyond their wins by challenging limiting discourse as an academic, community organizer, and 2SLGBTQQIA+ performance artist, whose work celebrates disability-affirmation, empowerment, and achievement by combining film and dance.
Georges St-Pierre – Athlete, Mixed Martial Arts – One of the greatest mixed martial artists of all time, Georges St-Pierre overcame a difficult childhood in the small town of Saint-Isidore, Quebec to become a global superstar with the Ultimate Fighting Championship (UFC). Bullied at school, Georges took up Kyokushin karate at the age of seven and earned his black belt by the time he was twelve. Inspired by the UFC's intense combination of wrestling, jiu-jitsu and kick boxing, Georges worked tirelessly to reach the Octagon, making his debut at UFC 46 in 2004. Nicknamed "Rush" for his speed, discipline, and technical prowess, Georges set UFC records for most wins in title fights (13), most successful welterweight title defenses (9), and most welterweight division wins (19). Retiring from mixed martial arts in 2019 with an unprecedented 26-2 UFC record, Georges has remained passionate about helping young people overcome adversity while working to support anti-bullying initiatives and promote youth sports through his charity, the Georges StPierre Foundation.
Tessa Virtue & Scott Moir – Athletes, Figure Skating – Considered one of the greatest ice dance teams of all time, Tessa Virtue and Scott Moir captivated audiences with a dazzling combination of athleticism and artistry to become the most decorated ice dancers in the world. First collaborating in 1997 when Tessa was seven years old and Scott was nine, their commitment to excellence and undeniable on-ice chemistry raised the pair to breathtaking heights. Between 2008 and 2019 Scott and Tessa took home a record-setting five Olympic medals, three World Championships medals, and eight Canadian National Championship medals. Growing through failure as well as success, the duo continually pushed boundaries with innovative choreography that gave their performances unique emotional depth. Tessa and Scott have continued to inspire the next generation through coaching, mentorship, ambassadorship, and speaking. Tessa, having completed an MBA and a Master of Applied Positive Psychology, is an executive advisor at Deloitte, helping to unlock the potential of the Canadian workforce and promote sustainable high-performance strategies. Scott is head coach and managing director of the Ice Academy of Montreal's satellite program in Ontario.
Ferbey Team: Randy Ferbey; David Nedohin; Scott Pfeifer; Marcel Rocque – Athletes, Curling – One of the most successful teams in the history of Canadian curling, the Ferbey Four were formed by Edmonton skip Randy Ferbey, third David Nedohin, second Scott Pfeifer, and lead Marcel Rocque in 1999. A competitive juggernaut, the Ferbey Four won three World Men's Curling Championships between 2002 and 2006, and four Canadian Men's Curling Championships in five consecutive Brier appearances between 2001 and 2005. Balancing aggressive shot calling and dominant play with genuine camaraderie on and off the ice, the Ferbey Four were fan favourites who helped set multiple Brier attendance records at the height of their success. The legendary foursome also innovated new strategies that left an indelible mark on curling's development around the world, including the numbered-zone system to communicate weight for draw shots. True icons of the Roaring Game, after disbanding in 2010 the Ferbey Four have continued to inspire generations of competitive curlers thanks to their inimitable team ethic, creativity and masterful play.