Yukon Strong!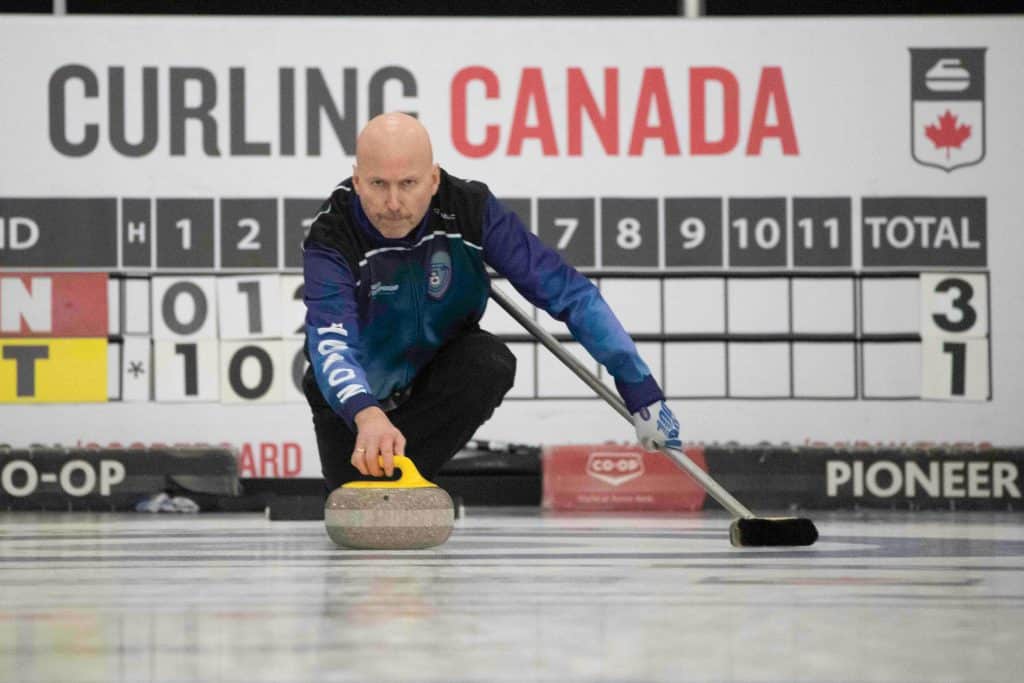 The Yukon stuns Northern Ontario 5-4 for first win at 2023 Canadian Mixed Curling Championship
After four draws of play at the 2023 Canadian Mixed Curling Championship from the Swift Current Curling Club in Saskatchewan, it was never a question of if the Yukon would win its first match, but more a matter of when.
The Yukon, composed of skip Terry Miller, vice-skip Laini Klassen, second Peter Andersen and lead Laura Wilson of the Whitehorse Curling Club, have looked increasingly strong with each match despite opening its 2023 Canadian mixed campaign with an 0-2 record, dropping an 8-4 decision to Québec's Pierre-Luc Morrisette (1-1; Jacques-Cartier) and succumbing to Ontario's Scott McDonald 8-5 (1-0; St. Thomas) on Sunday. 
Monday was a new day, however. The Yukon saved its biggest giant slaying feat for the top of the week, stunning former world mixed silver medallist and last year's Canadian mixed runner up Trevor Bonot of Northern Ontario (1-1; Thunder Bay) by a 5-4 score.
The Yukon is undeniably surging after back-to-back-to-back solid performances, but skip Terry Miller feels there's another gear in his engine.
"It wasn't my A game, but it was good enough. We definitely got some breaks that game," said Miller. "They're a great team, but they opened up the door for us a couple of times and we took advantage of it."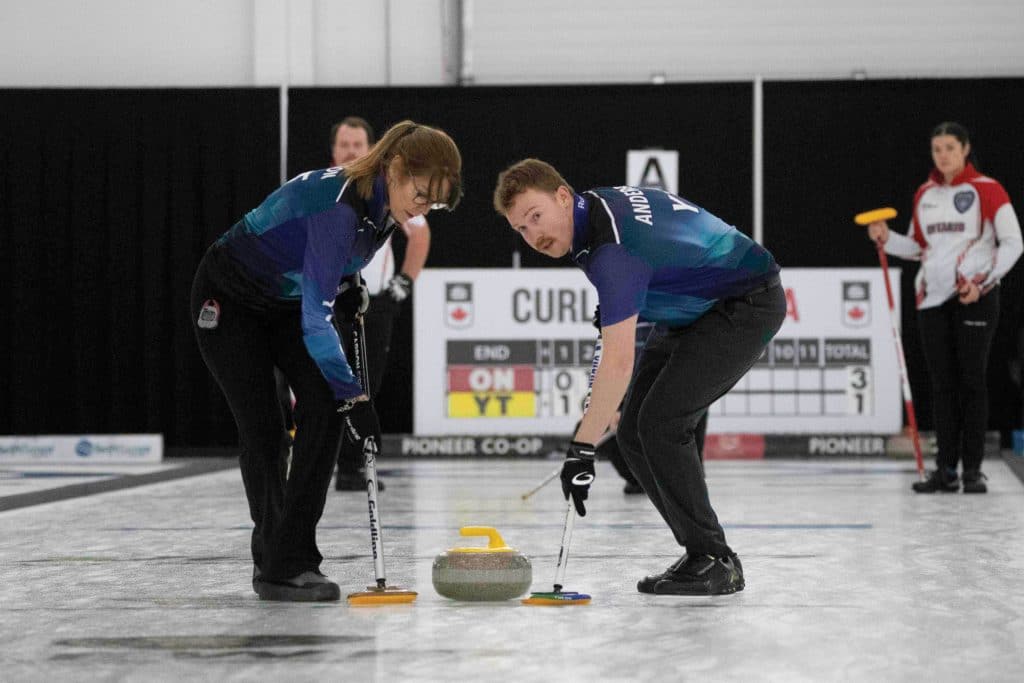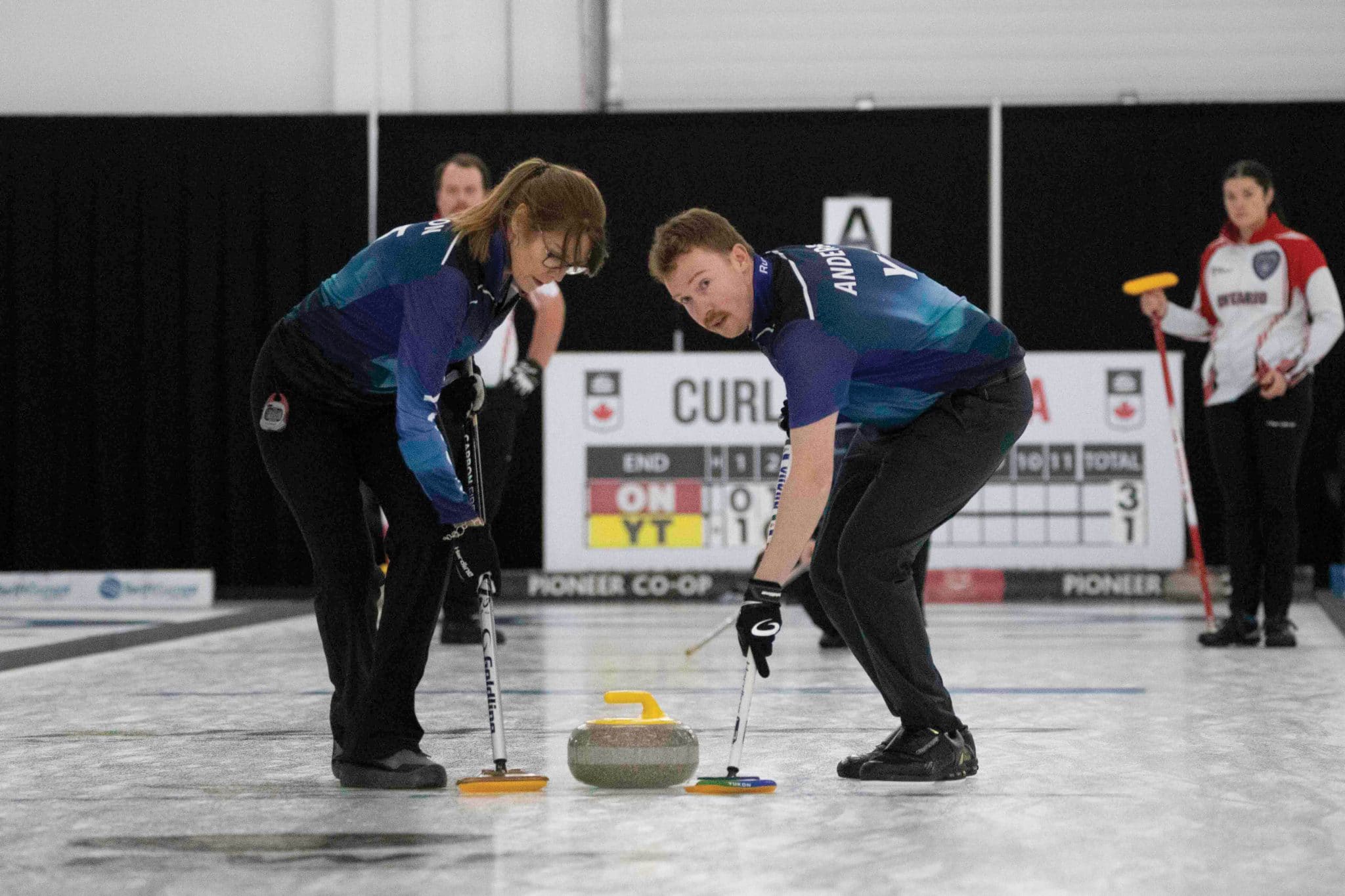 This iteration of Team Yukon has already represented the territory at the Canadian mixed in both 2021 and 2022, even defeating the eventual 2023 World Mixed Curling Championship bronze medallist Félix Asselin 8-0 in round robin play at last year's Canadian mixed championship in Prince Albert, Sask.
Miller says there are congruencies between today's win and the round robin win in Prince Albert, with vice-skip Laini Klassen's performance standing out above the rest.
"It was the same last year when we played against Québec," said Miller. "Laini was on fire. Same thing today. She made a couple of great shots and that was the difference in the game."
Klassen echoed Millers sentiment about her performance.
"It was a good game. I felt like I had a really good game myself," Klassen said. "Feels really to get a win against such a strong team."
Speaking on the momentum that the Yukon is currently harnessing, Klassen says she'll look to stay in the groove to win tough games.
"This is our third game and every game, we've been in it," said Klassen. "All three were against strong opposition. We're just feeling it. I feel like I'm feeling it. It definitely makes you hope for some more wins."
More wins are certainly in the cards for the Yukon at Canadian championships in 2023 as Miller will be representing the territory at the upcoming Everest Men's Club Championship at Winnipeg followed by the Everest Canadian Senior Men's Curling Championship at Vernon, British Columbia. Klassen will also sport Yukon colours once more at the Everest Women's Club Championship.
Three national championships in one season is enough to put the hurt on any athlete, but the 61 year old Miller says the sport keeps him young.
"The more curling, the better. I'm loving it," Miller said. "When I step out on the ice, I feel like I'm in my twenties. It's like a fountain of youth playing out there."
In additional action Monday afternoon, Manitoba's Kyle Kurz (2-0; Winnipeg) put a 12-1 hurting on Nunavut's Peter Van Strien (0-3; Iqaluit) while British Columbia's Cameron de Jong (1-1; Victoria) earned its first win over Newfoundland and Labrador's Keith Ryan (0-2; Labrador City) by a 10-2 score. Saskatchewan's Shaun Meachem (1-1; Swift Current) also joined the win column besting Prince Edward Island's Tyler Smith (0-2; Crapaud) 7-3.
Action at the 2023 Canadian Mixed Curling Championship continues Monday evening at 6 p.m. (all times Central).
Live-streaming coverage of the 2023 Canadian Mixed Curling Championship will be available on Curling Canada's streaming platform, Curling Canada +. All sheets will be available to stream, with select draws to feature commentary.
For the event, team and draw information, visit the event website.
Draws and live scores are available on Curling Canada's scores page.