Team Canada bounces back with Ford Worlds win
Canada and Norway woke up on opposite sides of the emotional bed Wednesday morning but both teams put Tuesday's head-to-head clash behind them and stormed to Draw 11 victories that kept them atop the standings at the Ford World Men's Curling Championship.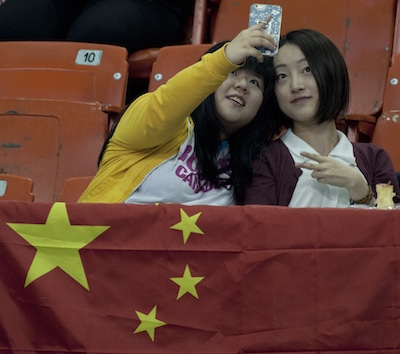 "For the championship we just want to learn from all the great teams playing here. We are a young team so gaining experience is important. This is our first year playing as a team at this level and we are very proud to be here. We just want to learn from the other teams and show how well we can play." Yusuke Morozumi of Japan (4-3), Jiří Snítil of Czech Republic (3-4), Aku Kauiste of Finland (3-4) and Scotland had the morning byes. The 2015 Ford Worlds continue on Wednesday with draws 2:30 and 7:30 p.m. (all times Atlantic). All Canadian games and the playoff rounds for the 2015 Ford World Men's Curling Championship will be televised on TSN/RDS2, the official broadcasting partner of the Season of Champions. The full broadcast schedule is available at
https://www.tsn.ca/2014-15-tsn-curling-broadcast-schedule-1.95515
. Live scoring is available at:
https://www.curling.ca/scoreboard/#/competitions/1670-2015-ford-world-men-s-curling-championship/scoreboard
To purchase tickets to the 2015 Ford World Men's Curling Championship, go to:
https://www.curling.ca/2015worldmen-en/tickets/
Pat Simmons and his Canadian mates shook off the emotional 9-3 loss to Norway and showed they are right back on track with a methodical 8-4, eight-end dismantling of Marc Pfister of Switzerland. '"That didn't sit well with us last night. We wanted to make sure we came out strong in that game and it felt great, we were energized and it was a good team game," third John Morris said of the win. "We've played this game long enough to know that a game like last night you can't let it affect you in a negative way. You can use it to motivate you but you can't let it affect you negatively. We had a good night's sleep, fuelled ourselves well this morning and felt good coming into the game. We had jump in our step." Simmons, Morris, second Carter Rycroft, lead Nolan Thiessen, alternate Tom Sallows and coaches Earle Morris and Rick Lang put pressure on Pfister and his mates right off the bat, stealing singles in the first two ends, scoring three in the fourth and stealing two more in the fifth. "We put the heat on these guys early and had a lot of pressure on the skip," said Morris. "That's the games you want, when all the pressure is on the other skip, rather than your skip. A real good team game and I'm proud of us for bouncing back strong the way we did." The win put Canada and Norway, both at 7-1, two wins ahead of the third-place Sweden and Switzerland. Canada, having beaten all of the three-loss teams (Sweden, Switzerland, Japan), can clinch a berth in the Page playoff 1-2 game Friday night with a win Wednesday night, 7:30 p.m. AT, over Scotland's Ewan MacDonald (2-5). "That was a big game because now we're two games ahead of third place and we've beaten both third- and fourth- place so it bodes well," said Morris. "If we can get a couple more wins here we're going to be in that one-two game and that was our goal at the start of the week." One sheet over at the Scotiabank Centre in Halifax Thomas Ulsrud of Norway continued his suddenly red-hot shooting in a 9-2, six-end win over Joel Retornaz of Italy. "We got a good start and picked up from where we left off yesterday against Canada," Ulsrud said after he, third Torger Nergård, second Christoffer Svae, lead Håvard Vad Petersson and alternate Markus Høiberg and coach Pål Truisen scored deuces in the first, third and fourth ends and three in the sixth. "We have a lot of confidence in the ice and it's really coming together right now. "The only thing I'm worried about right now is the guys peaking too early in the week, so we just have to keep it going. Curling is a sport of confidence – as soon as you get some good shots in there you get more confidence." In the other morning games Niklas Edin of Sweden scored threes in the third and sixth ends and five in the eight to beat John Shuster of the U.S. 11-6 and Jialiang Zang of China got deuces in four and seven to beat Evgeny Arkhipov of Russia 8-3. "For this game we played as a real team," said Zang. "Everyone undertook their responsibilities throughout the team, focusing on the finer details of our play.