Finals bound!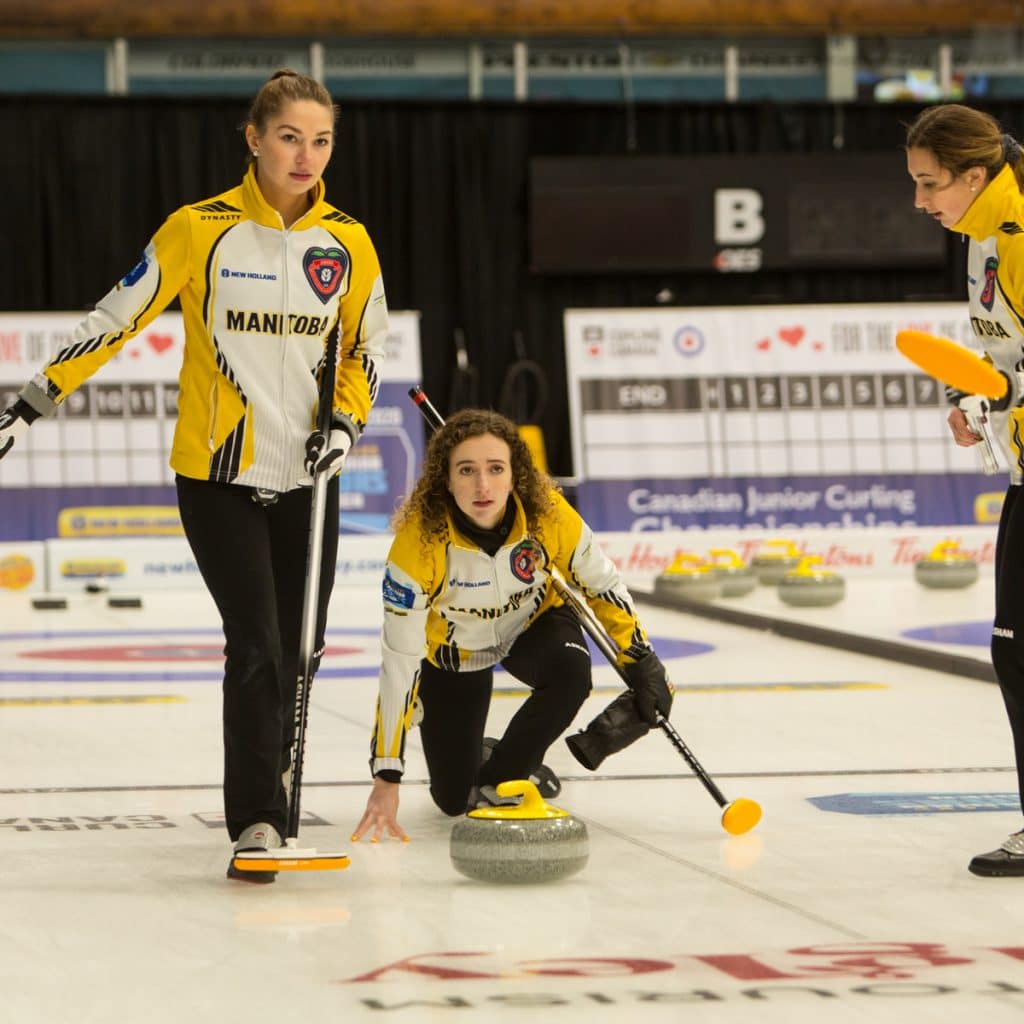 Manitoba punches ticket to finals at 2020 new holland canadian curling championships
For Manitoba's Mackenzie Zacharias, winning is simply part of the process.

"We've played our game so far at this event. That's what we hoped to do. It's been working so we'll continue to do that," said skip Mackenzie Zacharias.
Her and her Altona Curling Club rink of third Karlee Burgess, second Emily Zacharias, lead Lauren Lenentine, and coach Sheldon Zacharias have their eyes set on a Gold Medal as they currently boast the only undefeated record at the 2020 New Holland Canadian Junior Championships.
The foursome continue to reap what they sow: a perfect 8-0 record after the final stones of their Draw 16 match-up came to rest seeing them defeat Saskatchewan's Ashley Thevenot (4-4; Saskatoon) by a score of 10-4.
They're now guaranteed a spot in the 2020 New Holland Canadian Junior Championship Gold Medal match. Nova Scotia's Taylour Stevens (6-2; Halifax) is the only rink who can potentially tie their record with two games remaining in the Championship Round. Manitoba defeated Nova Scotia in Draw 8 by a score of 7-6, negating the need for a potential tie-breaker and securing Manitoba's finals berth.
"There was definitely a little bit of pressure to get back to the New Holland Canadian Juniors" said second Emily Zacharias, who was a member of the Manitoba women's representative at the 2019 New Holland Canadian Juniors. "We've been taking it one rock at a time and we've found our groove."
And what a grove it is – Zacharias' rink hasn't lost a game in nearly a month after steam-rolling the Manitoba Junior provincial play-downs with a 9-0 record.
With experience comes the expectation of strong performances, and the Zacharias rink is laden with it.
Featuring a few roster tweaks during the off-season, they've added some serious firepower to their lineup. Third Karlee Burgess, who is a new addition to this Manitoba team and has previously competed in this event representing Nova Scotia, boasts a fully packed trophy case of World Junior medals including a 2018 World Junior Gold with Kaitlyn Jones' rink and a 2019 World Junior Silver as an alternate for B.C.'s Selena Sturmay.
"It's different for Lauren and I – she's originally from P.E.I. and I'm from Nova Scotia so the Manitoba provincial were a little different. There a ton of teams and you have to beat them all." said Burgess.
Her cousin, Lyndsey Burgess, a former team mate in Nova Scotia, is also competing at this event for Nova Scotia's Taylour Stevens.
Lauren Lenentine is also a new addition to the team who also brings a wealth of experience to Zacharias rink. She was the alternate for the 2018 World Junior Gold Medallists team Kaitlyn Jones and a 2019 Canadian Junior Bronze Medallist representing Nova Scotia.
Unblemished and unbeaten thus far, lead Lauren Lenentine feels they'll be ready when the Gold Medal match arrives.
"We're still trying to stay in the moment. We've got two more games left so we can't look too far ahead. We're taking it one rock at a time." said Lenentine.
In other women's Championship Round action, New Brunswick's Melodie Forsythe (5-3; Moncton) is charging up the leaderboard with another win, downing Alberta's Abby Marks (5-2; Edmonton) 6-5. Ontario's Sierra Sutherland (5-3; Ottawa) kept pace defeating Nova Scotia's Taylour Stevens (6-2; Halifax) by a score of 7-5.
In women's seeding pool play, Northern Ontario's Kira Brunton (4-4; Sudbury) defeated the Northwest Territories' Tyanna Banks (2-6; Inuvik) 10-1 in eight ends.
Men's Championship Round action saw Manitoba 1's Brett Walter (4-4; Winnipeg) fall to Saskatchewan's Rylan Kleiter (7-1; Saskatoon) 7-6. Newfoundand and Labrador's Daniel Bruce (6-2; St. John's) defeated Prince Edward Island's Tyler Smith (5-3; Montague) by a score of 8-3. British Columbia 1's Hayato Sato (4-4; New Westminster) was felled by Manitoba 2's Jacques Gauthier (7-1; Winnipeg) 5-4.
The 2020 New Holland Canadian Junior Championships resume for Draw 17 action live from the George Preston Recreation Centre in the Township of Langley, B.C. at 2 p.m. PT.