Tie Breakers!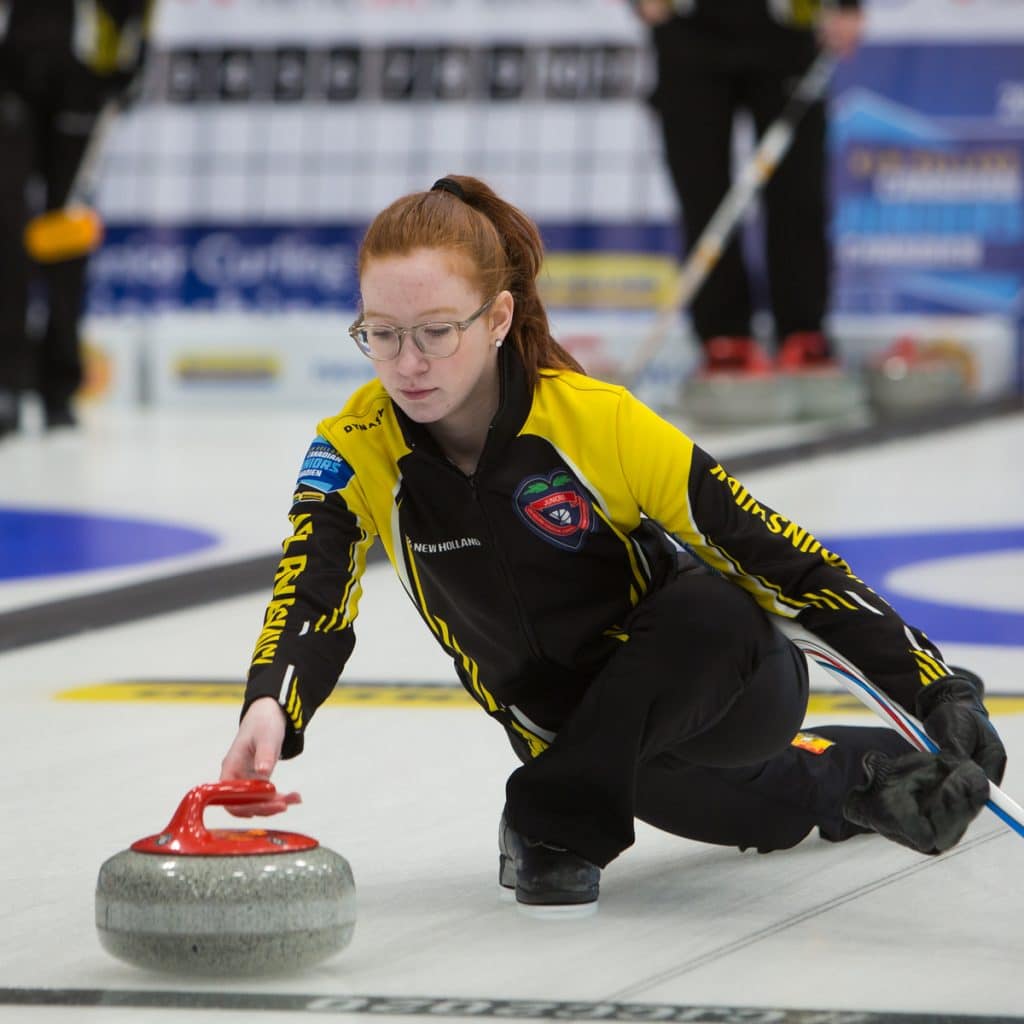 New Brunswick in the middle of tiebreaker situation
Draw 19 at the 2020 New Holland Canadian Junior Championships live from the George Preston Recreation Centre in the Township of Langley proved to be a pivotal one for New Brunswick's Melodie Forsythe.
The now 6-4 Curl Moncton team of skip Melodie Forsythe, third Carly Smith, second Deanna MacDonald, lead/alternate Caylee Smith, lead/alternate Vanessa Roy and coach Tim Forsythe staved off elimination, downing Ontario's Sierra Sutherland (5-5; Ottawa) 7-6 in an extra end.
The loss eliminates Ontario from playoff contention while the New Brunswick win grants them a tiebreaker, one win shy of a semifinal match-up versus Nova Scotia's Taylour Stevens (8-2; Halifax).
The Draw 19 victory did not come easy for New Brunswick. Forsythe and company orchestrated a series of steals of one in the fifth, sixth, and seventh ends to open a lead, but Ontario would quickly close the gap with a three of their own in the eighth. The two teams would then trade singles in the ninth and tenth, setting up the extra end.
With two clutch tick shots made by lead Caylee Smith keeping the end clean, Forsythe was left with a draw for the victory with her final stone.
"I felt really confident throwing my draw in the extra. I had my draw weight the whole game and I had not missed a draw yet that game. I was still really nervous though." said Forsythe.
Third Carly Smith credits relentless pressure against Ontario for the victory.
"We changed our strategy this game to keep play in the middle of the sheet. We wanted to be shot rock the entire time." said Smith.
While New Brunswick will prepare for their 11 a.m. (all times Pacific) tiebreaker on Saturday, a second tiebreaker below them between Alberta's Abby Marks (6-4; Edmonton) and Québec Noémie Gauthier (6-4; Kenogami) will determine who Forsythe's opponent. New Brunswick earned the higher tiebreaker slot by defeating both Alberta in Draw 16 and Québec in Draw 9.
Manitoba's Mackenzie Zacharias (10-0; Altona) awaits all challengers in the Gold Medal match; a berth she earned by being the top seeded team at the conclusion of the Championship Round.
The Alberta versus Québec tiebreaker will take place Friday at 2 p.m with New Brunswick awaiting the winner.
The women's semifinal will be at 4 p.m. Saturday and Gold Medal match at 9 a.m. on Sunday.
On the men's side, the playoff situation is more cut and dried with Manitoba 2's Jacques Gauthier (9-1; Winnipeg) defeating Saskatchewan's Rylan Kleiter (7-3; Saskatoon) by a score of 6-5 in Draw 19, earning him the top seed in the Championship Round and a berth in the Gold Medal match at 2 p.m. on Sunday.
The men's semifinal will feature Saskatchewan's Rylan Kleiter versus Newfoundland and Labrador's Daniel Bruce (8-2; St. John's) Saturday at 11 a.m.
Despite the playoff picture being set, other men's Championship Round action continued on Draw 19 with Prince Edward Island's Tyler Smith (6-4; Montague) defeating British Columbia 1's Hayato Sato (4-6; New Westminster) 9-3. Alberta's Ryan Jacques defeated Nova Scotia's Graeme Weagle (5-5; Chester) 9-4.
In women's draw 19 Championship pool play, Nova Scotia's Taylour Stevens (8-2; Halifax) defeated Saskatchewan's Ashley Thevenot (5-5; Saskatoon). Manitoba's Mackenzie Zacharias (10-0; Altona) defeated Alberta's Abby Marks (6-4; Edmonton) 8-7. Québec's Noémie Gauthier (Kenogami; 6-4) downed Newfoundland and Labrador's Mackenzie Mitchell (4-6; St. John's) by a score of 8-4.