Oh so close!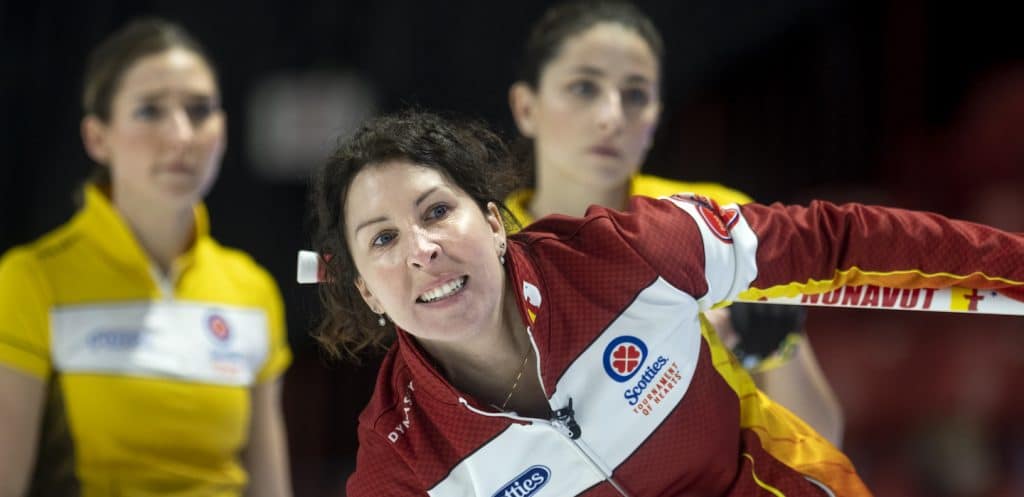 MANITOBA STAVES OFF NUNAVUT UPSET BID AT SCOTTIES
MOOSE JAW, Sask. — As the ends continued to grind by, the screws tighten and the plot thickens, it seemed the prohibitive favourites were being forced to finagle their way out of more tight spots than Indiana Jones.
Visions of 'What the …?' upsets of yesteryear flashed into the imagination: The apparently-invincible Mike Tyson on the deck fumbling to find his mouthpiece in Tokyo or Al Michaels bellowing "Do you believes in miracles?!" at the Lake Placid Olympic hockey tournament, USA vs USSR.
"It definitely,'' acknowledged Manitoba third Shannon Birchard, having only just survived the scare Sunday morning at Mosaic Place, "wasn't our best. I mean, we weren't in a ton of trouble.
"It just kinda seemed like every end we weren't finishing them off. We didn't have that killer instinct.
"I don't know it was the early morning" — an 8:30 a.m. draw — "or what was going on.
"But we definitely need to pick it up moving forward. It's only going to get tougher from here."
What had been billed as a fait d'acompli turned into a compelling piece of theatre.
The Manitobans, after all, were top-seeded heading into this 2020 Scotties Tournament of Hearts, ranked second in the country and third in the world. Lori Eddy's Nunavut team, on the flip side, had only played eight or nine games together as a team.
"We started off sharp,'' sighed skip Manitoba skip Kerri Einarson, "but then we faded out, they made a lot of great shots in the second half of the game and put a lot of pressure on us.
"Just lot focus a bit. Even if it's a lull game we've got to keep up the energy."
In the final analysis, though, Einarson and Manitoba collected a key win (particularly with Northern Ontario and Team Canada up next on their dance card) 6-4 to climb to 2-0, while Eddy;s Nunavut crew – third Sadie Pinksen, second Allison Griffin, lead Kaitlin MacDonald and coach Donalda Mattie – gained some sweet, well-deserved cred and undoubtedly a slew of new fans.
When Einarson and Co. stole a deuce on the first end, added another in the third and seemed to be in cruise control for an quick handshake and early lunch.
Yet it wasn't until Manitoba third Val Sweeting executed a slick runback double in the ninth end to steal two and help the Gimli Curling Club team of Einarson, Sweeting, second Shannon Birchard, lead Brianne Meilleur, alternate Jennifer Clarke-Rouire and coach Patti Wuthruch, could exhale and relax.
The vanquished had nothing to be disappointed about.
"I actually was just trying to pretend we were playing just another game against … just playing the shots, not the team,'' said Eddy.
"They're just so precise, so our shots have to be so good.
"The way they played the first few ends, I was very nervous that it was going to be a quick game.
"But the fact that we hung in there that long … I think we showed a lot of guts."
And then some.
In other Draw 3 games Laura Walker and Alberta (Edmonton; 2-0) dusted Noémie Verrault's Quebec foursome (Chicoutimi; 0-2) 8-3, Jennifer Jones and her Wild Card winners (Winnipeg; 1-1) beat up on the Yukon Territory skipped by Hailey Birnie (Whitehorse; 0-2) 10-1 and Rachel Homan's Ontario team (Ottawa; 2-0) doubled up on Newfoundland/Labrador skipped by Erica Curtis (St. John's; 1-1) by a 10-5 count.
 The 2020 Scotties Tournament of Hearts continues with draws further Sunday draws at 1:30 p.m. and 6:30 p.m. (all times CST).
Live scoring, standings and statistics for the 2020 Scotties Tournament of Hearts are available at www.curling.ca/scoreboard/
TSN and RDS2 (streamed on ESPN3 in the United States) will provide complete coverage of the 2020 Scotties Tournament of Hearts. CLICK HERE for the complete schedule.
For ticket information for the 2020 Scotties Tournament of Hearts, go to www.curling.ca/2020scotties/tickets/
This story will be available in French as soon as possible at www.curling.ca/2020scotties/nouvelles/?lang=fr