Big win for NWT!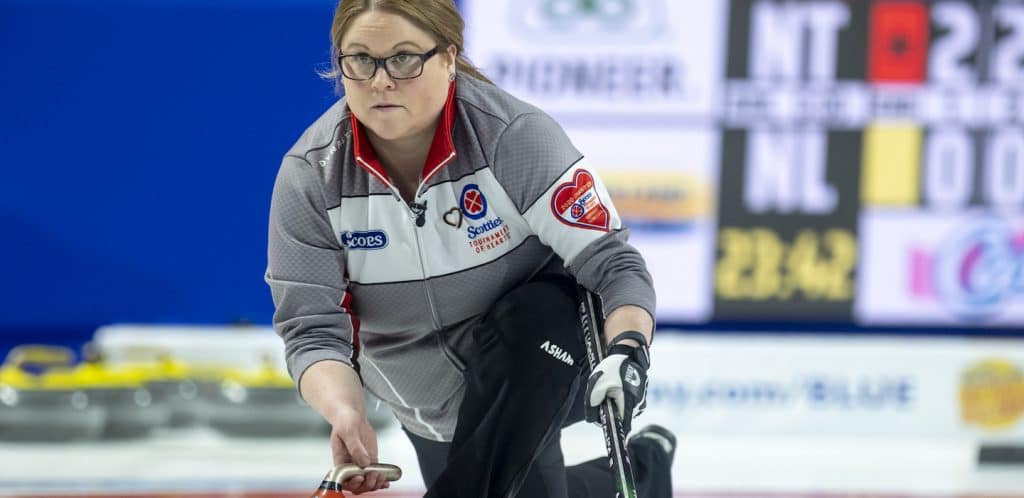 GALUSHA PLAYS THROUGH LEG PAIN TO LEAD TERRITORIES TO VICTORY
MOOSE JAW, Sask. — The spirit, as ever, remains willing.
The flesh – left leg specifically – not so much.
"The Mixed Nationals, in (Saguenay) Quebec, playing third for my brother Jamie (Koe),'' Kerry Galusha recalled following Monday's early draw of the 2020 Scotties Tournament of Hearts. "We're playing the bronze-medal game.
"In the fourth end I was throwing an inturn-peel and something just pulled." Galusha tugged lightly at the back of her left leg. "In my butt.
"I was in so much pain I actually didn't know if I was going to be able to finish the game. But I did. And we won the bronze medal.
"Ever since then, it's been a very long road back."
To try and manage the discomfort and keep at as close-to-possible optimum playing fitness, she's run the gamut of options. Ice. Heat. Pain relievers.
"All of it. Chiro. Physio. Massage. I've probably spent thousands of dollars on this left leg.
"It's been tough. I'm not gonna lie. Even coming here, I didn't know how I was going to curl."
So at 42, after 13 Scotties Tournament of Hearts appearances and spreading more sporting goodwill than any one area of this country has any right to hope for, the Yellowknife born-and-raised Galusha, a champion in the growth of granite in the NWT since her junior days, admits she's toying with the idea of competitive retirement.

Following the Christmas break, as the pain in the leg stubbornly refused to subside, she made a decision to defer fourth stones and called Jo-Ann Rizzo to see if her teammate would be comfortable with the switch.
"I'm the skip and I've had to move down to second just because I'm injured,'' lamented Galusha, dabbing at moistening eyes. "Nobody really wants to curl with someone when you don't know if they can curl. So …
"(Rizzo) is super-solid. We all have faith in her. She's played well all year. She's a great curler."
Another mitigating in a decision to walk away might be long-time lead Shona Barbour's pending retirement, at season's close.
"She wants to do some travelling and it would nice not use all my holidays to curl. And if I do curl another year i probably won't go as hard, and maybe just curl for fun.
"Which is weird because you really don't want to go to the Scotties and just curl for fun.
"So I have a lot to think about."
Monday morning, the Northwest Territories posted their first win of the 2020 Scotties, a 14-2 thumping of Newfoundland/Labrador.
"Our first two games, we just weren't communicating like we wanted to,'' said Galusha. "We sat down last night and wanted to get back to where we were at Territorials. And we did that.
"It felt better today. I was more of a leader for the girls. It just really worked. That was by far the best game. That's the team I know."
The pain, happily, has somewhat lessened here at Mosaic Place.
"I think I'm throwing better than I have in a while,'' Galusha said. "So what I've been doing has worked. I just have to keep playing well for (vice-skip) Sarah (Koltun) and Jo and Shona. Just keep throwin'."
Whenever the time does arrive for Kerry Galusha to put away the familiar NWT garb, and for whatever reason, she'll always be around.
"I won't leave the game,'' she promised. "My 10-year-old daughter (Sydney) is a very good curler. She's way better than me. And I'm coaching her. She practises with me every day. So I'll probably be back at the Scotties. Coaching."
In other early games, Mary-Anne Arsenault's Nova Scotia team (2-1; Halifax) bested Hailey Birnie and the Yukon (Whitehorse; 0-3) 10-4; Team Canada and skip Chelsea Carey (Calgary; 2-1) bested Quebec's Noémie Verreault (Chicoutimi/Glenmore/Trois-Rivieres; 0-3) 9-7 in an extra end; and Manitoba's Kerri Einarsson (Gimli; 3-0) remained unbeaten by topping Krista McCarville's Northern Ontario (Thunder Bay; 2-1) 8-7.
The 2020 Scotties Tournament of Hearts continues Monday with draws at 1:30 p.m. and 6:30 p.m. (CST).
Live scoring, standings and statistics for the 2020 Scotties Tournament of Hearts are available at www.curling.ca/scoreboard/
TSN and RDS2 (streamed on ESPN3 in the United States) will provide complete coverage of the 2020 Scotties Tournament of Hearts. CLICK HERE for the complete schedule.
For ticket information for the 2020 Scotties Tournament of Hearts, go to www.curling.ca/2020scotties/tickets/
This story will be available in French as soon as possible at www.curling.ca/2020scotties/nouvelles/?lang=fr