Nice win, Nunavut!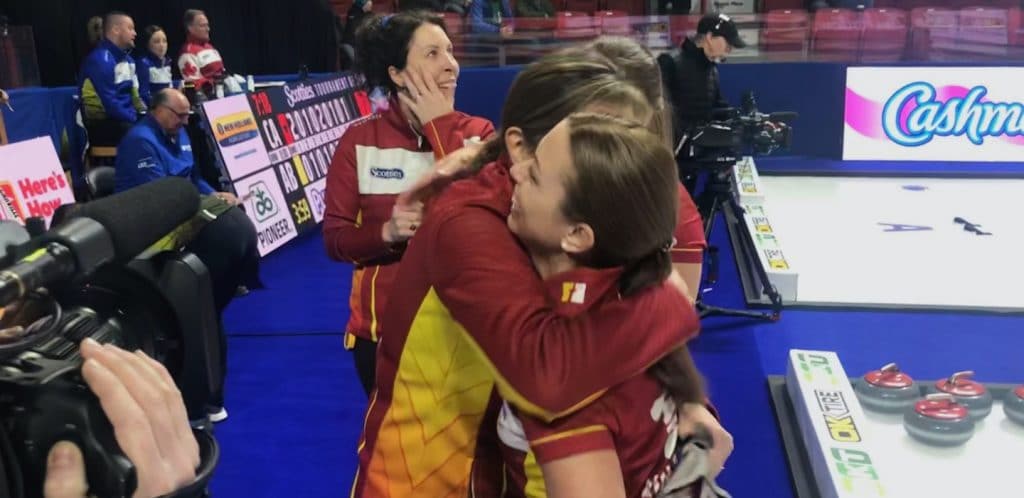 NORTHERNERS PULL OFF STOLEN VICTORY OVER NORTHERN ONTARIO AT 2020 SCOTTIES
MOOSE JAW, Sask. – They were so happy they could cry. But Lori Eddy and her Nunavut teammates kept the tears at bay after a thrilling 6-5 win Tuesday morning, their first at this year's Scotties Tournament of Hearts at Mosaic Centre.
Eddy, third Sadie Pinksen, second Alison Griffin, lead Kaitlin MacDonald and coach Donalda Mattie (Iqaluit; 1-4) had been close all week and finally got their breakthrough victory over Krista McCarville of Northern Ontario (Thunder Bay; 3-2).
"There are no words, just to win while we're here is absolutely incredible, and to win against a team like McCarville is beyond our expectations," said a quietly jubilant Pinksen. "In the beginning we were down a few points, but we were patient, waited for our chances and they came."
Nunavut fell behind 5-1 after five ends after giving up a steal of two in the fifth. But they rallied with two in the sixth and three consecutive steals of singles in the eighth, ninth and 10th ends.
Their final steal for the winning point came when Eddy buried her draw and McCarville's last-rock attempt to follow was heavy.
"I can't believe that just happened," said Eddy, an import from Dundas, Ont., who joined the team this season. "When I missed that draw to give up the steal (in five) I thought we are sunk in the water. But we rallied, regrouped, kept plugging away and next thing, a couple of steals."
Nunavut got a break in eight when McCarville's stone picked, but after having the breaks go against them all week, it was time they had one go their way. They got another break in 10 when McCarville nosed a take-out shot, leaving Eddy with a chance to draw and bury shot stone. She did that.
"As soon as she nosed the shot in the top 12 I was eyeing it," said Eddy, a silver-medallist playing for Ontario at the 1997 Tournament of Hearts. "I played the same shot in eight so I was pretty confident about the weight. I was super proud of the girls. Honestly, our game was to be competitive and make the other teams deserve their win against us, so this is a huge bonus.
"It is," she added, "like a dream come true. Don't get me started or I'll start to cry."
The loss for Northern Ontario prevented them from keeping pace with Team Canada and front-running Kerri Einarson of Manitoba, unbeaten at 4-0 atop Pool A, in the search for a spot in the championship round.
"I'm just ticked off," McCarville said of the loss. "We were playing really well. We had a couple of picks and one of them was on a hit for two that I was making that would have put us up really big and it's just frustrating."
Meanwhile defending champion Chelsea Carey and Team Canada (Calgary,3-1) continued their improved play, rallying from a 5-2 deficit to beat Laura Walker of Alberta (Edmonton, 3-2).
After curling just 53 per cent in her first game – an 8-3 loss to Northern Ontario – Carey herself has improved every game, shooting an impressive 89 per cent against Walker.
Seeking their third Scotties title, Carey and her Glencoe Club teammates, third Sarah Wilkes, second Dana Ferguson, lead Rachel Brown and coach Dan Carey, scored deuces in the first and fifth ends
In the two other games in the morning draw, Corryn Brown of British Columbia (Kamloops; 3-2) scored three in the seventh and stole five in the eighth for a 12-5 win over Hailey Birnie of the Yukon (Whitehorse; 0-5), and Suzanne Birt of P.E.I. (Montague; 3-2) stole four points, including three in the eighth, to cruise to a 9-3 win over Erica Curtis of Newfoundland-Labrador (St. John's; 1-4).
The 2020 Scotties Tournament of Hearts continues with draws today at 1:30 p.m. and 6:30 p.m. (all times CST).
Live scoring, standings and statistics for the 2020 Scotties Tournament of Hearts are available at www.curling.ca/scoreboard/
TSN and RDS2 (streamed on ESPN3 in the United States) will provide complete coverage of the 2020 Scotties Tournament of Hearts. CLICK HERE for the complete schedule.
For ticket information for the 2020 Scotties Tournament of Hearts, go to www.curling.ca/2020scotties/tickets/
This story will be available in French as soon as possible at www.curling.ca/2020scotties/nouvelles/?lang=fr