Flawless!
McCarville shoots 100% to overcome Alberta at Scotties
Krista McCarville has one foot planted tentatively inside the Championship-Pool door.
Laura Walker, one halfway out.
"Coming into the last draw tonight,'' said skip McCarville, looking ahead to Northern Ontario's final Pool A clash at Mosaic Place on Wednesday night after her 4-3 win over Alberta on Wednesday morning. "It's up to us. It's not like we're banking on other teams to win or lose for us.
"It's in our hands and that's all we can ask for."
No simple task for McCarville, third Kendra Lilly, second Ashley Sippala, lead Jen Gates and coach Rick Lang, versus the hometown reps Team Robyn Silvernagle from Saskatchewan, also 4-2, but at least they control their own destiny.
On the same draw, Alberta's Walker, reeling after three consecutive loses, faces a mighty challenge in taming 5-1 Kerri Einarson of Manitoba.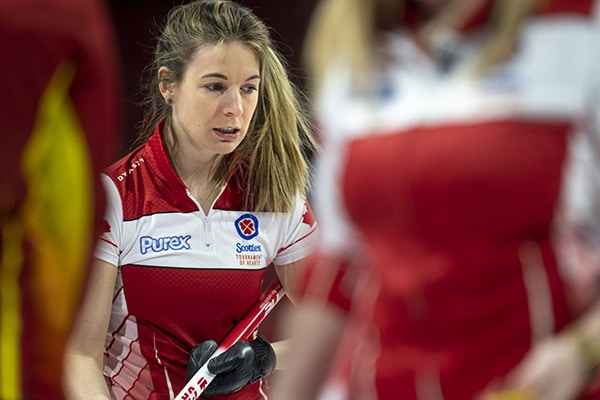 "We knew it was going to be a tough day,'' acknowledged McCarville. "Two great teams to play. But we knew we had to rebound after our loss," – a 6-4 upset by pesky Nunavut – "yesterday. We had to play better. We had to focus on the ice, bear down and make those key shots.
"I thought we did that. It feels good going into our night game, adjusting to the ice a little bit better than we did yesterday."
By their play against Alberta, there was no lingering disappointment from the Nunavut shock, including a perfect 100 per cent game played by the skip.
"We just had to drop it,'' McCarville preached. "It's a long week. At the Scotties you know you're going to have some of those games. And unfortunately we did.
"There's nothing we could do about it. It's done and over with so you just have to forget about it."
Alberta began to lose the plot in the sixth end, when Walker flashed her final stone wide of the mark to give up two via steal to trail 4-1.
"We didn't play a very good end,'' sighed Walker. "They had a rock on the button the entire time. We tried to set something up. Our corner guard slipped into the rings and we were just desperately trying to generate a deuce from there.
"The ice was a little straighter today. You can't overthrow anything. I overthrew my last one a little bit and we didn't get the curl."
The skip and her Edmonton-based team of Kate Cameron, Taylor McDonald, Nadine Scotland, alternate Kelsey Rocque and coach Brian Chick still have an outside chance to reach a tiebreaker.
"Do we?'' replied Walker. "I really wasn't looking that closely.
"I was expecting to have to win two games today."
All the Albertans, who had begun this Scotties so brightly, can do is knock off arguably the most accomplished team here so far this week against Manitoba, and hope.
In other early draw games, Chelsea Carey's Team Canada (Calgary 4-2) stayed alive by beating Lori Eddy's scrappy Nunavut (Iqaliut; 1-5) 6-5, Corryn Brown's British Columbia foursome (Kamloops; 4-2) toppled skip Erica Curtis of Newfoundland & Labrador (St. John's; 1-5) by an 8-6 scoreline and the Prince Edward Island reps skipped by Suzanne Birt (Montague; 4-2) hammered winless Yukon (Whitehorse; 0-6), skipped by Hailey Birnie, 11-5.
The 2020 Scotties Tournament of Hearts continues with draws today at 1:30 p.m. and 6;30 p.m. (all times CST).
Live scoring, standings and statistics for the 2020 Scotties Tournament of Hearts are available at www.curling.ca/scoreboard/
TSN and RDS2 (streamed on ESPN3 in the United States) will provide complete coverage of the 2020 Scotties Tournament of Hearts. CLICK HERE for the complete schedule.
For ticket information for the 2020 Scotties Tournament of Hearts, go to www.curling.ca/2020scotties/tickets/
This story will be available in French as soon as possible at www.curling.ca/2020scotties/nouvelles/?lang=fr