Takin' Care of Business!
British Columbia, Saskatchewan advance to championship round at Scotties
MOOSE JAW, Sask. – Hearing Bachman Turner Overdrive's Takin' Care of Business blasted out over the Mosaic Place sound system the lyric about "workin' overtime …" Corryn Brown couldn't help but relate.
"Hey, we're more than happy to be playing three games today,'' begged off the B.C. skip of the extended workload she and her mates face today at the 2020 Scotties Tournament of Hearts. "You won't hear us complaining.
"Considering where we are and what we're playing for? We'll take this. Any day of the week."
Beaten 10-4 by Mary-Anne Arsenault and Nova Scotia on Tuesday afternoon in a game that could've sent them straight through to the Championship Pool, Brown and her B.C. team of Erin Pincott, Dezaray Hawes, Ashley Klymuchuk, alternate Dailene Pewarchuk and coach Allison MacInnis exacted revenge when it most mattered, in the rematch, scoring one in the 10th to nail down a 5-4 victory that propels them into the Championship Pool.
"Obviously we're really happy to be in the position we are,'' said Brown, who finished round-robin at 4-3. "I mean, we did have a chance to finish it off yesterday but there are a lot of really good teams who aren't playing anymore. So there are a lot of people who wish they were here.
"We're just looking ahead now."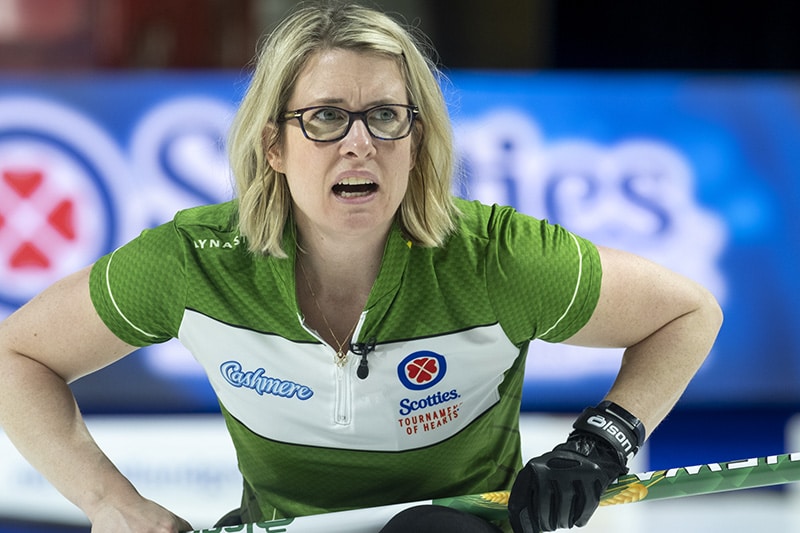 B.C. opens championship play with a doozy of a doubleheader, versus 6-1 Manitoba at 12:30 p.m., followed by 5-2 Northern Ontario at 6:30 p.m.
"There are a lot of teams on the other side who have two or three losses so that helps our cause. We just have to come out firing,'' reasoned Brown.
"We've played one more game than most of the teams and, quite honestly, I never think that's ever a bad thing. Obviously you could maybe point to a little extra fatigue but I think by this time of the week everyone's tired.
"One game doesn't make much of a difference and I think it just adds to your comfort level on the ice."
The second tiebreaker Thursday morning required an extra end. Saskatchewan and Robyn Silvernagle surviving a steal inn 10 to inch past Andrea Crawford's New Brunswick team 9-7.
Silvernagle wasn't required to throw her final stone after Crawford, in search of another steal, came up short on her last throw.
"I was just focusing on throwing a good draw and fortunate we did have great weight,'' said Crawford of that final chance. "But unfortunately not quite the right line."
Silvernagle and Co. from North Battleford, meanwhile, play Suzanne Birt's Prince Edward Island foursome and the Wild Card entry, skipped by six-time champion Jennifer Jones, later today.
Records from round-robin play carry over to the Championship Pool.
The 2020 Scotties Tournament of Hearts continues with Championship Pool draws at 12:30 p.m. and 6:30 p.m. (all times CST).
Live scoring, standings and statistics for the 2020 Scotties Tournament of Hearts are available at www.curling.ca/scoreboard/
TSN and RDS2 (streamed on ESPN3 in the United States) will provide complete coverage of the 2020 Scotties Tournament of Hearts. CLICK HERE for the complete schedule.
For ticket information for the 2020 Scotties Tournament of Hearts, go to www.curling.ca/2020scotties/tickets/
This story will be available in French as soon as possible at www.curling.ca/2020scotties/nouvelles/?lang=fr