Wild Card on a roll!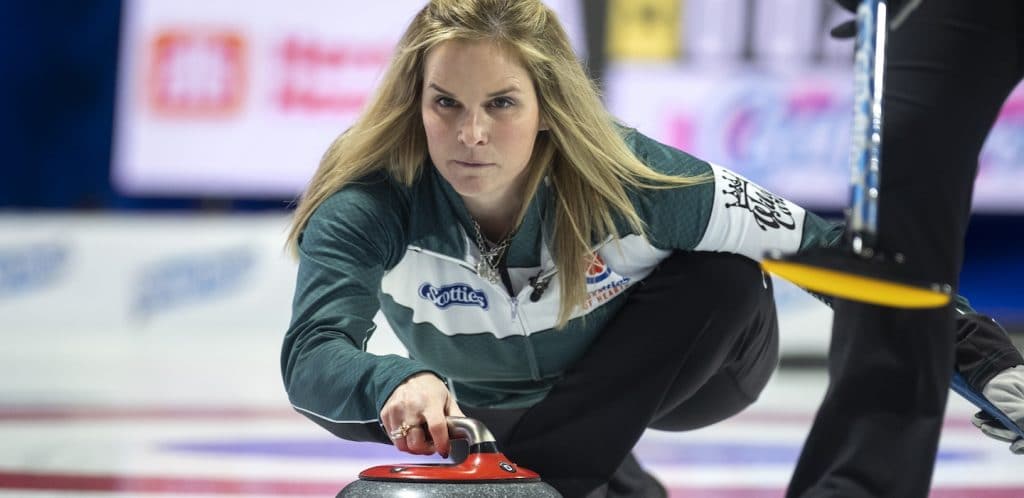 JONES AND TEAM WILD CARD RAISING THEIR GAME IN LATE STAGES OF 2020 SCOTTIES
MOOSE JAW, Sask. — They're beginning to re-discover that natural rhythm, the familiar competitive pulse, that's been such a trusted friend over so many glories down through the years.
Think Larry Bird launching from three-pt. land. Usain Bolt finding that extra gear on his stick shift at the 50-metre mark. Pool legend Willie Mosconi running the table.
That's Jennifer Jones and her Wild Card foursome at the moment: stepping on the gas of the Lamborghini just as the highway hits a lengthy stretch of straightaway.
Actually, less than a week has gone by but it seems eons ago since Jones dropped her opening game of these 2020 Scotties Tournament of Hearts, a 9-6 decision to Ontario's Rachel Homan.
Since then, eight wins on the fly; the latest, a comprehensive 10-4 dismantling of Team Canada to open the Championship Pool at Mosaic Place.
"You don't even think about that,'' countered the six-time national champion. "You think about each game. We still have three tough games left; one game at a time. The goal is to reach the final four."
The way has proven to be far from smooth sailing during these Scotties, but they've nonetheless managed to successfully sail the ship into port, be it fair wind or foul.
"It's been a long week,'' reminded vice-skip Kaitlyn Lawes. "Pretty wild. Had some extra ends and last-rock shots, which has been pretty exciting. I think this week has built a lot of character for us. We've had to just stay patient. Whether we're winning in eight ends or if we're winning in 11, we're trying to find ways to win.
"It's been a lot of fun.
"The adrenalin gets going, your heart's racing out there when you have to make those shots in nine, 10, extra end and I think it just makes us stronger to know we have those shots in us."
In a game between two teams of high pedigree, a steal of four on the first end set Jones and company on their way.
"Any chance you have big-game moments helps you down the road,'' said Lawes. "All of us have had a lot of big-game moments. That's what we play for. It's a rush."
On the evening draw, Jones, whose team is rounded out by second Jocelyn Peterman, lead Dawn McEwen and coach Viktor Kjell, was set to face host Saskatchewan.
"To be honest, I didn't think we were that bad early,'' countered the skip when asked about her building through adversity. "I thought we were were making some good shots, throwing it great and good speed. We felt really good.
"We had one not-so-great game against Newfoundland but other than that not so bad. And we're feeling good today."
Carey, already in peril at 4-4, faces a must-win tonight against Ontario (7-1).
"Any of the teams are on that bubble with three losses now, if we can get them down a little more it certainly adds a little comfort,'' agreed Lawes. "But you still have to just focus on yourself, not worry about what everyone else is doing out there.
"And let's see where the cards fall."
Right at the moment, behind that familiar poker face, they must figure they've got themselves a mighty strong hand.
In other Championship Pool games, Saskatchewan and Robyn Silvernagle (North Battleford; 5-3) beat P.E.I and Suzanne Birt (Montague; 5-3) 8-7 with a 10th-end steal; Homan's Ontario team (Ottawa; 7-1) took out Krista McCarville's Northern Ontario (Thunder Bay; 5-3) by a 9-4 scoreline; and Manitoba, skipped by Kerri Einarson (Gimli; 7-1), trimmed Corryn Brown's B.C. entry (Kamloops; 4-4) 8-4.
The 2020 Scotties Tournament of Hearts continues Thursday with the 6:30 p.m. draw (CST).
Live scoring, standings and statistics for the 2020 Scotties Tournament of Hearts are available at www.curling.ca/scoreboard/
TSN and RDS2 (streamed on ESPN3 in the United States) will provide complete coverage of the 2020 Scotties Tournament of Hearts. CLICK HERE for the complete schedule.
For ticket information for the 2020 Scotties Tournament of Hearts, go to www.curling.ca/2020scotties/tickets/
This story will be available in French as soon as possible at www.curling.ca/2020scotties/nouvelles/?lang=fr