Taking aim at the podium!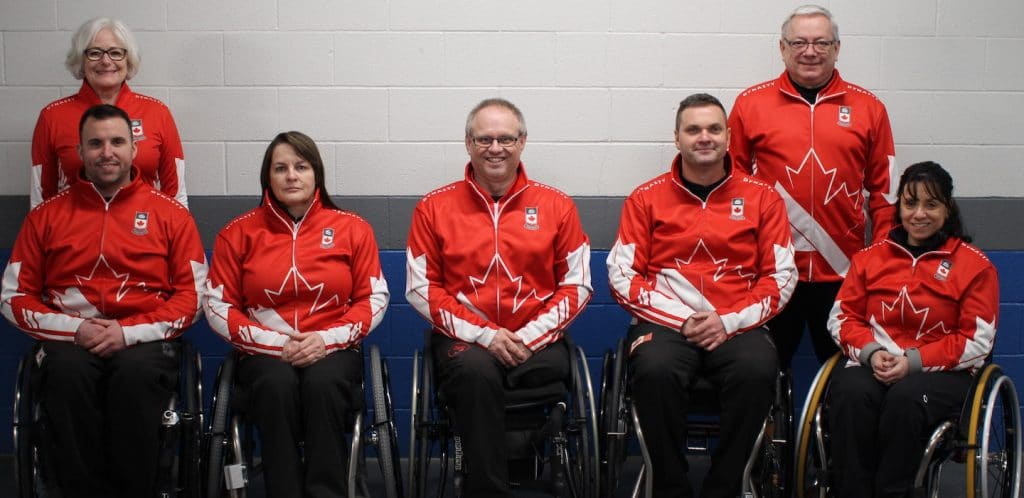 Team Canada opens 2020 World Wheelchair Championship Saturday in Switzerland
Team Canada will begin its quest to return to the medal podium when the 2020 World Wheelchair Curling Championship gets underway on Saturday in Wetzikon, Switzerland.
The Canadian team of skip Mark Ideson of London, Ont. (throwing lead stones), Jon Thurston of Dunsford, Ont. (throwing fourth stones), Ina Forrest of Armstrong, B.C., Dennis Thiessen of Sanford, Man., alternate Collinda Joseph of Stittsville, Ont., coach Wayne Kiel of Balgonie, Sask., and assistant coach Mick Lizmore of Edmonton will play its opening game on Saturday against Slovakia's Radoslav Duris at 8 a.m. (all times Eastern) at the Curling Hall Wetzikon.
Canada will play an 11-game round-robin, with the top six teams from the 12-team field making the playoffs. The first- and second-place teams will go straight to the semifinals, while No. 6 plays No. 3, and No. 5 plays No. 4 in the qualification round.
The qualification round and semifinals are on Friday, March 6, with the bronze- and gold-medal games on Saturday, March 7.
Team Canada finished with a 5-6 record at last year's World Championship in Stirling, Scotland — part of a four-way tie for seventh place. But tiebreaking formulas dropped Canada to 10th place and relegated to the B Pool for the 2019-20 season.
In December, Ideson skipped Canada to a gold medal at the world B Pool qualifying event in Finland, which clinched a berth into the 2020 World Championship in Switzerland.
Ideson, Forrest and Thiessen were all members of the Canadian team that won bronze at the 2018 Winter Paralympics in Pyeongchang. Additionally, they were all members of the last Canadian team to reach the podium at the World Wheelchair Championship; they played for the Jim Armstrong-skipped team that won gold in 2013 at Sochi, Russia.
Canada is tied with Norway and Russia with the most gold medals at the World Wheelchair Championship at three.
Defending champion China will enter the 2020 Wheelchair Worlds as the top-ranked country in the World Curling Federation's wheelchair curling rankings. Canada will enter the world championship ranked sixth.
The 2020 World Wheelchair Championship also will give countries the chance to gain qualifying points to earn a place in the 2022 Winter Paralympic Games in Beijing. The combined results from the 2019, 2020 and 2021 (in Beijing) World Wheelchair championships will determine the 11 countries that will join host China in the Paralympic field.
For more information about the 2020 World Wheelchair Curling Championship, including schedules and team lineups, go to worldcurling.org/events/wwhcc2020/