Green Day!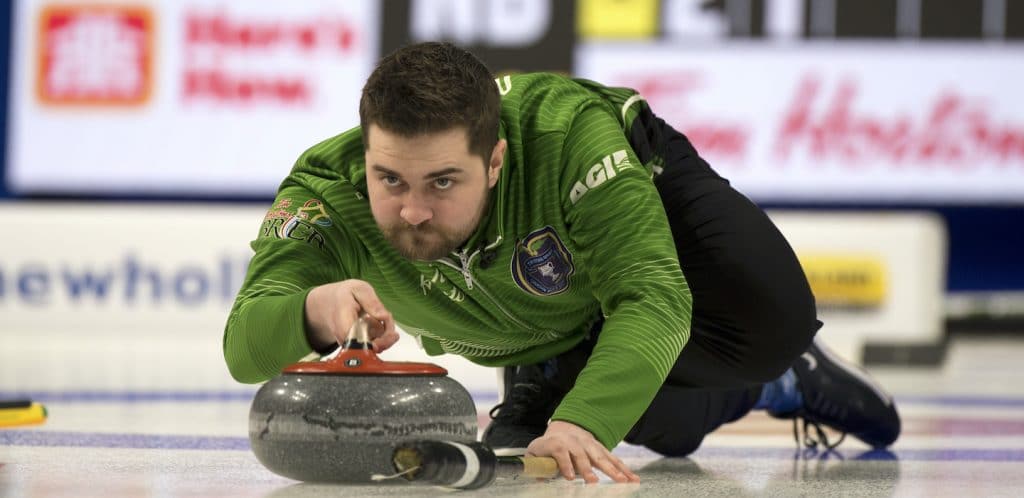 SASKATCHEWAN TURNS UP HEAT FOR COMEBACK WIN AT TIM HORTONS BRIER
KINGSTON, Ont. – It is one of Yogi Berra's best known Yogi-sms: It ain't over till it's over.
The old Yankee should have been in Leon's Centre Sunday morning to watch James Grattan of New Brunswick (Oromocto 1-1) tangle with Matt Dunstone of Saskatchewan (Regina, 1-1) in Draw 3 of the Tim Hortons Brier, presented by AGI.
Gratton and his team dominated the first half of the game, building a 5-1 lead that flattered the Dunstone foursome.
Dunstone, at 24, is the second youngest skip here and was still in diapers when Grattan, 45, made his first Brier skipping appearance in 1997 at Calgary, where he won a bronze medal. The veteran had the kid under huge pressure to begin the game and Dunstone had to bail out his team twice in the early going. In the first end he hit a perfectly executed triple takeout to hold New Brunswick to a deuce. However, Dunstone was off on both his draw attempts in the second, allowing Grattan to steal one.
In the third, Dunstone needed another triple takeout facing five New Brunswick counters to turn around the end and eventually get on the scoreboard with a single. New Brunswick responded with two in the fourth.
Then suddenly the switch flipped and Dunstone, third Braeden Moskowy, second Catlin Schneider, lead Dustin Kidby and coach Adam Kingsbury, outscored New Brunswick 9-1 in the next six ends for a stunning 10-6 win.
"The tides kind of turned, eh?" said Dunstone. "They didn't miss much the first six ends. They certainly made it tough on us but we knew we had to start making shots, it's as simple as that. Even if we didn't win the game … we wanted to start putting rocks in some good spots. We weren't even close to doing that in the first five (ends). It's crazy what happens when you make some shots."
And when you miss just one.
Grattan, third Paul Dobson, second Andy McCann, lead Jamie Brannen and alternate Chris Jeffrey out of the Gage Golf and Curling Club, had scored a deuce in the first end, stole one in two and two more in three. They were clearly outplaying Saskatchewan and Grattan himself was shooting 100 per cent.
But it was a missed draw in seven that gave Saskatchewan and a steal of two to tie the game 5-5 that really swung the momentum. Facing two Team Dunstone counters, Grattan's last-rock draw slid painfully to the back of the house, giving up the tying points.
"Both teams were all of sudden throwing back eight-foot, back 12, it just got real fast in that spot," explained Grattan. "If I had been smart I would have found a different path for that shot. I had been throwing that same weight all game … that was the only draw I missed all game. It was kind of heartbreaking."
But sometimes, he added, one can get just a touch over-confident.
"You have your draw weight locked in and all of a sudden you throw the same thing and you're shocked with the result sometimes."
On other sheets at Leon's Centre, Brad Jacobs of Northern Ontario (Sault Ste. Marie, 1-1) scored three in the ninth to beat Bryan Cochrane of Prince Edward Island (Cornwall, 1-1) 6-2; Brendan Bottcher of Alberta (Edmonton, 2-0) posted three-enders in the first, fifth and eighth ends to beat Jake Higgs of Nunavut (Iqaluit, 0-2) 9-4; and Mike McEwen and Team Wild Card (West St. Paul, Man., 2-0) scored four in the fourth en route to a 10-6 win over Thomas Scoffin (Whitehorse, 0-2).
The 2020 Tim Hortons Brier continues with draws today at 2 p.m. and 6 p.m. (all times ET).
Live scoring, standings and statistics for the 2020 Tim Hortons Brier are available at curling.ca/scoreboard.
TSN and RDS2 (streamed on ESPN3 in the United States) will provide complete coverage of the 2020 Tim Hortons Brier. CLICK HERE for the complete schedule.
For ticket information for the 2020 Tim Hortons Brier, go to www.curling.ca/2020brier/tickets.
This story will be available in French as soon as possible at www.curling.ca/2020brier/?lang=fr