Manitoba pulls out win!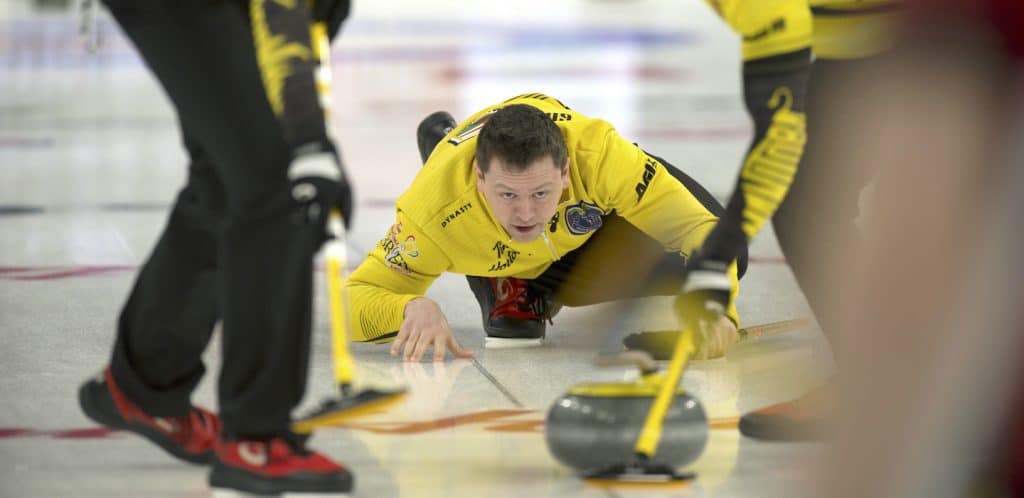 STOLEN POINT GIVES MANITOBA ROOKIES FIRST WIN AT TIM HORTONS BRIER
KINGSTON, Ont. – Jason Gunnlaugson says he and his Manitoba teammates are late starters and that almost cost them a badly needed win in the fourth draw Sunday at the Tim Hortons Brier, presented by AGI.
Quebec skip Alek Bédard had his final hit-and-stick attempt in the 10th end roll inches too far, allowing Manitoba (Morris, 1-1) to steal one for a 9-8 come-from-behind victory.
Gunnlaugson's team, with three Tim Hortons Brier rookies in himself, third Alex Forrest and lead Connor Njegovan (only vice-skip Adam Casey, who throws second stones, has Brier experience) fell behind 4-0 after three ends before finding their game.
The win, said Gunnlaugson was important to keep his team in the running for a berth in the Championship Pool later in the week.
"We're a late-week team," said Gunnlaugson. "If we can get deep into the event we do well, but sometimes we're not good in the first couple of days so to get through at 1-1 is what we needed."
An analytical person, Gunnlaugson said what they also needed was a huge turn-around after falling behind 4-0.
"That's when you have to turn off the analytical mind and just (think), please make the next shot, please make the next shot. Then we got back into a more normal game after that four spot.
"We're just happy to get this experience…this is the atmosphere we have to be good in. We've kind of proven we can be good in a curling club, now we have to prove we can be good in front of 6,000 people."
The Quebec team is all rookies but Bédard and his youthful squad showed that the bright lights, big crowds and tough opponents are not going to intimidate them.
Make them a little nervous, yes, and that ultimately cost them a possible victory.
All in their early 20s, Bédard, third Louis Quevillon, second Émile Asselin, lead Bradley Lequin and alternate Daniel Bédard from the Lacolle/Boucherville/Glenmore Curling Clubs (0-2) gave Manitoba all it could handle.
"I had too much adrenalin," Bédard said of his final shot of the game. "Usually I know how to handle it, but I don't know, too many people and the emotions caught up to me. I didn't know it's that stressful, and it's not even a playoff game, so I'll take that as a learning experience."
Quebec jumped into a 4-0 lead with singles in the first two ends and a deuce in three before Manitoba suddenly cracked a four-ender to tie the game and swing the momentum. But after giving up a steal of one in five, Quebec regrouped to score two in six.
"We were playing really good at the start and then we had a few misses in a row and they started making a lot of shots and came back," said Bédard. "But we stayed strong and were able to stay in the game even though the momentum changed. We had a shot. We would normally make that shot so I'm really happy we stayed in the game even though we weren't really making many shots, so very proud of my team."
The win for the Manitobans was critical to prevent putting them in a tough spot moving forward with their next two games against Brad Jacobs of Northern Ontario and Brendan Bottcher of Alberta.
On the other sheets, Kevin Koe and Team Canada (Calgary, 1-1) scored three deuces to roll past his brother Jamie Koe of Northwest Territories (Yellowknife, 0-2) 7-3 in eight ends; Brad Gushue of Newfoundland and Labrador (St. John's, 2-0) beat Jamie Murphy of Nova Scotia (Halifax, 1-1) 5-2; and John Epping of Ontario (Toronto, 2-0) scored four in the sixth and stole two in each of the seventh and eighth to beat Steve Laycock of British Columbia (Vernon/Kelowna, 1-1) 11-3.
The 2020 Tim Hortons Brier continues with this evening's draw at 7 p.m. ET.
Live scoring, standings and statistics for the 2020 Tim Hortons Brier are available at curling.ca/scoreboard.
TSN and RDS2 (streamed on ESPN3 in the United States) will provide complete coverage of the 2020 Tim Hortons Brier. CLICK HERE for the complete schedule.
For ticket information for the 2020 Tim Hortons Brier, go to www.curling.ca/2020brier/tickets.
This story will be available in French as soon as possible at www.curling.ca/2020brier/?lang=fr