Smooth sailing!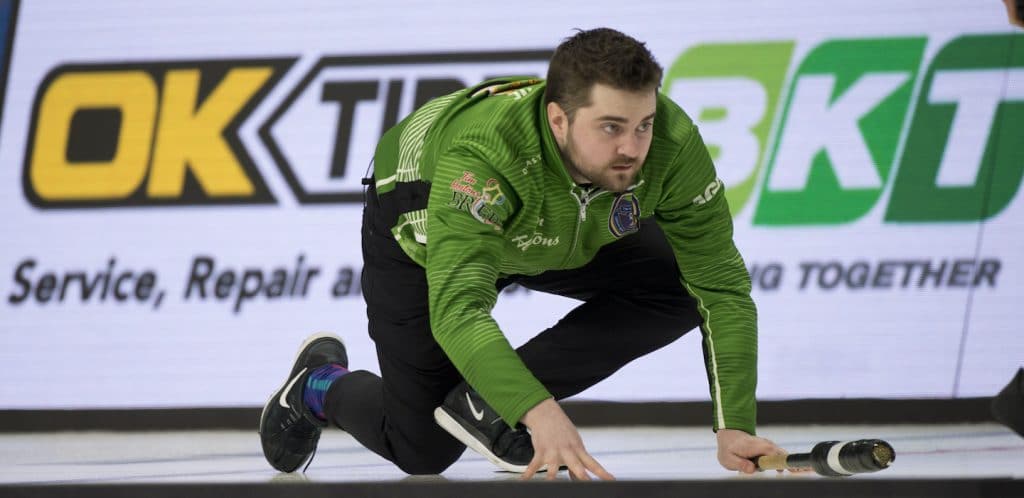 SASKATCHEWAN CRUISES TO WIN TO CAP PERFECT DAY AT TIM HORTONS BRIER
KINGSTON, Ont. – Finally, for Saskatchewan, a game without the emotional roller-coaster and late-game stress and high tension of their previous three at the Tim Hortons Brier, presented by AGI.
After stunning British Columbia and bringing the fans out of their seats at the Leon's Centre with a four in the 10th end to steal a 9-8 win in the morning, Matt Dunstone and his crew scored a deuce in the first and three in the fifth for a straightforward 6-2 win over Jamie Koe of Northwest Territories (Yellowknife, 0-4) in the afternoon.
"Mentally we're a lot more tired than we are physically," third Braeden Moskowy said after a second win on Monday that improved Saskatchewan's record to 3-1. "When you have an emotional roller-coaster like the last game where you're up and then you kind of go to sleep for a few ends and give up the lead and then you come back on a haymaker to win a game it takes a lot out of you."
The team came down off its emotional win over B.C., spent some time relaxing and got prepared to try to make the afternoon match a little less stressful.
"That was the biggest thing between games for us, just settling down, relaxing and making sure we didn't come out flat for this game because that's super easy to do after a huge win," said Moskowy. "We played a great first end and just carried it on from there."
It was an important day for Dunstone, Moskowy, second Catlin Schneider, lead Dustin Kidby and coach Adam Kingsbury from Regina's Highland Curling Club to get the back-to-back wins that kept them in the thick of the chase for berths in the Championship Pool.
"Huge day," said Moskowy. "Anything less than 2-0 today would have put us a really tough spot so we had to have both wins. That was definitely our best game from head to toe, deuce set it up great … gives us a lot of momentum going into tomorrow."
In the other Pool A game Monday afternoon, Team Wild Card continued its impressive march, winning its fourth straight, 10-5 over Steve Laycock of British Columbia (Vernon/Kelowna 1-3) to sit atop the standings at 4-0.
The West St. Paul, Man., team skipped by Mike McEwen scored deuces in the first and third ends and broke open the game with four in the sixth. McEwen made a straight double takeout with his final stone to get the multiple score.
McEwen, third Reid Carruthers, second Derek Samagalski, lead Colin Hodgson and coach Rob Meakin, who got into the main draw by winning Friday's Wild Card game against Glenn Howard, won both Monday games, having beaten the Territories 6-2 in the morning.
"I got a little fortunate on my first one, I accidentally made a good shot and Jimmy (Cotter) just didn't have much room for error," McEwen said of the sixth end. "There were a whole bunch of spots where it wouldn't have worked out for him. It was extremely hard not to give me something there so worked out that we had a pretty makeable shot."
Team Wild Card will have its hands full in Tuesday's draws, playing unbeaten John Epping of Ontario (Toronto 3-0) and defending champion Kevin Koe and Team Canada (Calgary 2-1).
"This is where we wanted to be," said McEwen. "That was definitely the goal, to be unscathed because we play back to back tomorrow against the two other top ranked teams in our pool.
"Obviously there's going to be some great teams coming out of the other pool so you try to beat up your own pool as much as you can and that way you give yourself an extra leg or two when you get to the next round."
In the other afternoon games, both in Pool B, Jamie Murphy of Nova Scotia (Halifax, 3-1) beat Jake Higgs of Nunavut (Iqaluit, 0-4) while Bryan Cochrane of Prince Edward Island (Cornwall, 2-2) scored two in nine and stole a pair in 10 to beat Alek Bédard of Quebec (Lacolle/Boucherville/Glenmore, 1-3) 7-4.
Brendan Bottcher of Alberta (Edmonton) tops the pool at 3-0.
The 2020 Tim Hortons Brier continues with this evening's draw at 7 p.m. ET.
Live scoring, standings and statistics for the 2020 Tim Hortons Brier are available at curling.ca/scoreboard.
TSN and RDS2 (streamed on ESPN3 in the United States) will provide complete coverage of the 2020 Tim Hortons Brier. CLICK HERE for the complete schedule.
For ticket information for the 2020 Tim Hortons Brier, go to www.curling.ca/2020brier/tickets.
This story will be available in French as soon as possible at www.curling.ca/2020brier/?lang=fr