Manitoba miracle!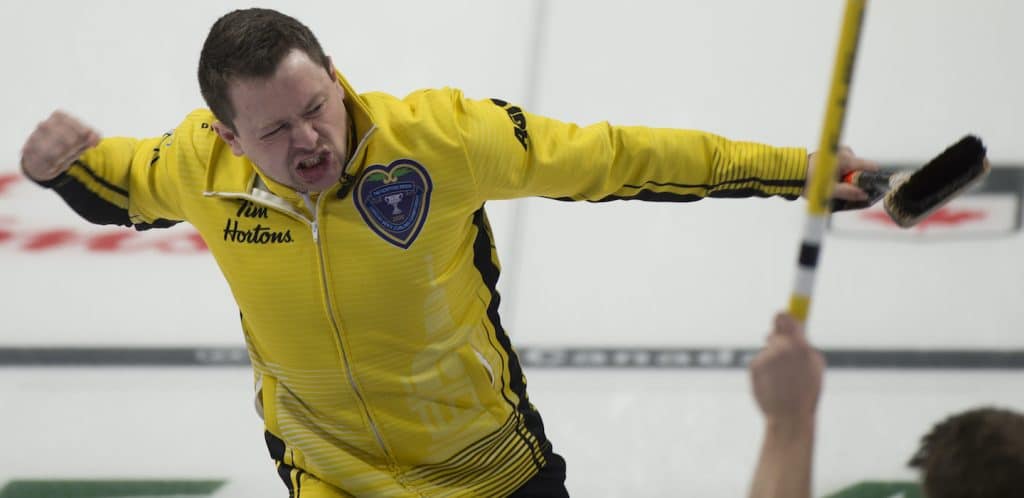 THE GUNNER DELIVERS HIGHLIGHT-REEL GAME-WINNER AT TIM HORTONS BRIER
KINGSTON, Ont. – Call it a Manitoba miracle, a huge stroke of luck or just another incredible shot by the gunslinger, Jason Gunnlaugson. However it is termed, Gunnlaugson's last-rock double raise, double takeout to score three in the 10th end will be remembered as one of the highlight shots of the 2020 Tim Hortons Brier, presented by AGI.
The shot, with about a one-in-50 success rate according to second/vice-skip Adam Casey, gave Manitoba (Morris, 3-2) a 9-8 win over Prince Edward Island that kept alive its hopes of advancing into the Championship Pool later this week.
"We were pretty lucky to have any shot, a good line call by Casey," said a jubilant Gunnlaugson, still riding the high of the moment. "We played really badly, we need to play better but we grinded, kept fighting … and we got there at the end.
"The guys fought so hard and swept so well … it was not a pretty game but exciting to win."
Exciting describes the performance so far by Gunnlaugson, third Alex Forrest, Casey, lead Connor Njegovan and coach Garry Van Den Berghe.
After an 8-4 loss to Newfoundland/Labrador, Manitoba stole two in 10 to beat Quebec 10-8, scored two in 10 to get by Northern Ontario, then gave up one in an extra end to lose 7-6 to Alberta.
"A bloody roller-coaster," an excited Gunnlaugson described his Tim Hortons Brier experience to this point. "Like it's been unbelievable, every game we played. (Brad) Gushue whacked us and then it's just been cardiac every second, we're just fighting, having fun. We've never done this before. There's a lot of things we're going to get better at, but we'll take 3-2, have a good day tomorrow and we might get through."
It was a disheartening loss for Bryan Cochrane and his Prince Edward Island (Cornwall, 2-3) crew that played so well and had Manitoba in difficulty through most of the game. But Cochrane took his hat off to Gunnlaugson for his last rock.
"He loves those shots, he's really good at them, played them most of his career, but still a really tough shot," he said. "We needed to sweep mine another three inches to freeze it… then that shot's not there."
The loss puts Cochrane, with third Ian MacAulay, second Morgan Currie, lead Mark O'Rourke and coach Ken Sullivan, in a difficult position to try to advance.
One sheet over, Brad Gushue of Newfoundland/Labrador (St. John's 4-1) rolled to an easy 7-3, eight-end win over Jake Higgs of Nunavut (Iqaluit, 0-5) and then headed off to enjoy the rest of the day off.
Coming off the high of its stressful 7-6 win over Brad Jacobs of Northern Ontario Monday night, Newfoundland/Labrador made sure early it wasn't going to have any kind of letdown against an opponent it was expected to beat.
"We've been around enough and lost to some teams we should have beaten before that we knew we needed to show up and play," said Gushue. "After the game last night we went out, we actually had a beer and celebrated that win, but once the beer was done it was said amongst all of us it was time to turn the page and move on."
Gushue's team did that, scoring two in the first end, stealing one in two, two in three and another one in four for a 6-0 lead.
"Starting tomorrow we're going to have three days of back-to-back games," Gushue added. "So you have to be able to put a win or loss behind you right away. Pretty light day today and yesterday we had only one game as well … it's good this time of the week, a little bit of rest and then get ready for three days of back to back."
In two other games this morning, Jamie Koe of Northwest Territories (Yellowknife, 1-4) got his first win, 9-7 over Thomas Scoffin of Yukon (Whitehorse, 0-5); and James Grattan of New Brunswick (Oromocto 3-2) kept alive his hopes of advancing with a 6-3 in over Steve Laycock of B.C. (Vernon/Kelowna, 1-4).
Mike McEwen and Team Wild Card (West St. Paul, Man.,) top the Pool A standings at 4-0 followed by John Epping of Ontario (Toronto), Matt Dunstone of Saskatchewan (Regina) and Kevin Koe and Team Canada (Calgary), all at 3-1.
In Pool B, Brendan Bottcher of Alberta (Edmonton) is unbeaten at 4-0 with Newfoundland/Labrador at 4-1, Jamie Murphy of Nova Scotia (Halifax) at 3-1 and Manitoba at 3-2.
The top four teams after the round-robin advance to the championship round that begins on Thursday.
The 2020 Tim Hortons Brier continues with draws today at 2 p.m. and 7 p.m. (all times ET).
Live scoring, standings and statistics for the 2020 Tim Hortons Brier are available at curling.ca/scoreboard.
TSN and RDS2 (streamed on ESPN3 in the United States) will provide complete coverage of the 2020 Tim Hortons Brier. CLICK HERE for the complete schedule.
For ticket information for the 2020 Tim Hortons Brier, go to www.curling.ca/2020brier/tickets.
This story will be available in French as soon as possible at www.curling.ca/2020brier/?lang=fr