Still anyone's game!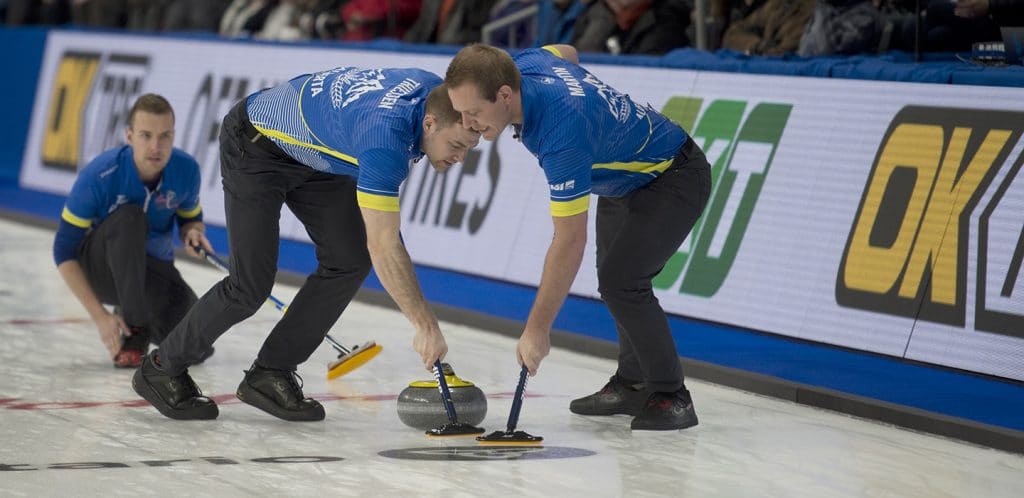 Murky playoff pictures doesn't get much clearer Friday afternoon at Tim Hortons Brier
KINGSTON, Ont. – The murky standings in the Championship Pool at the Tim Hortons Brier, presented by AGI, didn't get much clearer by Friday afternoon. With one draw remaining only two of the eight teams know their fate – Brendan Bottcher and Team Alberta, at 9-1, have advanced to the Page-playoff 1-2 game on Saturday, while Jason Gunnlaugson of Manitoba (Morris, 5-5) has been eliminated from playoff contention.
Of the remaining six teams in the pool, all still have the opportunity to clinch one of the three available spots.
"The parity of the top teams here is second to none," Bottcher, the silver-medallist at the previous two Tim Hortons Briers, said of the congestion. "At the start of the week there would have been half a dozen teams and you could flip the coin six ways and you would have had as good a chance of figuring it out as playing here. That's just how good everybody is here."
Bottcher scored three in the seventh and stole three in the eighth when John Epping of Ontario (Toronto, 6-4) missed a tough angled triple-takeout for two and left Alberta the three points — for a 10-3 win.
"Down three with two ends, no hammer, you're going to lose 99.999999 percent of the time," said Epping. "Thought we would take a chance at a deuce to get back into it. If not, we get extra rest before tonight's big game."
It took a tight runback double-takeout with his final stone to earn Brad Gushue of Newfoundland & Labrador (St. John's, 8-2) a 5-3 win over Mike McEwen and Team Wild Card (West St. Paul, Man., 7-3) in a key game influential in determining who will meet Alberta in the 1-2 game.
"Wow, did we ever," Gushue responded when it was suggested his team had played extremely well. "Mike's team was making runbacks and doubles over and over again and we really had to be patient through the first five, six ends and we were able to weasel a two in seven and that kind of flipped the game.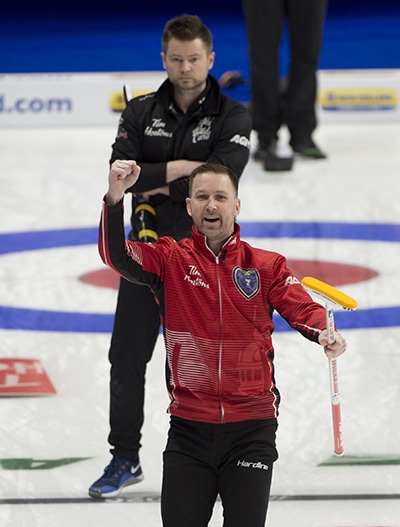 "If we play like that, we're going to be tough to beat," he said. "I don't think I missed in that game and I think Mike may have had one half-shot. If Mike wasn't 95 and I wasn't 100 I would be shocked."
Gushue was 100 percent and McEwen was 94.
In the two other games, Brad Jacobs of Northern Ontario (Sault Ste. Marie, 7-3) scored four in the sixth end for their sixth-straight win, 7-3 over defending champion Kevin Koe of Team Canada (Calgary, 6-4); and Matt Dunstone of Saskatchewan (Regina, 7-3) scored two in the tenth to beat Manitoba 9-8.
The results leave Newfoundland & Labrador needing a win over Saskatchewan in the evening's final draw to get into the 1-2 game. Lose and Newfoundland & Labrador falls back into the congestion with the five teams playing tonight to determine if there will be tiebreakers.
The 2020 Tim Hortons Brier continues with this evening's draw at 7 p.m. (all times ET).
Live scoring, standings and statistics for the 2020 Tim Hortons Brier are available at curling.ca/scoreboard.
TSN and RDS2 (streamed on ESPN3 in the United States) will provide complete coverage of the 2020 Tim Hortons Brier. CLICK HERE for the complete schedule.
For ticket information for the 2020 Tim Hortons Brier, go to www.curling.ca/2020brier/tickets.
This story will be available in French as soon as possible at www.curling.ca/2020brier/?lang=fr