One win away!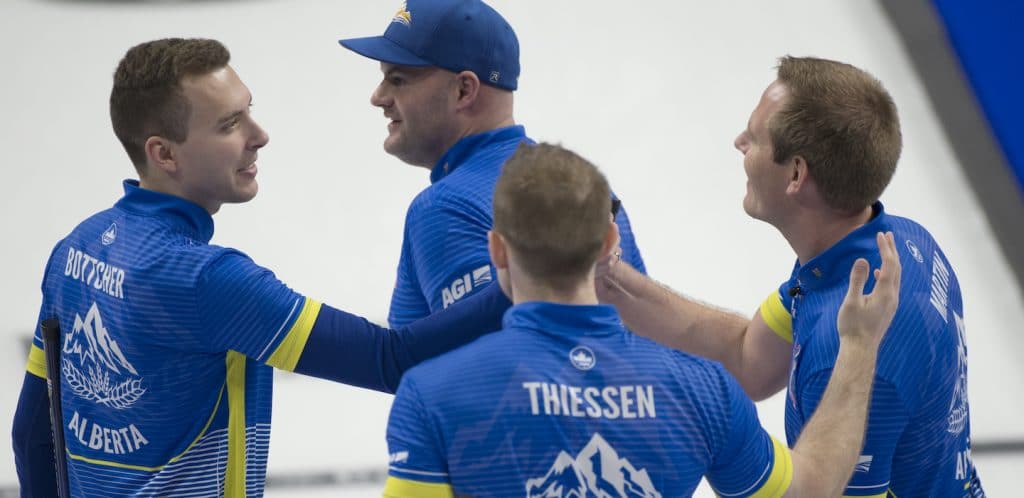 TEAM ALBERTA REACHES TIM HORTONS BRIER GOLD-MEDAL GAME
KINGSTON, Ont. – Brendan Bottcher's Alberta team rarely gives up scores of multiple points, and when handed two early steals in the Page 1-2 playoff game Saturday, it converted them into a berth in Sunday's gold-medal game of the 2020 Tim Hortons Brier, presented by AGI.
Bottcher and his Edmonton team of third Darren Moulding, second Brad Thiessen, lead Karrick Martin, alternate Patrick Janssen and coach Don Bartlett held Matt Dunstone of Saskatchewan (Regina) to two singles through eight ends and cruised to an 9-4 victory.
That moves Alberta directly into Sunday's final, where it has been the past two years and each time had to settle for the silver medal. Bottcher said the key for his team is to remain calm and not let the moment overwhelm them.
"We have to reduce how big of a moment it is we're in and just make it another curling game," he said. "We've been in that situation twice now so it's not new for us. We have to go out and do our thing and the last couple of years it's been hard because we didn't really know what it was going to feel like at the end.
"This year we know what it's going to feel like right down to the very last shot because that's how close it was last year."
Dunstone will play in Sunday's noon semifinal against the winner of Saturday evening's Page 3-4 playoff game between Brad Gushue of Newfoundland/Labrador (St. John's) and Brad Jacobs of Northern Ontario (Sault Ste. Marie).
Gushue earned his berth by finishing third in the round-robin while Jacobs got there the hard way, having to win two tiebreaker games on Saturday, including his 8-4 win over John Epping of Ontario (Toronto) in the afternoon draw.
Dunstone said the difference in his game against Alberta, played before another packed Leon's Centre, was easy to explain.
"They played great and I had a couple of stinkers out there, that was the difference," said Dunstone, a two-time Canadian junior champ (2013, 2016). "We gave up two really cheap steals and one was a three-point swing. You have a shot for two you have to make it to beat a team like that."
Through its 12 games so far — 11 victories — Alberta has given up only 10 two-point ends and one three-pointer, which Dunstone agreed makes it tough to score.
"It makes it even more difficult when you don't capitalize on the few opportunities you do get," he said. "That was the difference today. I had a blank attempt and then I had a super easy shot for two and didn't make it. You can't do that against a team like that that is as patient as they are, and opportunistic."
In the final tiebreaker of the day, Northern Ontario scored three in the fourth end to take control of its game and cruise to an 8-4 win over Ontario. Jacobs and Epping had won their morning tiebreaker games to have the opportunity to continue their pursuit of a spot in Sunday's game. Northern Ontario, which began the week 1-3 has now won eight of its last nine games.
"Having a great day so far," said Jacobs. "We're bonspieling. Right in the thick of things, in the playoffs now so it feels great. We're full of energy, ready to rock."
It was a long, angle range runback double takeout for three in the fourth that broke open the 1-1 game for Jacobs, third Marc Kennedy, second E.J. Harnden, lead Ryan Harnden, alternate Lee Toner and coach Rick Lang,
"That long angle range in the fourth end, really gave us a boost and we were able to kind of cruise to a nice, easy victory after that," said Jacobs. "We got some breaks and we took advantage of our opportunities and we managed the scoreboard well."
Live scoring, standings and statistics for the 2020 Tim Hortons Brier are available at curling.ca/scoreboard.
TSN and RDS2 (streamed on ESPN3 in the United States) will provide complete coverage of the 2020 Tim Hortons Brier. CLICK HERE for the complete schedule.
For ticket information for the 2020 Tim Hortons Brier, go to www.curling.ca/2020brier/tickets.
This story will be available in French as soon as possible at www.curling.ca/2020brier/?lang=fr