U SPORTS Day 3 recap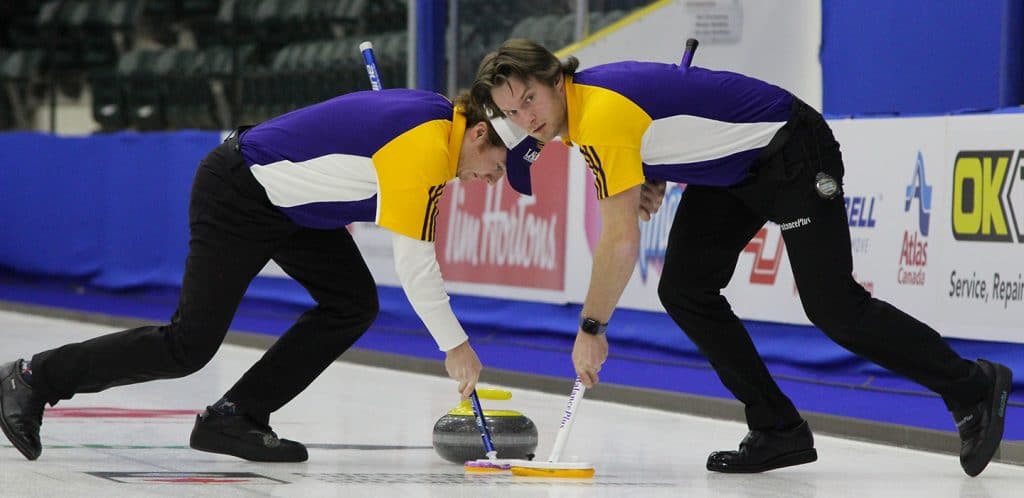 2020 U SPORTS/CURLING CANADA CHAMPIONSHIPS: Three rinks remain perfect
PORTAGE LA PRAIRIE, Man. (U SPORTS) – Three rinks remain perfect going into the final day of round-robin action on Saturday at the U SPORTS/Curling Canada Championships.
Livestream: CBCSports.ca (Day 4 and 5 only)
The UNB Reds lead the women's standings at 5-0. UNB scored fourth in the fourth end to earn an 8-6 win over the Dalhousie Tigers in the morning draw. The Reds then rallied from a 4-2 deficit at the fifth-end break to beat the Wilfrid Laurier Golden Hawks 8-6. UNB scored two in the ninth and stole a pair in the 10th to complete the comeback.
The Queen's Gaels picked up back-to-back victories to move them up the standings. Queen's handed the Alberta Pandas their first loss with an 8-5 triumph in the morning draw. Later, the Gaels edged the Regina Cougars 7-6 in an extra end, battling back from a 4-1 deficit for their second straight win.
"They were definitely key wins," said Gaels skip Mary Fay. "All the teams are strong and you really have to come out playing well because it could go either way. I think we were confident and we are a resilient team."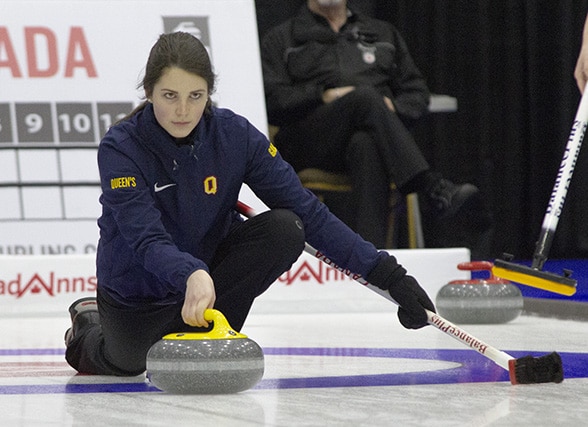 Alberta bounced back to edge the McMaster Marauders 5-4. The Pandas are in second-place at 4-1 followed by McMaster and Queen's at 3-2.
On the men's side, Dalhousie and Wilfrid Laurier lead the way at 5-0.
The Tigers picked up three in the 10th to top the Memorial Sea-Hawks 8-6 in the afternoon draw, then scored seven straight points and downed Regina 8-2 in the evening to stay perfect.
"The guys are playing sharp. I think we have been getting better as the week has been going on, which is always nice," said Tigers skip Matthew Manuel. "We are staying relaxed, which is keeping the energy high."
Meanwhile, the Alberta Golden Bears and Laurier Golden Hawks went head-to-head on Friday night after both rinks recorded their fourth straight wins in the afternoon over Brock and Brandon , respectively. The Hawks' three-ender in seventh helped them double the Bears 6-3.
The loss to Wilfrid Laurier has Alberta's record at 4-1, while Regina is next at 3-2.
The top four men's and women's teams advance to the semifinals on Sunday morning with the medal games in the afternoon.
The final day of round robin action begins Saturday at 9:30 a.m. ET / 6:30 p.m. PT.
Women's Standings
UNB Reds 5-0
Alberta Pandas 4-1
McMaster Marauders 3-2
Queen's Gaels 3-2
Laurier Golden Hawks 2-3
Brandon Bobcats 1-4
Dalhousie Tigers 1-4
Regina Cougars 1-4
Men's Standings
Dalhousie Tigers 5-0
Laurier Golden Hawks 5-0
Alberta Golden Bears 4-1
Regina Cougars 3-2
Guelph Gryphons 2-3
Brock Badgers 1-4
Brandon Bobcats 0-5
Memorial Sea-Hawks 0-5