Champs stay on perfect pace!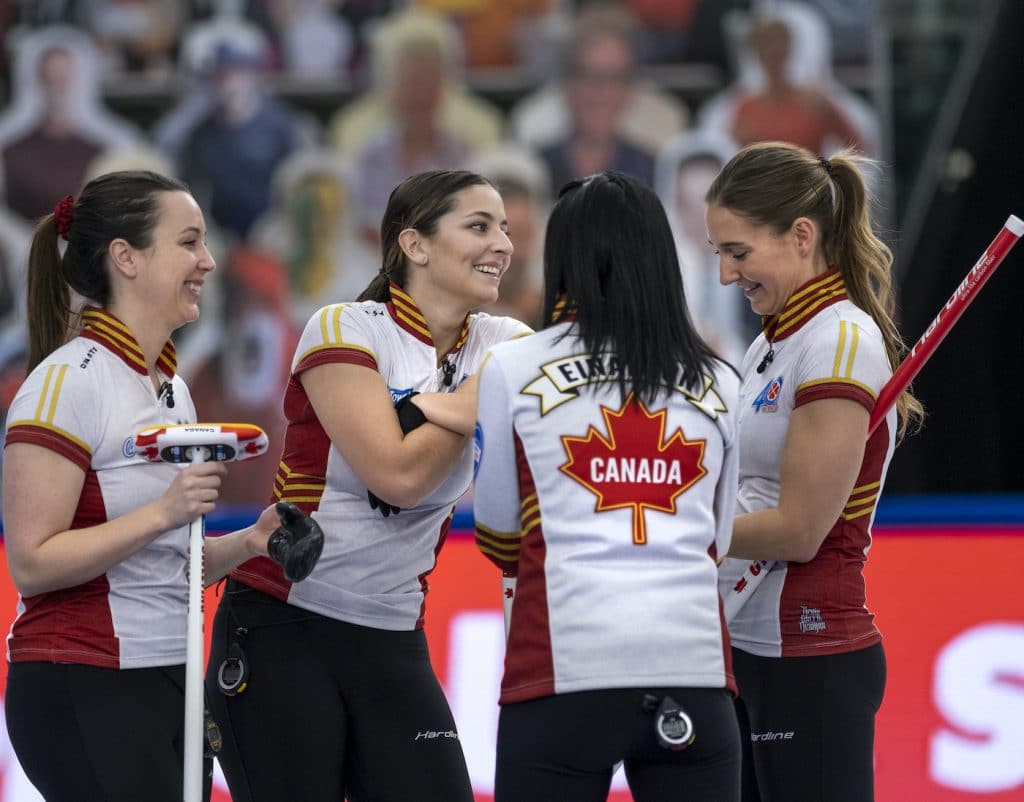 Team Canada wins rescheduled game at 2021 Scotties
A rescheduled game could have thrown a wrench into the Team Canada game plan, but Kerri Einarson's team from Gimli, Man., readjusted and made it work on Monday morning at the 2021 Scotties Tournament of Hearts.
The reigning champs — Einarson's team is rounded out by vice-skip Val Sweeting, second Shannon Birchard, lead Briane Meilleur, alternate Krysten Karwacki and coach Heather Nedohin — were supposed to play Kerry Galusha's Northwest Territories team from Yellowknife on Saturday afternoon at the Markin MacPhail Centre at WinSport's Canada Olympic Park in Calgary.
But a case of food poising felled one of the Northwest Territories players, so out of an abundance of caution, the game was rescheduled to Monday morning, when all teams were scheduled for a bye.
So instead of enjoying a Monday morning sleep-in, Team Einarson went to work on the ice, picking up an 8-4 win over the Northwest Territories.
The win vaulted Team Canada into sole possession of first place in Pool A with a 4-0 record, while the Territories (Galusha is backed up by vice-skip Jo-Ann Rizzo, second Margot Flemming, lead Shona Barbour and coach Jim Waite) dropped to 1-2.
"It was tough," said Einarson of adjusting to the rescheduled game. "We wanted to just keep it flowing, right? We came off our first game (a 7-3 win over Team Wild Card #2's Mackenzie Zacharias on Friday night), and it was such a good game, and then all of sudden, oh, we don't get to play. It definitely switched things for us.
"But we've been going through a lot of that lately," added Einarson with a smile. "We've been juggling thing so much, and we're getting used to it. It's normal for us now."
Team Canada broke the game open with three in the third end, and added deuces in the seventh and ninth ends before the Territories conceded.
The COVID-19 pandemic has touched millions of lives across Canada, and Einarson is no exception. She works on the front lines at a personal care home in Gimli.
"It's been very challenging," she said. "We had a scare back in April. But I'm so grateful to be working where I am. To all those health-care workers, front-line workers — it's tough. I see it in our residents' faces every day, when they can't see their families. It's extremely hard. I try to be there for them as much as possible and give them the hugs that they can't get from their families.
"I actually had a resident ask me before I left if she could have my phone number. She phoned me the first day here, and she was excited to see curling back on TV. I am so grateful for all their support. My coworkers — if it wasn't for them, I wouldn't be here today. I really appreciate everything they do."
The 2021 Scotties Tournament of Hearts continues Monday with draws at 3:30 p.m. and 8:30 p.m. (all times Eastern).
Live scoring, standings and statistics for the 2021 Scotties Tournament of Hearts are available at www.curling.ca/scoreboard/
TSN and RDS2 (streamed on ESPN3 in the United States) will provide complete coverage of the 2021 Scotties Tournament of Hearts. CLICK HERE for the complete schedule.
This story will be available in French as soon as possible at www.curling.ca/2021scotties/nouvelles/?lang=fr