Manitoba hanging tough!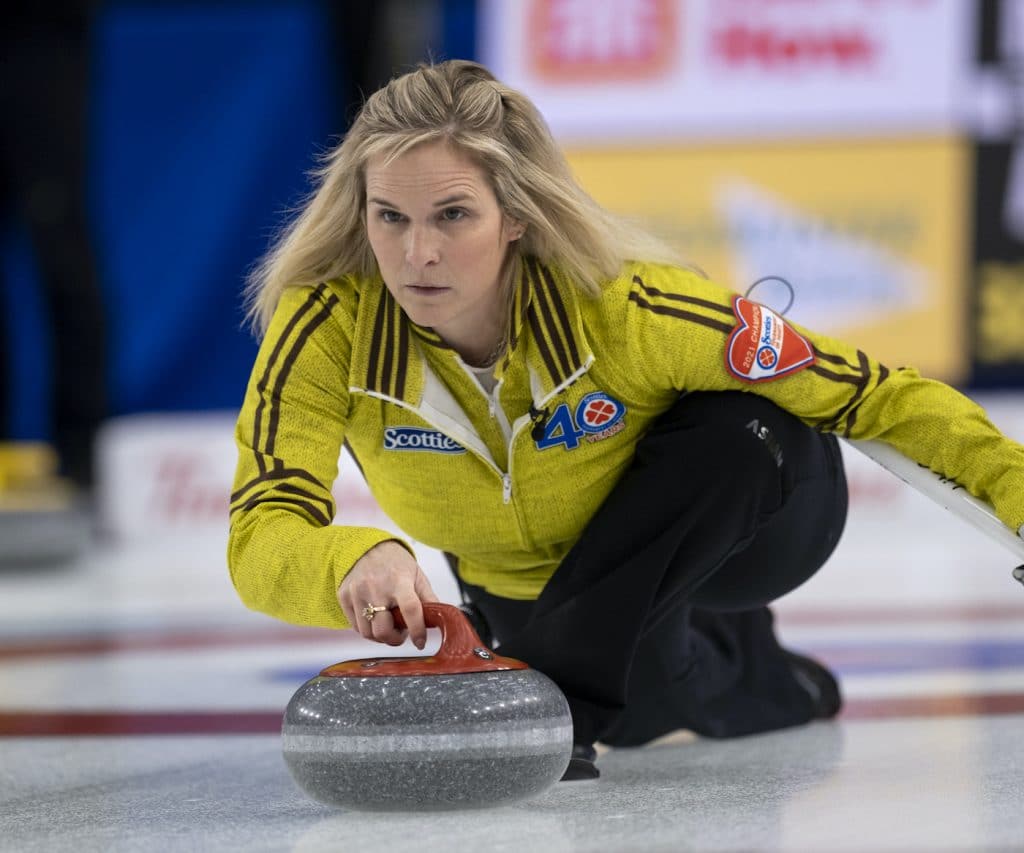 Team Manitoba keeps playoff hopes alive at 2021 Scotties
Stop us if you'd heard this before, but Jennifer Jones tends to be at her best with her back to the wall at a Scotties Tournament of Hearts.
The Manitoba skip, who is chasing what would be a record seventh Canadian women's curling championship, provided more evidence on Saturday afternoon at WinSport Arena at Canada Olympic Park in Calgary with an emphatic 9-1 win over Rachel Homan of Ontario (9-2; Ottawa) — a win that kept Jones, vice-skip Kaitlyn Lawes, second Jocelyn Peterman, lead Lisa Weagle, alternate Raunora Westcott and coach Viktor Kjell in the hunt for one of the three available playoff positions at the 2021 Scotties Tournament of Hearts.
A loss would have made Manitoba a long-shot to make the playoffs — not that Jones hasn't thrived in that position before, as evidenced by her memorable Scotties victories in 2008 and 2009 that saw her team win a series of loser-eliminated games en route to titles.
And while a win did not lock up anything for Manitoba, it certainly gave Jones and Co. some breathing room, and erased the lingering aftertaste of a disappointing 7-5 loss to Alberta's Laura Walker on Friday night.
"It was a definite must-win; we knew that," said Jones. "I missed a few too many shots last night, and we needed to come out sharp today; I thought we did that. Hopefully we have another level for tonight (in the round-robin finale vs. Team Canada's Kerri Einarson)."
Manitoba had Ontario in chase mode the entire game, scoring single points in each of the first four ends and forcing Homan into tough shots throughout that span. It didn't get better after the intermission as Manitoba would steal three in the seventh end and one more in the eighth before Ontario conceded.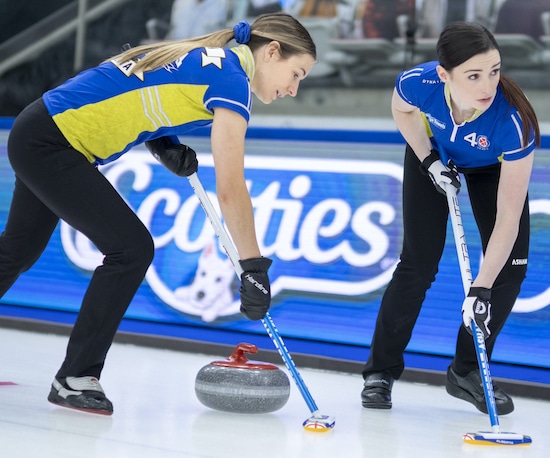 The dominance was borne out in the statistics — Weagle was scored at 94 per cent, Peterman at 92, Lawes at 94 and Jones at 97, and the skip was giving the credit to her front end.
"Lisa and Jocelyn played great," she said. "The setups were unbelievable, and that always makes life easier on the back ends. We made the easy shots when we had to, made the big shots when we had to, and that usually leads to good games."
Weagle, of course, was in the spotlight as she had spent the past decade as Team Homan's lead before she and the team parted ways in the off-season.
"I've always loved playing in big games, and that Homan-Jones rivalry has always been one I've enjoyed playing in," said Weagle "Now it's on the other side, and I'm still enjoying it. The team really stepped it up and played well today."
They certainly did, but as curling fans know, Jones has a habit of doing that in must-win situations.
"I don't know (why that happens)," said Jones. "I think it's more about the love of wanting to play more. And in order to play more, you have to leave it all out on the ice. I never want to have any regrets. It's just about not being scared to lose, and really wanting to win."
In other Saturday afternoon action, Team Canada (10-1; Gimli, Man.) because the first team to clinch a playoff spot, beating Quebec's Laurie St-Georges (6-5; Laval-sur-le-Lac) 7-4; Alberta(8-3; Edmonton) kept its playoff hopes alive with a 9-4 win over Saskatchewan's Sherry Anderson (6-5; Saskatoon); and Team Wild Card #1's Chelsea Carey (6-5; East St. Paul, Man.) shaded Team Wild Card #3's Beth Peterson (6-5; Winnipeg) 6-5.
The final Championship Pool draw is scheduled for Saturday at 8:30 p.m. (all times Eastern). Team Canada would lock up first place and a berth in Sunday's 8:30 p.m. gold-medal game with a win over Manitoba. Ontario, meanwhile, would head to the final with a win over Saskatchewan combined with a Team Canada loss.
The second- and third-place teams will meet in Sunday's semifinal at 2:30 p.m. Should a third-place tiebreaker game be required, it will be played Sunday at 10 a.m.
Live scoring, standings and statistics for the 2021 Scotties Tournament of Hearts are available at www.curling.ca/scoreboard/
TSN and RDS2 (streamed on ESPN3 in the United States) will provide complete coverage of the 2021 Scotties Tournament of Hearts. CLICK HERE for the complete schedule.
This story will be available in French as soon as possible at www.curling.ca/2021scotties/nouvelles/?lang=fr