Superb, Saskatchewan!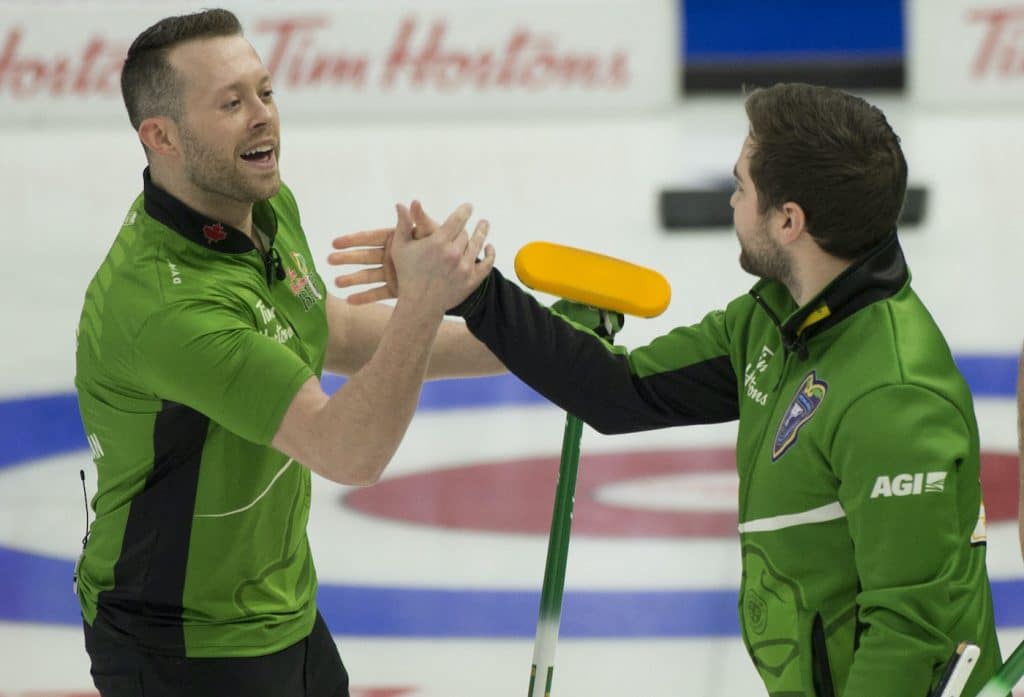 Gang Green takes down Team Canada at Tim Hortons Brier
Matt Dunstone and Team Saskatchewan are riding a wave of confidence at the 2021 Tim Hortons Brier, presented by AGI.
The latest evidence was provided Monday night at WinSport Arena at Canada Olympic Park in Calgary, where Dunstone's team from Wadena — vice-skip Braeden Moskowy, second Kirk Muyres, lead Dustin Kidby and coach Adam Kingsbury — shaded Team Canada's Brad Gushue (2-2; St. John's) 6-5.
The win was satisfying, undoubtedly, but the nature of the win was just as satisfying for Saskatchewan, which improved to 3-1 with the victory and firmly in the hunt for one of the four available berths.
Facing pressure from Gushue's defending Tim Hortons Brier champs — vice-skip Mark Nichols, second Brett Gallant, lead Geoff Walker, alternate Ryan McNeil Lamswood and coach Jules Owchar round out the team — Saskatchewan coolly handled the ninth and 10th ends to pick up the win.
In the ninth, Dunstone elected to allow Team Canada to steal the game-tying point in order to take last-rock advantage into the 10th. And in that final end, Dunstone made a precision draw to bite the button for the victory.
"We were right where we wanted to be," explained Dunstone, a two-time Canadian junior champ. "We gave him a steal for a reason, and we knew we were going to have a shot (in the 10th). It just kind of simplifies things in that 10th end; five-rock rule and being two up (without hammer), it gets a little messy, a little dicey. So you give him the steal in nine, the odds of us having a shot to win the game (in the 10th) are very good.
"It wasn't a path we knew particularly well, but the sweepers gave me the right information, I threw it as well as I could and the guys swept it well — great team shot. And to do it at the Brier against Team Canada, it's a great moment for us and hopefully we keep this momentum going forward."
There's no reason to believe that won't happen, as Saskatchewan has played very well in the early going in the bubble. This lineup won a bronze medal at the 2020 Tim Hortons Brier in Kingston, Ont., after losing the semifinal to Team Gushue, then representing Newfoundland/Labrador, and entered the 2021 event with goals of taking the next step.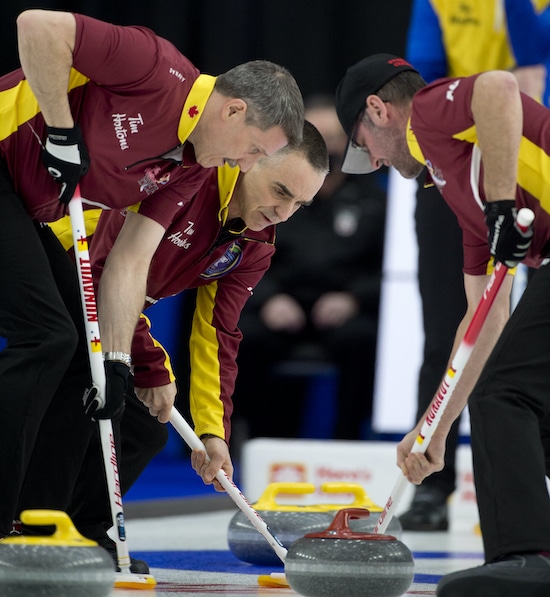 "They're all big wins, but this one, especially — a little bit of a revenge game from last year, so it feels good to get that one," said Dunstone. "We've been playing really well the first four games; we feel like we've been in control of almost every end we've played out here.
"We're pretty pleased. But we're only halfway through the first round robin, so if we can keep it trucking, I like where we're going to be at the end."
In other action, Team Wild Card #2's Kevin Koe (5-0; Calgary) remained on perfect pace with an 11-3 win over Nunavut's Peter Mackey (0-4; Iqaluit); Newfoundland/Labrador's Greg Smith (1-4; St. John's) picked up his first win, an 11-7 triumph over P.E.I.'s Eddie MacKenzie (0-4; Montague/Crapaud) and Nova Scotia's Scott McDonald (3-2; Halifax) downed Quebec's Mike Fournier (3-2; Montreal/Valleyfield) 9-6.
The 2021 Tim Hortons Brier continues with draws Tuesday at 10:30 a.m., 3:30 p.m. and 8:30 p.m. (all times Eastern).
Live scoring, standings and statistics for the 2021 Tim Hortons Brier are available at www.curling.ca/scoreboard/
TSN and RDS2 (streamed on ESPN3 in the United States) will provide complete coverage of the 2021 Tim Hortons Brier. CLICK HERE for the complete schedule.
This story will be available in French as soon as possible at www.curling.ca/2021brier/nouvelles.