Northern Ontario keeps grinding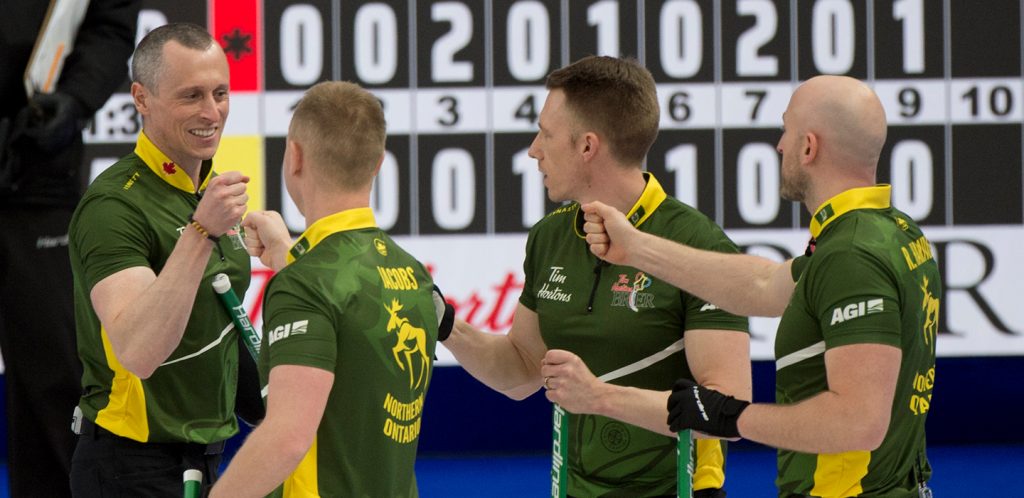 Jacobs strings together back-to-back wins at Tim Hortons Brier on Tuesday
The grind is not an unfamiliar, nor feared, feeling for Northern Ontario's Team Brad Jacobs. In fact, it is welcomed and one the team will continue to embrace heading into the middle part of the Tim Hortons Brier, presented by AGI.
The team picked up its second win of the day in two closely contested battles, the most recent a 7-5 victory against Alberta's Brendan Bottcher (3-2) on Tuesday night at WinSport Arena at Canada Olympic Park in Calgary. While Team Jacobs, from Sault Ste. Marie, Ont., sits in the middle of its pool with a 4-2 record it was the first time the team strung together back-to-back victories at this closely contested event.
"Destiny is still in our hands, but I think it's absolutely the quality of the field," Team Northern Ontario vice-skip Marc Kennedy said of the team's first string of wins. "I mean, how many games out there are going 10 ends to the last rock. A guy needs a deuce or one to win. We're seeing some incredible curling."
Including from 2014 Olympic gold-medallists Jacobs, second E.J. Harnden, lead Ryan Harnden with alternate Lee Toner and coach Rick Lang. Across the board the team was focused, communicating and dialled in for its evening game, curling 91 per cent collectively. Bottcher's team (vice-skip Darren Moulding, second Brad Thiessen, lead Karrick Martin, alternate Patrick Janssen and coach Don Bartlett) was in need of a single in the 10th end, but Jacobs and his team played a well-executed end, forcing Bottcher into throwing two very difficult angle raises unsuccessfully, resulting in the steal.
"There was a lot of events last year that was a real grind and we needed to be really tough mentally. We learned a lot from that last year and I think now with the depth of curling in Canada you need to be prepared for grinding no matter where you play. There's no such thing as an easy game anymore," Kennedy said, referring to last year's Tim Hortons Brier where the team lost three games early, but rebounded on its way to a spot in the playoffs via a tiebreaker.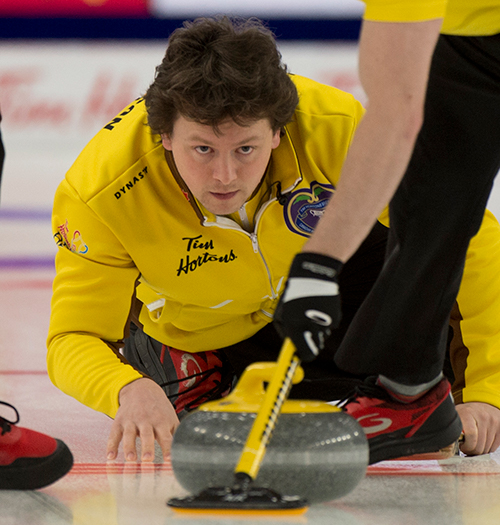 As Jacobs will point out, it isn't a three-horse race for a Canadian men's curling championship anymore. There are plenty of young up-and-coming teams trying to stake a claim in the playoffs, including Alberta team Northern Ontario defeated tonight. There are also some blasts from the past and some incredible curling from legends that still have it in their own right, such as Wild Card 3's Wayne Middaugh, who also won two games for his team on show-stopping last rock shots. There are is no easy path for any team to the playoffs, because Jacobs is confident it will have to go through his team which is continuing to get better with each game.
Two sheets down Manitoba's Jason Gunnlaugson remained undefeated in the pool after a clash against New Brunswick's James Grattan (4-2; Oromocto). An early steal of two paved the way to an 8-4 win for the Morden, Man.-based team, keeping its record unblemished at five wins. Middaugh, skipping Glenn Howard's Wild Card 3 team from Penetanguishene, Ont. improved to 4-1 after winning a second game in a row on a marvellous last shot attempt against British Columbia's Jim Cotter (1-4; Vernon) by score of 4-3. Northwest Territories skip Greg Skauge and his team from Yellowknife (1-4) picked up their first victory with a 9-5 triumph over Yukon's Dustin Mikkelsen (0-6). The 2021 Tim Hortons Brier continues Wednesday with draws at 10:30 a.m., 3:30 p.m. and 8:30 p.m. (all times Eastern).
Live scoring, standings and statistics for the 2021 Tim Hortons Brier are available at www.curling.ca/scoreboard/
TSN and RDS2 (streamed on ESPN3 in the United States) will provide complete coverage of the 2021 Tim Hortons Brier. CLICK HERE for the complete schedule.
This story will be available in French as soon as possible at www.curling.ca/2021brier/nouvelles.