And then there were three!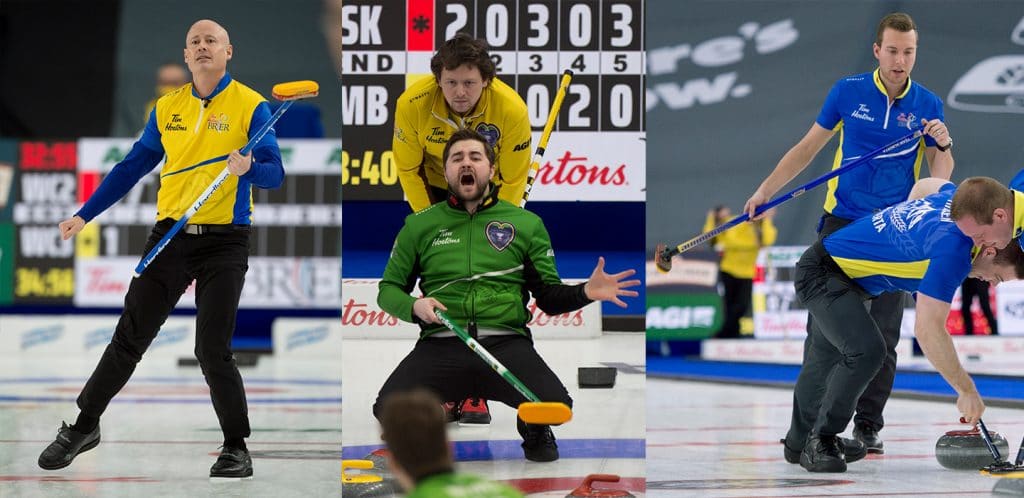 Playoff teams determined at 2021 Tim Hortons Brier
There were many scenarios at play, with six of eight teams at the 2021 Tim Hortons Brier, presented by AGI, still having a path to the playoffs.
The most extreme scenario would have called for double-tiebreaker rounds – one to be played on Saturday night, followed by another on Sunday morning – but as the rocks settled in Winsport Arena at Canada Olympic Park in Calgary, three teams qualified for the three spots in the playoffs.
Wild Card #2's Kevin Koe (Calgary, 10-2) stole single points in three consecutive ends on its way to defeat Wild Card #3's Team Glenn Howard (Penetanguishene, Ont.) by a score of 7-6. 
"You always get excited about it, that's why we curl," said Wild Card #2 second/vice-skip John Morris. "To play in major championship finals because that where it's the most excited and that's what really gets your blood pumping. That's what separates the champions from [those teams] coming real close. We're excited to be in the final and we're going to do everything we can to prepare and be 100 per cent ready to go."
Koe is chasing a historic milestone as a skip. One more win and he will become the only skip to win five Tim Hortons Brier titles. But that isn't in the forefront of Koe's focus heading into Sunday as he is playing for his team first and foremost.
Wild Card #2 will await the winner of the semifinal game played between Matt Dunstone's team from Saskatchewan and Brendan Bottcher's team from Alberta.
While a loss would not have eliminated Saskatchewan's Dunstone (9-3, Wadena, Sask.), it would have made the road to the final much more difficult and would have included a tiebreaker scenario. Dunstone defeated Manitoba's Jason Gunnlaugson (6-6, Morris, Man.), who played for pride after being eliminated from playoff contention the previous draw.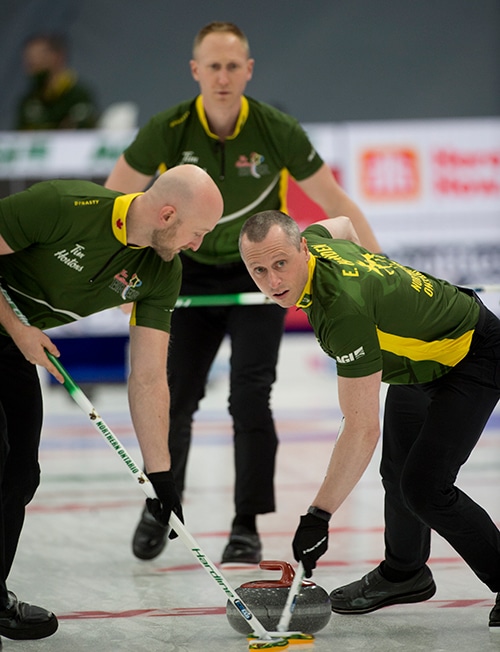 The 9-6 victory for Saskatchewan means it will be the second year in a row Dunstone has led the province to the playoffs. The young skip guided his team to bronze last season and further cemented his team's name into Canadian curling teams' upper-echelon. Saskatchewan was once a province that routinely landed on the playoff bubble. Still, Dunstone is determined to change that by making routine trips to Sunday games representing the province at the Tim Hortons Brier.
"We're very excited for it. We're going to embrace the moment as much as we possibly can. If it's meant to be, it's meant to be. We're just going to play the best we possibly can and just try to enjoy this experience as much as we can," Dunstone said.
Alberta's Brendan Bottcher (9-3, Edmonton) shocked Canada's Brad Gushue (8-4, St. John's, N.L.) with a commanding 8-2 win in the final Championship Pool game, effectively eliminating the defending champions from a repeat Tim Hortons Brier title. The must-win game provided Bottcher and team with a semifinal spot and the opportunity to play in a fourth consecutive final. 
"Personally I can say that I learned a lot from each of the three experiences. One of the biggest things if you've got to find a way to relax, like it's just a game of curling. You've got to go back to the roots and all of the basics and you've got to do all the things that got you here. You've really got to focus on the process and playing your absolute best," Bottcher said.
Ontario's John Epping (7-5, Toronto) had a narrow path to a tiebreaker, but needed the first part of the equation – a victory against Northern Ontario's Brad Jacobs (7-5, Sault Ste. Marie) – to come to fruition. Jacobs got the upper-hand in the game, winning by a score of 9-3.
The 2021 Tim Hortons Brier continues Saturday with the final Championship Pool draw at 8:30 p.m. (Eastern).
Live scoring, standings and statistics for the 2021 Tim Hortons Brier are available at www.curling.ca/scoreboard/
TSN and RDS2 (streamed on ESPN3 in the United States) will provide complete coverage of the 2021 Tim Hortons Brier. CLICK HERE for the complete schedule.
This story will be available in French as soon as possible at www.curling.ca/2021brier/nouvelles.