Fear the Moose!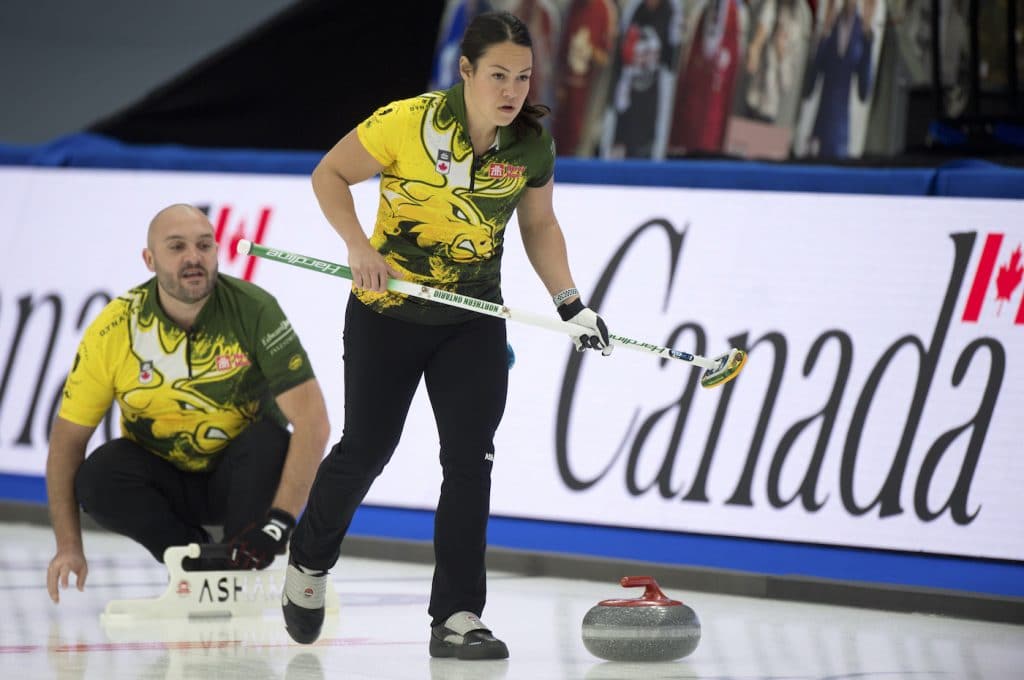 Northern Ontario reps roll to victory in opener of Home Hardware Mixed Doubles
You won't hear any moose calls inside WinSport Arena at Canada Olympic Park in Calgary this week, as no fans are allowed in the building.
COVID-19 health protocols have silenced the moose calls saluting Northern Ontario teams — a tradition that goes hand in hand with national curling championships.
But you're sure going to SEE the moose at the 2021 Home Hardware Canadian Mixed Doubles Championship, presented by Nature's Bounty, based on the superb performance put in by Northern Ontario reps Oye-Sem Won and Trevor Bonot on Thursday afternoon.
Clad in those amazing Northern Ontario Dynasty uniforms, with a moose caricature prominently featured, the Thunder Bay duo of Won and Bonot won their opening game, piling up a 9-2 win over Kaitlyn Lawes and Connor Lawes (Winnipeg/Collingwood, Ont.).
It's a uniform that made its debut a few years ago at the Canadian Mixed (four-player) championship, worn by a Northern Ontario team that Bonot skipped to a gold medal, and has inspired not only various offshoots (you can check them out on the Dynasty website by CLICKING HERE) but also its own social media hashtag: #FearTheMoose.
"I think it represents the fierceness of Northern Ontario and having everyone behind us," said Won after the game. "The (uniforms) represent our teams really. We stand by our moose, and it means a lot to us."
"They were a lot of fun and something different that we hadn't seen before," said Bonot. "I just love that we can continue wearing them."
Won and Bonot never trailed on Thursday, taking four in the first end and sailing to the victory.
Won and Bonot were scheduled to go to the 2020 Canadian Mixed Doubles Championship, but that event was cancelled in the early days of the pandemic.
A year later, they are in the bubble in Calgary and repping Northern Ontario with pride.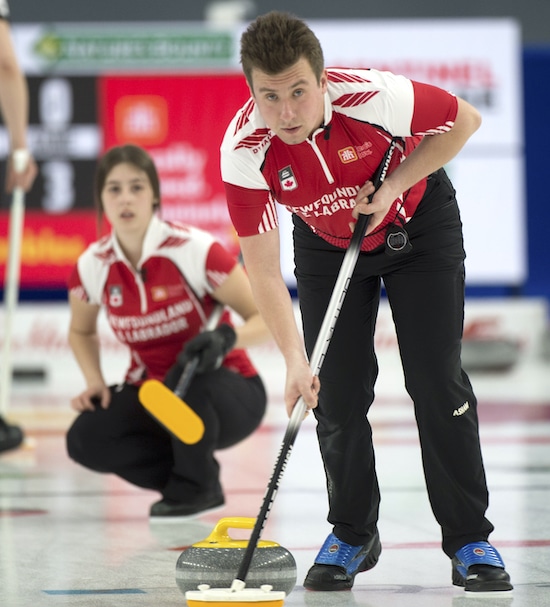 "It's been an interesting year, that's for sure," said Won. "When we got the call that Northern Ontario (Curling Association) was going to ask us to represent them again, it was an amazing chance to be part of the bubble. It's a once-in-a-lifetime opportunity, but it's always amazing to represent Northern Ontario — it's an honour to be here."
"You don't want to pass on the chance to play in a national championship," added Bonot. "It took me a long time to get to one, so you never want to turn it down."
Both players have national championship experience, and Bonot is one of the few players in Canada (think for a moment about rare it is) to have worn a Maple Leaf on his back internationally, having skipped Team Canada to a silver medal at the 2017 World Mixed (four-player) Championship in Switzerland; his Northern Ontario team won the 2017 Canadian Mixed title 11 months earlier in Yarmouth, N.S.
"It was an incredible honour (to represent Canada internationally) the first time; it came out of nowhere, almost," said Bonot. "You don't go into an event expecting to win like that, but we had a great week in Yarmouth. Coming here, I think we have the same attitude. One game a time, enjoy ourselves, and see where the chips fall. Hopefully we have enough wins in us to get to playoffs, and go from there. The Maple Leaf would definitely be a huge thrill."
In the other games, Mackenzie Mitchell made a marvellous double takeout to score three in the seventh end as she and partner Greg Smith (St. John's, N.L.) prevailed 10-8 over Danielle Schmiemann and John Morris (Edmonton/Canmore, Alta.); and Lisa Weagle and John Epping (Ottawa/Toronto) were 7-4 winners over Dezaray Hawes and Tyler Tardi (Kelowna, B.C./Langley, B.C.)
The 2021 Home Hardware Canadian Mixed Doubles Championship continues Thursday with draws at 7:30 p.m. and 10:30 p.m. (all times Eastern).
Live scoring, standings and statistics for the 2021 Home Hardware Canadian Mixed Doubles Championship are available at www.curling.ca/scoreboard/
TSN and RDS2 (streamed on ESPN3 in the United States) will provide complete coverage of the 2021 Home Hardware Canadian Mixed Doubles Championship. CLICK HERE for the complete schedule.
This story will be available in French as soon as possible at www.curling.ca/2021mixeddoubles/nouvelles