Jones/Laing win showdown!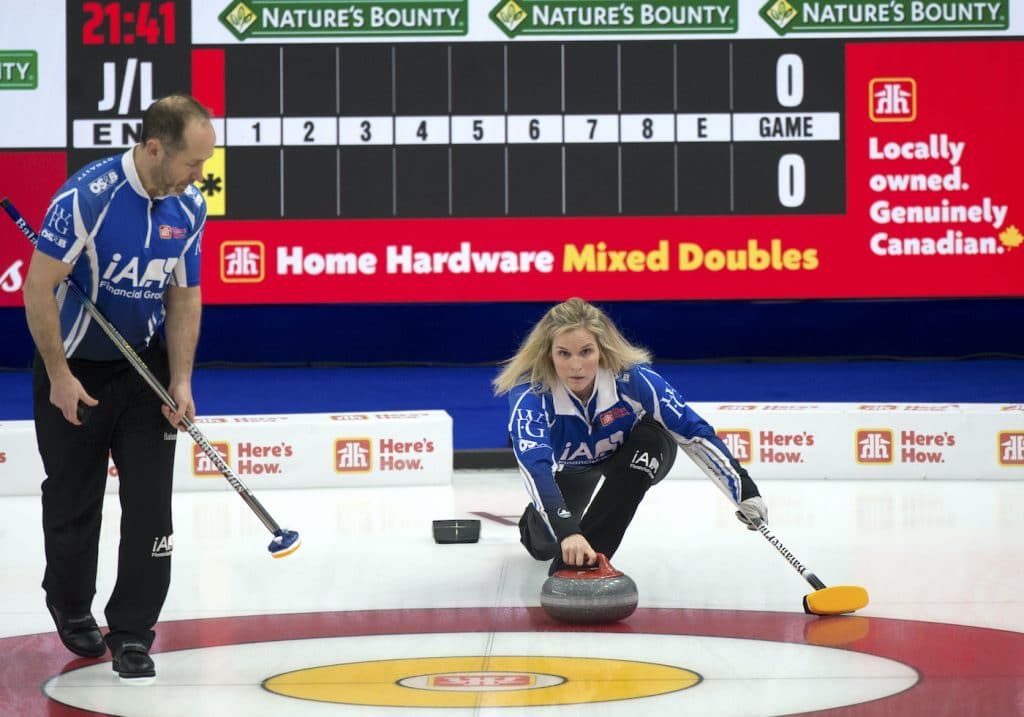 Jones/Laing top Einarson/Gushue at Home Hardware Mixed Doubles
With all of the star quality on the ice Friday at WinSport Arena at Canada Olympic Park, it had all the makings of a classic at the 2021 Home Hardware Canadian Mixed Doubles Championship, presented by Nature's Bounty.
And it was — for three ends, at least. But in the fourth, the pairing of Jennifer Jones and husband Brent Laing (Alliston, Ont.) would break it open by scoring five en route to a 10-4 win over Kerri Einarson and Brad Gushue (Gimli, Man./St. John's, N.L.).
With the win, Jones and Laing improved to 2-0 while Einarson and Gushue dropped to 1-1.
All told, the matchup featured players who've won a combined 14 Canadian men's or women's national championships in four-player curling, six world championships and two Olympic gold medals.
So, yes, there was some anticipation leading up to the clash of curling titans, and there was no shortage of rocks in play.
"It's always fun to play against the best; I felt out of place," joked Laing (a three-time Tim Hortons Brier and world men's champ, for the record). "I mean, three skips and a sweeper. But I just tried to hang around and see if I could hit the rings a few times."
Jones and Laing would steal single points in both the first and second ends before Einarson and Gushue responded with a single in the third.
But in the fourth, a Gushue double-takeout attempt just overcurled and removed his own team's shot stone, and then Einarson came up light on a draw, leaving Jones with a split attempt for a perfect six count (the maximum a team can score in a single end in mixed doubles play); she missed the split but still settled for a game-changing five.
"We got a little bit fortunate; Brad was trying a double and it spread our rocks in the house, and Kerri came up a little bit light on a draw on a new path," said Jones. "So we got a little bit fortunate to have our rocks spread out in the rings and get a big end. But the score wasn't indicative of the game; I thought it was a good game, lots of good shots from both teams, and it was fun to play."
A 2-0 start to the 2021 Home Hardware Canadian Mixed Doubles would be welcomed by any team, of course, but beating the likes of Einarson and Gushue adds to the impressiveness, one might assume.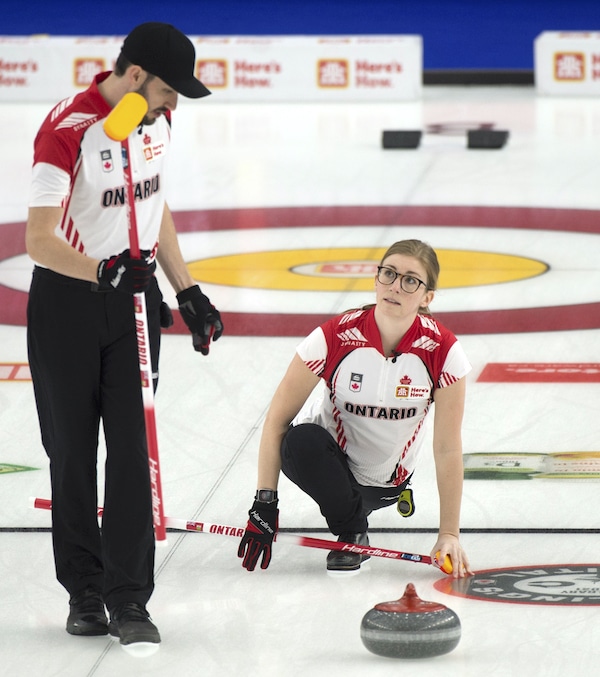 "I'm not sure that there's any statement, other than we're 2-and-0, and it's a huge win for us," said Laing. "We knew that would be the TV game when the schedule was announced; you can't play against a team like that and not expect it to be a TV game, and our kids got to watch it in class, so they were excited. So, yeah, it's not just another win. You can say that, but it's not. Their resumés and records as players makes it a game that you maybe get up a little (more) for, so it's a big win for sure."
"I just think there's so much respect here among the players," added Jones. "There are so many top players, so many great mixed doubles teams — I think it's the best field ever to be assembled at a Canadian mixed doubles championship. So I think everyone has a ton of respect. I think it's great for us to come out and play two good games, and hopefully get on a roll. We're having a ton of fun and getting to do what we love to do."
In other Draw 7 results, Nancy Martin and Tyrel Griffith (Saskatoon/Kelowna, B.C.) also improved to 2-0, scoring three in the eighth end for a 7-5 win over Selena Njegovan and Reid Carruthers (1-1; East St. Paul/West St. Paul, Man.); defending champs Jocelyn Peterman and Brett Gallant (1-1; Winnipeg; St. John's, N.L.) hit the win column with a 7-6 triumph over Clandy Grandy and Patrick Janssen (0-2; Oshawa, Ont.); and Lauren Wasylkiw and Shane Konings (1-1; Unionville, Ont.) were 6-4 winners over Bayly Scoffin and Wade Scoffin (0-2; Whitehorse).
In the Friday early morning draw, Lisa Weagle and John Epping (Ottawa/Toronto) improved to 2-0 with a 10-3 win over Ashley Quick and Mike Armstrong (0-1/Saskatoon); Shannon Birchard and Catlin Schneider (Winnipeg/Regina) also improved to 2-0 by beating Bobbie Sauder and Brendan Bottcher (0-2; Edmonton); and Dezaray Hawes and Tyler Tardi (Kelowna, B.C./Langley, B.C.) scored two in the 10th end for a 7-6 triumph over Mackenzie Mitchell and Greg Smith (1-1; St. John's, N.L.).
The 2021 Home Hardware Canadian Mixed Doubles Championship continues with draws Friday at 4:30 p.m., 7:30 p.m., and 10:30 p.m. (all times Eastern).
Live scoring, standings and statistics for the 2021 Home Hardware Canadian Mixed Doubles Championship are available at www.curling.ca/scoreboard/
TSN and RDS2 (streamed on ESPN3 in the United States) will provide complete coverage of the 2021 Home Hardware Canadian Mixed Doubles Championship. CLICK HERE for the complete schedule.
This story will be available in French as soon as possible at www.curling.ca/2021mixeddoubles/nouvelles