Another gold for Edin!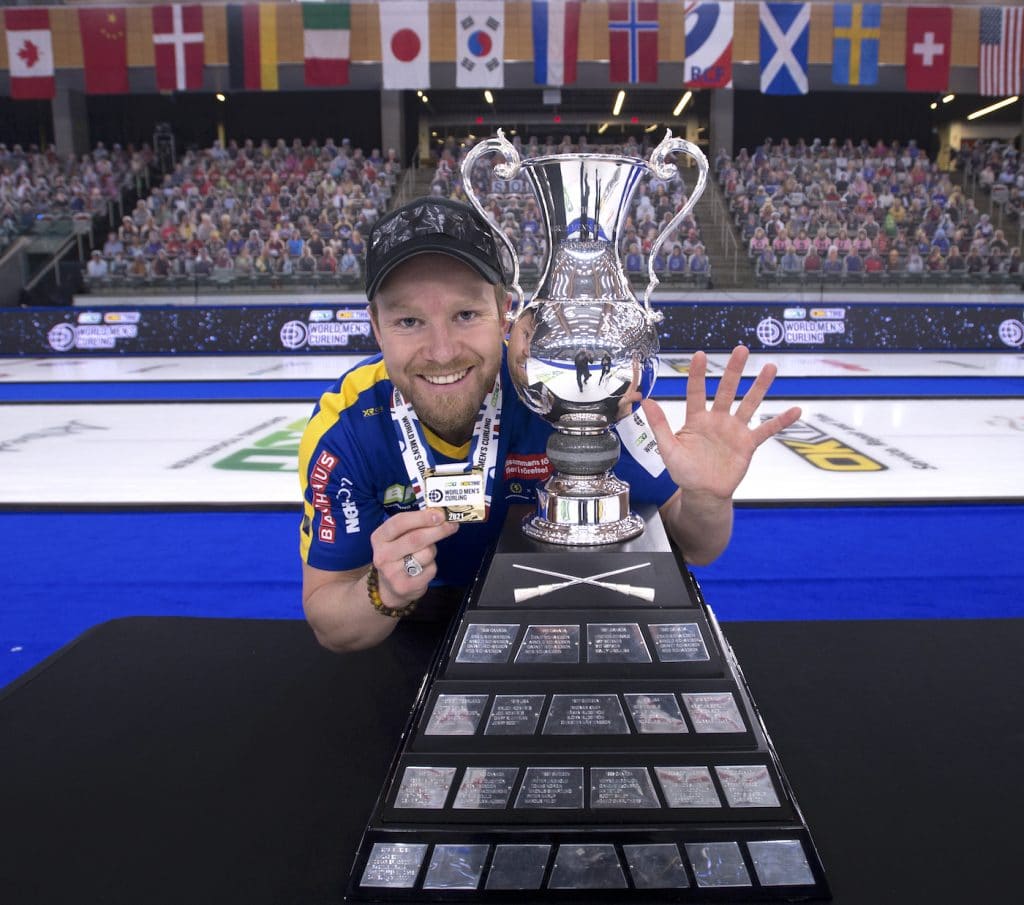 Sweden captures gold medal at World Men's Championship
Whenever Niklas Edin plays a world curling championship in Canada, chances are extremely good he'l be taking a gold medal with him back to Sweden.
Edin made history Sunday night at WinSport Arena at Canada Olympic Park in Calgary as he skipped Sweden to the gold medal at the 2021 BKT Tires & OK Tire World Men's Curling Championship, presented by New Holland, with a 10-5 win over Scotland's Bruce Mouat.
With the victory, the 35-year-old Swede becomes the first skip ever to win five world men's championship gold medals — he'd shared the record for skips with the legendary Ernie Richardson.
Edin, backed up by vice-skip Oskar Eriksson, second Rasmus Wranå, lead Christoffer Sundgren, alternate Daniel Magnusson, team coach Fredrik Lindberg, national coach Maria Prytz, won a world championship on Canadian soil for the fifth time in his career — four in men's play (this year in Calgary, 2019 in Lethbridge, Alta., 2015 in Halifax and 2013 in Victoria) and one at the World Juniors (2004 at Trois-Rivières, Que.).
"It feels super special," said Edin, who with his teammates also became the first players ever to win three consecutive world men's championships. "Going for three straight, and five titles (in his career), both of them were huge goals and obviously this is all leading up to the Olympics, which is the ultimate goal. So this was a huge step for us. Especially after a season like this — we've been practising OK, but not playing a lot of games, so we really didn't know our form going into this. So obviously not competing much worked out well for us."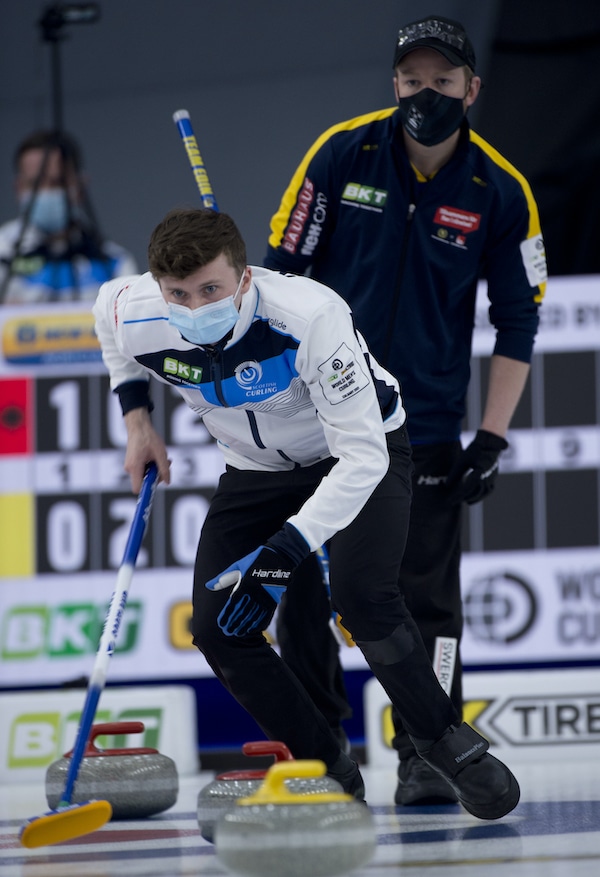 The Scots, seeking their country's first world championship since their national coach David Murdoch won in 2009 at Moncton, N.B., took Sweden down to the wire on Sunday and were in a 5-5 tie going into the ninth end.
But in the decisive ninth, Edin made a runback double takeout with his final stone to score five, and the Scots conceded defeat.
Edin made numerous game-savers on Sunday night; in the first end, he had to make a cold draw to the side of the button, looking at four Scottish counters. In the fifth, he drew for a single looking at a pair of Scottish counters; and in the seventh, he drew the button with three Scottish counters in the rings.
"Pretty gutted," said Mouat, whose team is rounded out by vice-skip Grant Hardie, second Bobbie Lammie, lead Hammy McMillan, alternate Ross Whyte, team coach Alan Hannah and Murdoch. "It's hard to express how I'm feeling to be honest, but very proud of where we got to. To reach the final was a great achievement for us; I felt like we played well enough to win. We just had a few misses that really shouldn't have come. But we'll try to learn from it and move forward."
It capped a unique World Men's Championship staged in a fan-free bubble with a record 14 teams competing, many having had little or no competition prior to arriving in Calgary.
"The whole year was just awkward with no games," said Edin. "We didn't really know if we were still that good. So coming here, we had a lot of pressure on ourselves, a lot of nerves going into it. We're normally super confident going into events like this, but we just couldn't really know that our form and will to win was still the same. So winning this one feels unreal in a way."
It was Sweden's 10th gold medal, second only to Canada's 36.
In the bronze-medal game, Switzerland's last-rock thrower Benoît Schwarz drew to the four-foot with his final rock of the game to complete a 6-5 victory over RCF's Sergey Glukhov.
It was a fourth world-championship bronze medal for Swiss skip Peter de Cruz (who throws second stones). His team was rounded by Schwartz, third Sven Michel, lead Valentin Tanner, alternate Pablo Lachat and team coach Håvard Vad Petersson.
Action in the bubble will pause as the facility is prepared for two Pinty's Grand Slam of Curling events — the Champions Cup begins on Wednesday, followed by the Players' Championships, April 20-25.
After the Slam events are completed, the bubble series of events will conclude with the LGT World Women's Curling Championship, presented by BKT Tires, April 30-May 9.
This story will be available in French as soon as possible at www.curling.ca/2021worldmen/nouvelles/?lang=fr