Canada falls to Germany
Team Canada facing uphill climb at World Women's
Canada's Kerri Einarson team faces a stiff challenge to make the playoffs at the 2021 LGT World Women's Curling Championship, presented by BKT Tires.
Team Canada lost its fourth straight game Monday at WinSport Arena at Canada Olympic Park, falling 6-2 to Germany's Daniela Jentsch (3-3).
With the loss, Einarson, vice-skip Val Sweeting, second Shannon Birchard, lead Briane Meilleur, alternate Krysten Karwacki, team coach Heather Nedohin and national coaches Elaine Dagg-Jackson and Renee Sonnenberg, fall to 1-5 and in danger of missing the six-team playoffs.
Countries finishing in the top six also will clinch berths in the 2022 Winter Olympics in women's curling.
Canada never managed to generate momentum against the shortstaffed Germans, who have two players in isolation after testing positive for COVID-19 prior to the start of the event and have played this championship with just three players on the ice.
"I think they played really well," said Birchard. "They played defensive for the first half of the game and kept it really close, and maybe we should have pushed a little harder in the first half. But they played well, that's all I can say."
The teams were tied 1-1 through five ends before Germany scored a deuce on a draw to bite the button from Jentsch.
The teams traded singles in the seventh and eighth ends, and in the ninth, Einarson was heavy with her last-rock draw for one, resulting in a steal of two for Germany that ended the game.
"I don't know; it feels closer than what our record is showing right now," said Sweeting. "I think we just have to capitalize on any opportunity that we get. And it doesn't feel like we're getting many out there. Just bear down, stick to what we do best, and just restart."
The opportunity to restart will come later on Monday as Canada plays South Korea's Eunjung Kim (2-4) at 4 p.m. (all times Eastern). There is, pointed Birchard, still hope for a rally into the playoffs.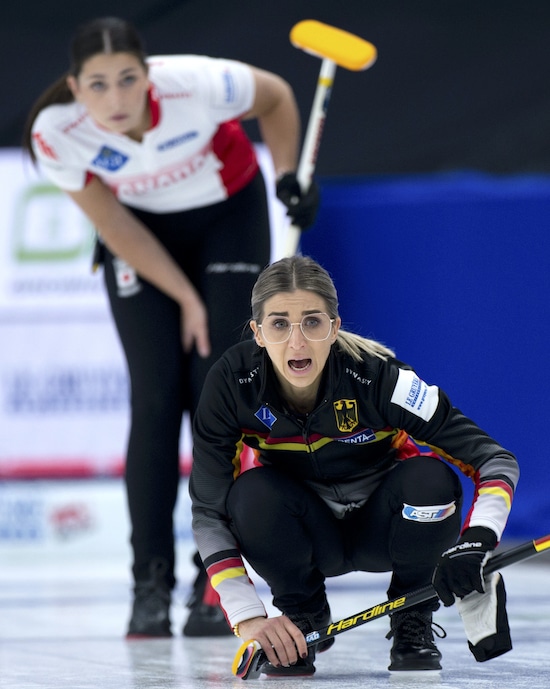 "There are still a lot of games left, and we have to play every single one of them," said Birchard. "So might as well win 'em. I think that's what we have to think about going forward. Just try to get on a roll."
"We feel really close out there," added Sweeting. "We just have to string some positives together, some games together, and hope that we can still make in (to the playoffs) at the end of the week."
In other Monday morning games, Tabitha Peterson of the U.S. (4-2) was a 5-3 winner over Estonia's Marie Turmann (0-5); Switzerland's Silvana Tirinzoni (5-0) doubled Japan's Sayaka Yoshimura (2-3) 10-5; and Sweden's Anna Hasselborg (4-1) turned back Scotland's Eve Muirhead (3-2) 7-4.
Switzerland made history on Sunday night, scoring the first eight-ender in the history of the World Women's Championship.
RCF's Alina Kovaleva (5-0), China's Yu Han (3-1), Anna Kubešková of the Czech Republic (2-2), South Korea, Denmark's Madeleine Dupont (1-3) and Italy's Stefania Constantini (1-5) all had byes on Monday morning.
The 2021 LGT World Women's Curling Championship continues Monday with draws at 4 p.m. and 9 p.m. (all times Eastern).
Live scoring, standings and statistics for the 2021 LGT World Women's Curling Championship are available at worldcurling.org/events/wwcc2021?pageType=results
This story will be available in French as soon as possible at www.curling.ca/category-all-posts-fr/?lang=fr