Team Canada snaps slump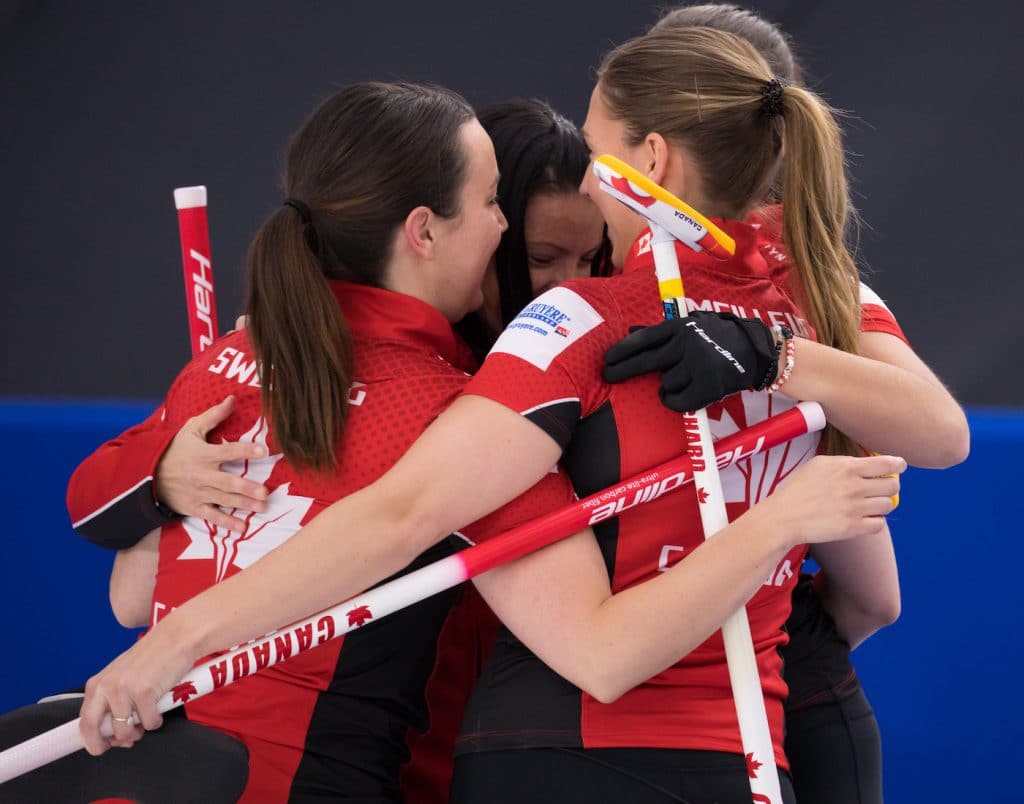 Canada tops South Korea to keep World Women's hopes alive
Team Canada took its first step back to getting into contention at the 2021 LGT World Women's Curling Championship, presented by BKT Tires, Monday afternoon at WinSport Arena at Canada Olympic Park in Calgary.
Kerri Einarson's Canadian team from Gimli, Man., snapped a four-game losing streak and put together its best performance of the championship, knocking off 2018 Olympic silver-medallist Eunjung Kim 8-4.
With the win, Einarson, vice-skip Val Sweeting, second Shannon Birchard, lead Briane Meilleur, alternate Krysten Karwacki, team coach Heather Nedohin and national coaches Elaine Dagg-Jackson and Renee Sonnenberg improved to 2-5 in the 14-team round-robin standings.
As much as it was an important win in the standings, it was equally, if not more, important for the state of mind for Team Canada.
"I really enjoy smiling, so now we have something to smile about," said Einarson. "We really needed that win to just boost our confidence. We were playing so well and we weren't getting those breaks, and this game, we got those breaks and really capitalized on them. That's what wins you games."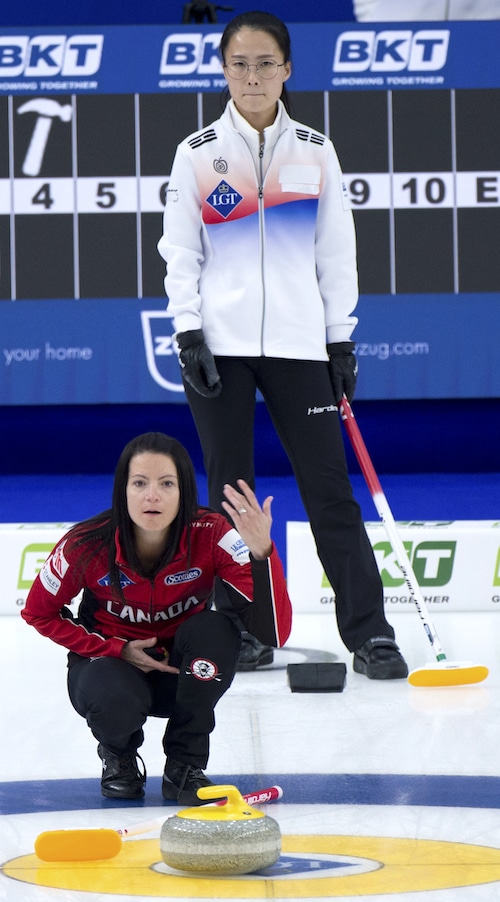 It was Canada's best effort to date, and it reversed some trends from earlier in the week. Canada was dominant in the second half of the game after letting early leads slip away in the back half in previous losses. Canada didn't give up a point in the final five ends, stealing four points in the second half.
And the eighth-end hiccups that proved costly in some of their earlier losses were reversed against South Korea. Einarson made a wonderful tap with her first delivery of the end to push a South Korean stone through a narrow port at the back of the house and sit three. Kim, holding last rock, wrecked on a guard, resulting in a stolen deuce for Canada.
"It was a really difficult shot; I was actually shocked it was made because it was so hard," said Meilleur of Einarson's game-changing shot. "But she really threw it perfect, and we really needed it at that time. We put them in a position where they had a hard shot, and that's what we're trying to do."
Canada has the bye on Monday night and will be back on the ice twice on Tuesday: at 11 a.m. (all times Eastern) against Italy's Stefania Constantini (1-6) and at 9 p.m. against Scotland's Eve Muirhead (4-2).
"It's still in our hands; all we can do is win out the rest of our games and wait and see what happens," said Meilleur. "That's what we're going to try — bring our game in every game and put ourselves into that position to hopefully be in the playoffs at the end of this."
In other Monday afternoon games, Scotland topped Italy 9-6; RCF's Alina Kovaleva (6-0) remained unbeaten with a 9-6 win over Denmark's Madeleine Dupont (1-4); and China's Yu Han (4-1) turned back Anna Kubešková of the Czech Republic (2-3) 7-2.
Switzerland's Silvana Tirinzoni (5-0), Sweden's Anna Hasselborg (4-1), Tabitha Peterson of the U.S. (4-2), Germany's Daniela Jentsch (3-3), Japan's Sayaka Yoshimura (2-3) and Estonia's Marie Turmann (0-5) all had byes on Monday afternoon.
The 2021 LGT World Women's Curling Championship continues Monday night with a draw at 9 p.m. (all times Eastern).
Live scoring, standings and statistics for the 2021 LGT World Women's Curling Championship are available at worldcurling.org/events/wwcc2021?pageType=results
This story will be available in French as soon as possible at www.curling.ca/category-all-posts-fr/?lang=fr