Canada closes with victory!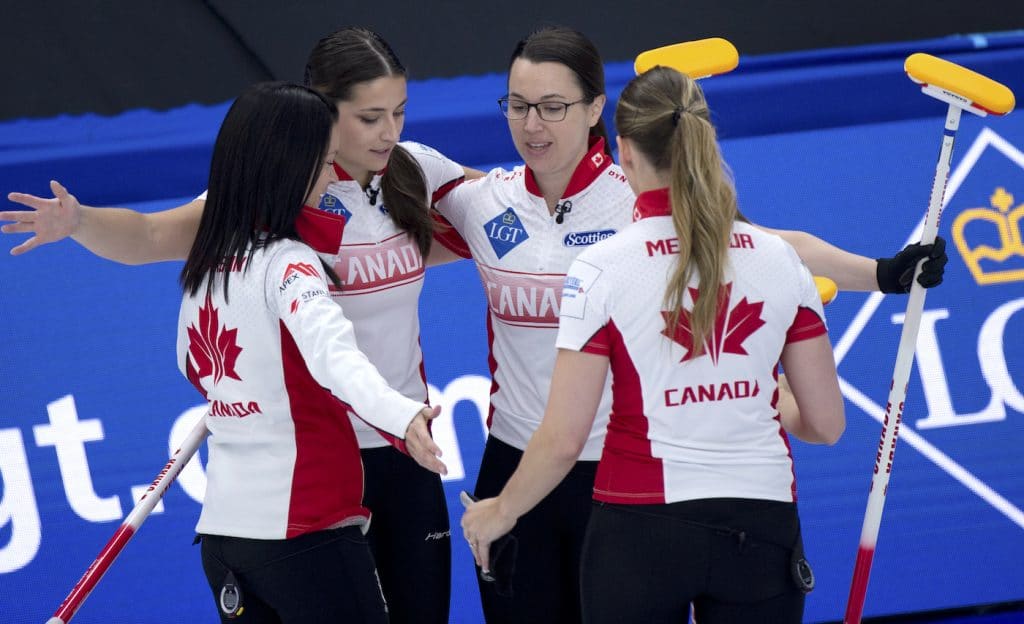 Team Canada wins round-robin finale, awaiting fate at World Women's
Team Canada took care of its business on Friday morning at the 2021 LGT World Women's Curling Championship, presented by BKT Tires.
A 6-4 win over China's Yu Han (5-7) at WinSport Arena at Canada Olympic Park completed Canada's round-robin schedule, and Kerri Einarson's team from Gimli, Man., now can only wait to see if its 7-6 record will be good enough to land in the top six to secure a playoff spot, as well as a berth for Canada at the 2022 Winter Olympics in Beijing.
"It's been an absolute roller-coaster," said Einarson after the win. "Sometimes we dig ourselves into a hole and we just battle back. We've done it before. I'm just so proud of my teammates for not giving up, and just believing. Just playing for ourselves and doing what we love to do out there. Hopefully we gave ourselves a shot."
Einarson, vice-skip Val Sweeting, second Shannon Birchard, lead Briane Meilleur, alternate Krysten Karwacki, team coach Heather Nedohin and national coaches Elaine Dagg-Jackson and Renee Sonnenberg did just that. After struggling to a 1-5 start, Canada won six of its final seven games.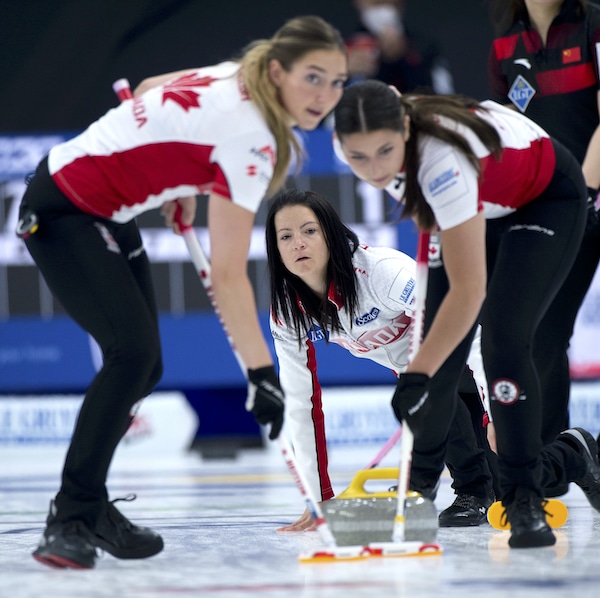 It still may not be good enough, as Canada will have to wait for the final two draws of round-robin play to wrap up before knowing whether there will be playoff action on Saturday.
Of the 256 potential sets of final standings that could play out of the final eight scheduled games, the most favourable scenarios for Canada will be based on Switzerland's Silvana Tirinzoni (10-1) defeating Germany's Daniela Jentsch (6-6) at 4 p.m. (all times Eastern; TSN will broadcast the game). Germany defeated Canada in the round robin and would hold a tiebreaker advantage.
RCF's Alina Kovaleva (11-2), Switzerland and Sweden's Anna Haselborg (8-3) have already clinched berths in the top six, and Denmark's Madeleine Dupont (7-5) would clinch with a win over the Czech Republic's Anna Kubešková (3-8) later Friday.
That leaves the six-loss teams — Canada, Germany, Tabitha Peterson of the U.S. (7-6), South Korea's Eunjung Kim (6-6), and Scotland's Eve Muirhead (6-6) — all coveting the likely two remaining playoff spots. A German loss to the Swiss would give Canada tiebreaker advantages based on round-robin wins over South Korea and Scotland.
That said, it's all a waiting game.
"Well, you can't be stressed — it's out of your control," said Nedohin. "But we finished our job, we've done what we could accomplish — we did what we had to do today, and that's really all that matters. So enjoy the (rest of the) day, believe that we'll be there and get prepared for tomorrow."
Canada played a solid game against China, getting off to an ideal start with a stolen deuce in the first end and the home team never relinquished control from there, adding stolen singles in the fourth and eighth ends.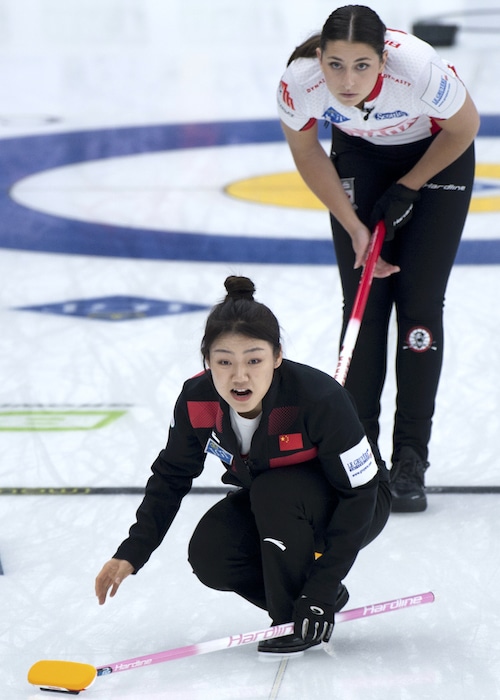 And while Einarson woke up knowing her team's playoff hopes were riding on Friday morning's game, she insisted she placed no more importance on the China game than the previous 12.
"Every game is important. Absolutely every single one," she said. "So it wasn't any different. I just felt good going into that game. I knew what needed to do, what I needed to believe in, and to trust what I'm seeing out there. We did a really great job of that."
In other Friday morning games, RCF cruised to a 7-3 win over the United States, Denmark knocked off Scotland 9-5 and Germany shaded the Czech Republic 9-8.
Switzerland, Sweden, South Korea, Japan's Sayaka Yoshimura (4-7), Italy's Stefania Constantini (2-10) and Estonia's Marie Turmann (1-10) all had byes on Friday morning.
The 2021 LGT World Women's Curling Championship continues Friday with draws at 4 p.m. and 9 p.m. (all times Eastern).
Live scoring, standings and statistics for the 2021 LGT World Women's Curling Championship are available at worldcurling.org/events/wwcc2021?pageType=results
TSN and RDS2 will provide complete coverage of the 2021 LGT World Women's Curling Championship. CLICK HERE for the complete schedule.
This story will be available in French as soon as possible at www.curling.ca/category-all-posts-fr/?lang=fr