Canada Finishes Strong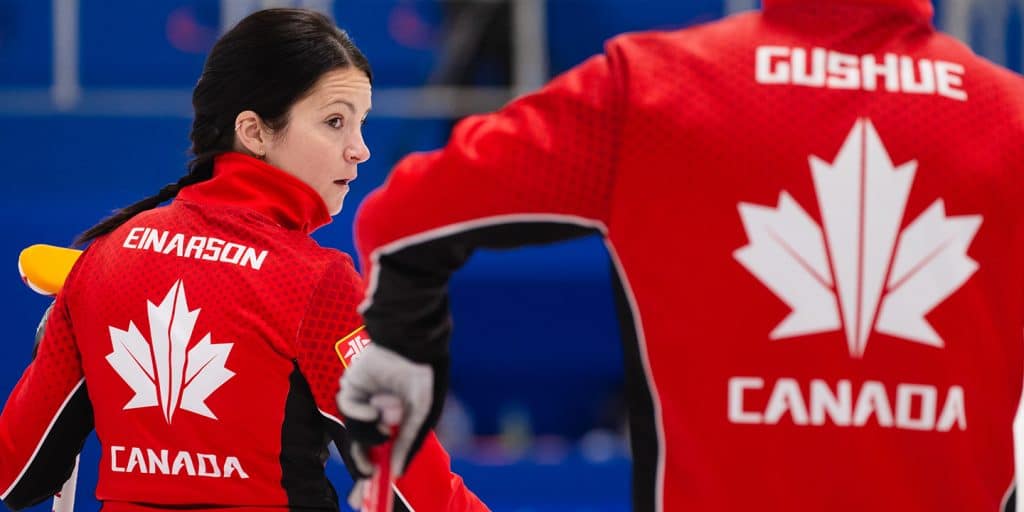 A dominant performance over RCF earns Canada a second place overall finish in group play
Canada would finish the round robin portion of the 2021 World Mixed Doubles Curling Championship with a strong performance and a win over RCF on Friday in Aberdeen, Scotland.

Canada's Kerri Einarson (Camp Morton, Man.), Brad Gushue (St. John's, N.L.) and coaches Scott Pfeifer and Heather Nedohin broke out with an early lead and rolled to an 11-6 victory over RCF's Anastasia Moskaleva and Aleksandr Eremin (4-5).

The Canadian win secured a 7-2 record and a second-place finish in Group A at the championship, setting the stage for a quarterfinal playoff match against 2017 world champs Switzerland's Jenny Perret and Martin Rios (5-4), who ranked third in Group B. Canada will have last-rock advantage in the first end against the Swiss, who defeated another Canadian team, Joanne Courtney and Reid Carruthers, in the 2017 gold-medal game at Lethbridge, Alta.
"It's good to go out with a good performance going into the playoffs," said Kerri Einarson. "We had a really solid game."

"I think trying to get hammer in the playoffs and also build some momentum, it's really important," added Brad Gushue. "We've been kind of wishy-washy all week, so it was nice to come out with a solid game this morning and another one this evening. Hopefully we can build on that over the weekend."

Indeed, the Canadians we're solid from the beginning.

The first end saw Canada jump out to an early 4-0 lead thanks to some shaky RCF stone placement and a strong draw to the button score that earned Canada the hammer. Canada lay one before their last stone after RCF attempted to tap and roll their stone to a better position, but managed to squib between a gap in the Canadian stones. Einarson, with her final stone, saw an angle tap to score four and executed perfectly for the early lead.

RCF would rebound with a score of two in second, but Canada would respond in kind in the third end with a score of two of their own, making the score 6-2 after three ends.

Canada would continue executing in the fourth end without hammer, crowding the four-foot with precision draws ensuring advantageous angles. RCF played runback after runback in an attempt to clear the scoring area but struggled to remove the Canadian stones consistently. Facing two, RCF would make a nice tap with their last to score a single, making the score 6-3.

Momentum would begin to slip in the fifth end for Canada. With hammer, Canada would surrender a steal after being in control of the end thanks to a missed Gushue shot that resulted in an RCF single.

"That's mixed doubles," said Einarson when asked about the slip in momentum. "It's looking really good and all of a sudden, it changes. We were just off on a couple of shots."

"One miss can turn an end around," said Gushue. "That (fifth) end, I missed one where if I make it, we're probably looking good for a multiple score. That's all it takes."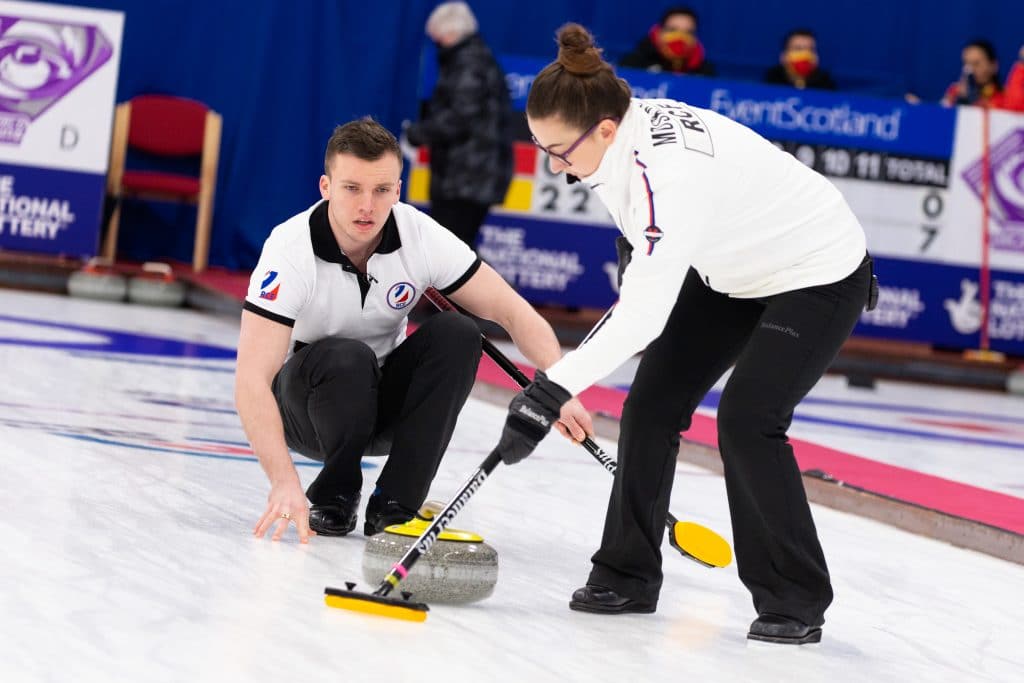 The sixth looked woeful for the majority of the end for Canada until Gushue redeemed himself and executed a spectacular runback double, getting out of trouble and resulting in a single.

Retaining hammer in the 7th, RCF would elect to use their powerplay, moving the preplaced stones to the wings. Einarson would execute a perfect tick shot with Canada's first stone, rolling the shooter on to the twelve-foot, but the RCF stones in scoring position began to accumulate as the end progressed. RCF would score two to make the score 7-6.

In the eighth end and up one with the hammer, Canada would elect to use its powerplay. With a missed tick shot and properly executed guards from RCF, plenty of traffic began to build in front of the house much to Canada's chagrin. Canada would manage to keep control of the house despite a single long RCF guard on the centre line, which RCF would draw around on their final stone, though it would slip slightly behind the tee line, leaving Einarson a simple backline weight takeout for the victory.

Canada will now set their sights on their quarterfinal match as they take on Switzerland's Jenny Perret and Martin Rios (5-4) on Saturday, May 22nd at 5 a.m. (all times Eastern).

The semifinals are slated for Saturday at 11 a.m. and 2:30 p.m. respectively. The bronze-medal match is Sunday at 5 a.m. and the gold-medal match is scheduled for 10 a.m. Sunday.

TSN/RDS 2, the official broadcast partners of Curling Canada's Season of Champions, will provide live coverage of select Canada round-robin games, in addition to all playoff games. CLICK HERE for their complete broadcast schedule.
For Team Canada updates, go to www.curling.ca. Follow us on Twitter, @curlingcanada.
For live scoring, standings and team lineups from the 2021 World Mixed Doubles Curling Championship, go to https://worldcurling.org/events/wmdcc2021