It's about the chances !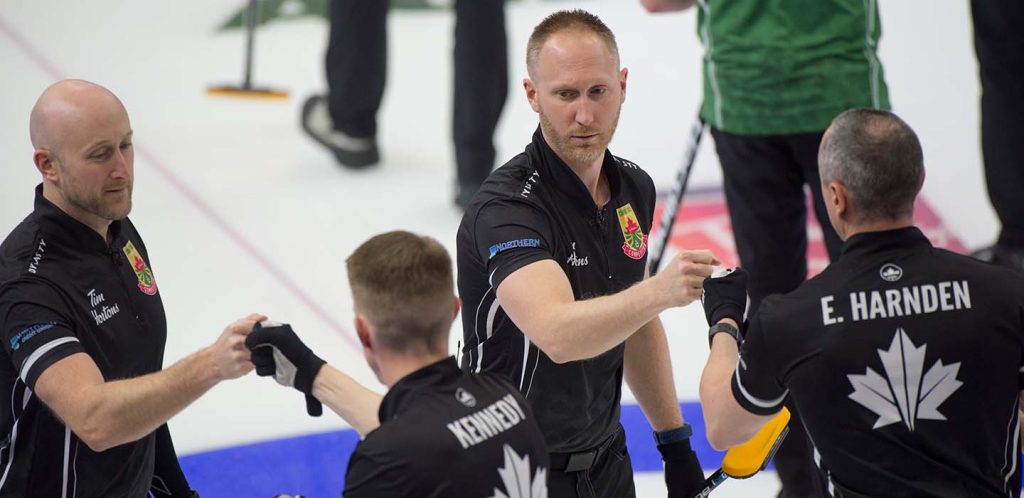 Jacobs capitalizes for second straight win at Tim Hortons Trials
Curling, like all sports, is about who performs best and who gets the breaks that produces victory.
In Sunday's fourth draw of the 2021 Tim Hortons Canadian Curling Trials, presented by AGI, Brad Jacobs and his teammates out of Sault Ste. Marie, Ont. (2-0), capitalized on their opportunities for a 7-6 win over Team Matt Dunstone (Regina; 0-2) to remain one of only two unbeaten teams after four draws at SaskTel Centre in Saskatoon.
Team Brad Gushue (St. John's, N.L.; 2-0) is the only other team at 2-0 after beating Team Kevin Koe (Calgary; 1-1) by score of 7-3.
Team Jacobs, with vice-skip Marc Kennedy, second E.J. Harnden, lead Ryan Harnden and coach Caleb Flaxey posted three deuces while holding Team Dunstone to three singles and only one two-ender, in the ninth.
"We had plenty of chances but I didn't capitalize," admitted Dunstone, who had a much improved 81 per cent shooting average Sunday. "Everybody hits so well, so stealing you need a big mistake. We had plenty of chances for deuces and just didn't capitalize on chances we had.
"The back end of the game I started feeling pretty good, but there's no time for that out here, you have to be good for 10 ends. I was good for five and that's not going to cut it."
By the time Dunstone started getting his game where he wants it, Team Jacobs had a 5-2 lead that became insurmountable for the Saskatchewan foursome.
"I'm not playing sharp enough, that's all there is to it," said Dunstone. "At the end of the week if we can give ourselves all the chances we can. If I don't capitalize on them then it is what it is. If they keep giving me chances we're going to have a good chance to turn this thing around."
In the other afternoon games, Team Epping (Toronto; 1-1) scored three in the first end and four in the seventh to beat Team Jason Gunnlaugson (Morris, Man.; 0-1) 10-5 in eight ends; and Team Tanner Horgan (Kingston, Ont.; 1-1) scored two in the 10th end and stole one in the eleventh to stun Team Brendan Bottcher (Edmonton; 0-2) 6-5. Team Mike McEwen (West St. Paul, Man.; 1-0) had a bye.
Gushue shot 96 per cent in leading his team to four steals against Team Koe. Included were two key shots in the second and fifth ends. In the second Gushue buried his final stone biting the back 12-foot of an empty house and Koe rubbed on a guard on his attempted draw for one. 
In the fifth, Team Koe was sitting four counters when Gushue executed a hit-and-roll behind cover that created problems for the Calgary-based foursome. Koe's try for a runback was off line and gave Team Gushue its third steal.
"If I don't make that he was going to score more than I could count, there were so many reds in there," said Gushue. "Fortunately I made it and at that point you're just hoping you get a bad throw from him and he came out a little bit tight.
"To steal one there was pretty lucky. I would have been happy if he had picked it out and we had given him two."

The 2021 Tim Hortons Canadian Curling Trials will continue Sunday with the evening draw at 7 p.m. CT.
The nine-day competition, which concludes with the women's and men's finals on Sunday, Nov. 28, will decide the Canadian four-player teams for the 2022 Winter Olympics in Beijing.
Live scoring, standings and statistics for the 2021 Tim Hortons Canadian Curling Trials are available at www.curling.ca/scoreboard/
All draws from the 2021 Tim Hortons Canadian Curling Trials are being broadcast in Canada on TSN and RDS. CLICK HERE for the broadcast schedule in Canada.
As well, streaming coverage will be available on ESPN3 to fans in the U.S. with valid U.S. cable or satellite accounts.
This story will be available in French as soon as possible at www.curling.ca/2021trials/nouvelles/?lang=fr