Record-Tying Thriller!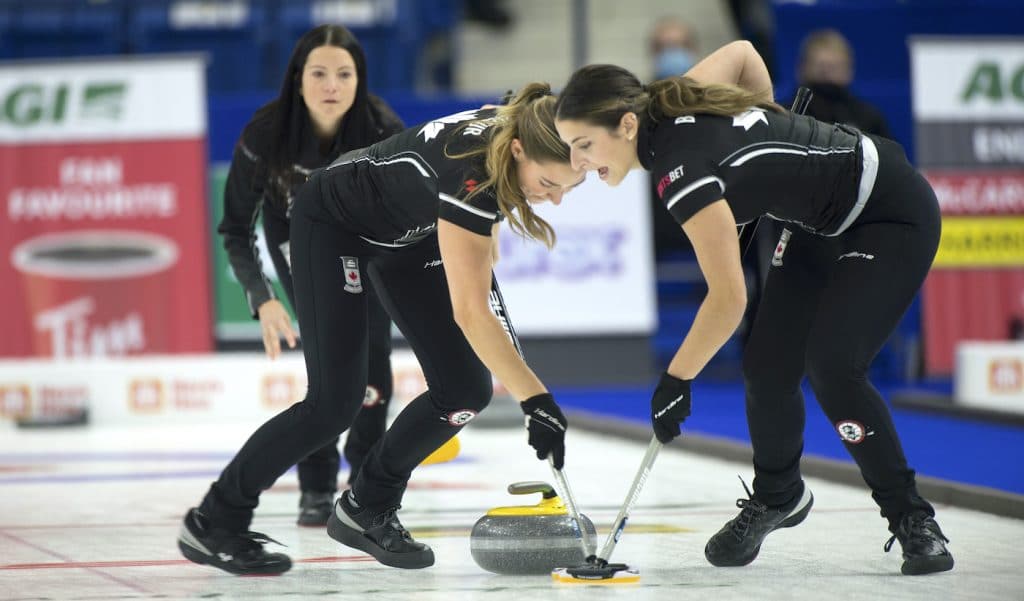 Team Einarson prevails to stop Team Jones winning streak at Tim Hortons Trials
There are surprises and there are surprises. Then there are just some crazy games, like Tuesday night's Team Jones versus Team Einarson game at the Tim Hortons Curling Trials.
For three ends Team Jones (4-1, Winnipeg) struggled to find its game – Jennifer Jones herself was shooting a shocking 33 per cent. That enabled Team Einarson (3-2, East St. Paul, Man.) to steal three consecutive deuces for a 6-0 lead.
The surprises were far from over in the game that ultimately came down to Kerry Einarson's last-rock tapback for a 10-9 victory, tying the Tim Hortons Trials record for highest combined score between two teams.
"When you're six up in a 10-end game you're never safe," Einarson said. "I knew they weren't going to give up, they're an amazing team and they clawed."
Einarson got superb support throughout the game from vice-skip Val Sweeting, second Shannon Birchard, lead Briane Meilleur, alternate Krysten Karwacki and coach Heather Nedohin. Team Einarson's front end constantly made shots to build the house that led to the early steals.
"We had really good rock placement in those ends and got really lucky on a few missed opportunities (by Team Jones)," said Einarson, the reigning two-time Scotties Tournament of Hearts champion.
Team Jones, with vice-skip skip Kaitlyn Lawes, second Jocelyn Peterman, lead Dawn McEwen (co-lead Lisa Weagle had the night off) and coach Viktor Kjell scored three in the fourth end – thanks partly to the strong sweeping of Peterman and McEwen — to right their ship.
"We struggled with the ice early for sure," admitted Jones, who has played in three of the four games in the Tim Hortons Trials that had a record total score of 19. "But we never gave up. We wanted to make a game of it and we did. We were just really unfortunate on my last one (in the final end that gave Einarson the opportunity for the tap back)."
Team Jones pulled into a tie in the eighth when Einarson, who finished the game with a 66 per cent shooting average, came up well short of the house on her last-rock draw to leave Team Jones sitting three for an 8-8 deadlock.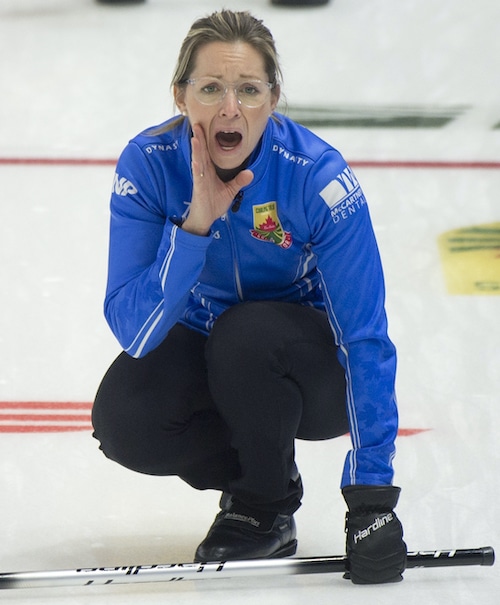 "In eight I mismanaged my first one and then pulled the string on my second one," admitted Einarson who found the game mentally draining. "A lot of great things are happening out there, but the last half of the game was a bit of a struggle. I knew we would make some shots and put them together and get the win.
"I kept telling myself, take deep breaths, stay with the process and don't overthink it."
She didn't. Even after giving up a steal of one in the ninth that put Team Jones ahead 9-8.
The first three ends were more surprising given that Team Jones had only given up steals in two ends through four games. Stealing, however, was common for Team Einarson that went into the game with a competition-leading seven stolen ends.
Team Einarson had put itself in a bit of a hole with two early losses, including a difficult 7-6 loss to Team Jacqueline Harrison when they gave up a steal of two in the 10th end. But the veterans didn't let that shocking loss derail their focus or their drive to be one of the three teams that advance into the weekend playoffs.
"We can't afford to lose any more games so we have to keep doing what we're doing," said Einarson.
Team Tracy Fleury of East Paul, Man., improved to 4-0 with an 8-3 win over Team Rachel Homan (1-3, Ottawa), Team Krista McCarville (2-3, Thunder Bay, Ont.) kept itself in the mix with a 6-4 win over Team Harrison (2-2, Dundas, Ont.) and Team Kelsey Rocque (1-3; Edmonton) hit the win column with a 6-5 win over Team Casey Scheidegger (2-3, Lethbridge, Alta.).
The 2021 Tim Hortons Canadian Curling Trials will continue Wednesday with draws at 9 a.m., and 2 and 7 p.m. (all times Central).
Live scoring, standings and statistics for the 2021 Tim Hortons Canadian Curling Trials are available at www.curling.ca/scoreboard/
All draws from the 2021 Tim Hortons Canadian Curling Trials are being broadcast in Canada on TSN and RDS. CLICK HERE for the broadcast schedule in Canada.
As well, streaming coverage will be available on ESPN3 to fans in the U.S. with valid U.S. cable or satellite accounts.
This story will be available in French as soon as possible at www.curling.ca/2021trials/nouvelles/?lang=fr