Champs flex muscles!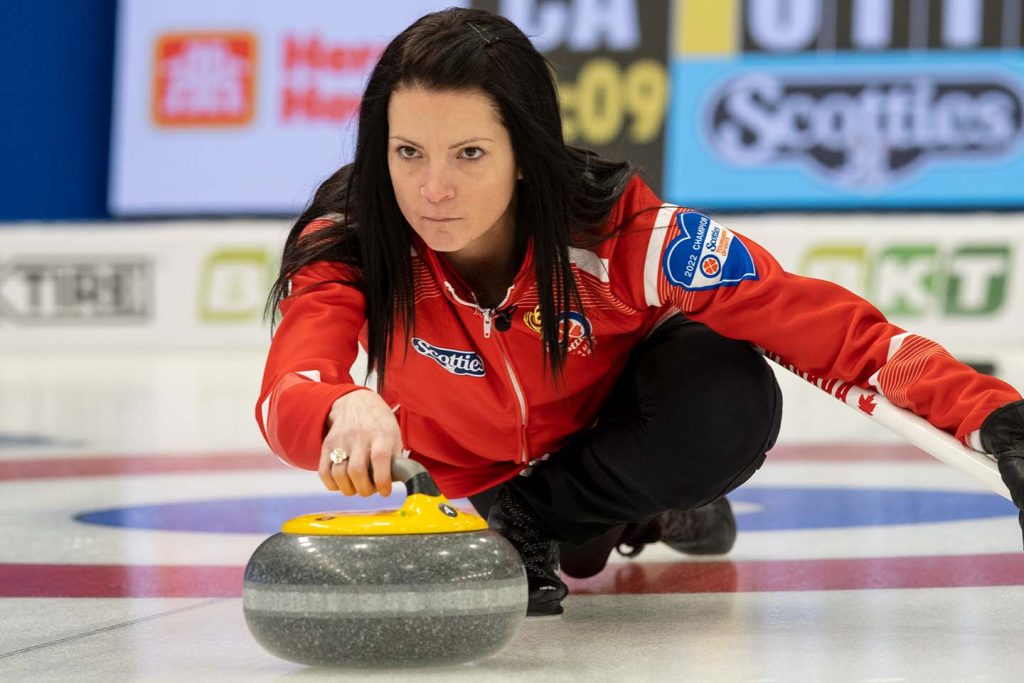 Team Canada off to a strong start at Scotties Tournament of Hearts
Winning the Canadian women's curling championship once is hard enough. But twice, and back-to-back?
Kerri Einarson has already accomplished that, but making it three in a row will demand some kind of super human effort, and some luck, and the effervescent skip from Camp Morton, Man., knows it.
So far, so good for Einarson, who has guided Team Canada (2-0, Gimli) to a pair of dominant wins to start the 2022 Scotties Tournament of Hearts in Thunder Bay. The defending champs were in fine form in defeating Team Nova Scotia's Christina Black (1-1, Dartmouth) 6-3 Sunday morning at Fort William Gardens in Thunder Bay, Ont. Team Canada stole a pair in the first end, stole another in the second, one more in the third and were off to the races.
It's early yet, and her team has six more tough games to negotiate in Pool B round-robin play, but from judging by the early results, 34-year-old Einarson and her teammates — vice-skip Val Sweeting, second Shannon Birchard and lead Briane Meilleur — appear in fine fettle and will be tough to dislodge as Canadian women's curling champions.
"There's always another gear and you want to keep improving every single game. I feel that's what's we've been doing," said Einarson.
Also off to a quick start in the race for the three playoff spots available in Pool B is Team Quebec (2-0, Laval-sur-le-Lac/Glenmore) skipped by Laurie St-Georges. The genial skip guided her team to the Championship Pool at last year's Scotties in Calgary, and seems determined to make the playoffs in Thunder Bay with the same lineup: vice-skip Hailey Armstrong, second Emily Riley, and lead Cynthia St-Georges. Alanna Routledge is the new alternate and the team is coached by Michel St-Georges.
"We're 2-0 in this tough competition. I can't stop smiling," said Laurie St-Georges, after posting an 8-7 win over Team Yukon (0-1, Whitehorse) skipped by Hailey Birnie. The northerners were the last team to hit the ice after sitting out the first two days of play on bye.
Team Quebec jumped out to a 5-0 lead but gave almost all of that away before coming back to win.
"We had a bit of a struggle this morning," said St-Georges. "At some point when you get comfortable on the ice it's easy to lose focus and I think that's what happened."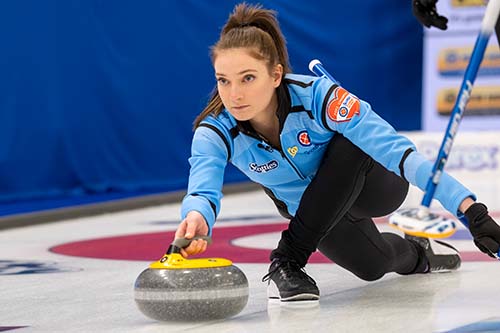 In another key matchup Sunday morning, Team Alberta hit the win column with a 9-8 victory over Team B.C. It was an important win for the Albertans (1-1, Edmonton), skipped by Laura Walker, after it collapsed in the late stages and lost the opener Saturday against Quebec, giving up steals in the 10th and extra ends. Team B.C. (0-2, Kelowna), skipped by Mary-Anne Arsenault, have six games left to play and have been very competitive in the two losses.
Walker needed to skin past a front stone and tap back a B.C. counter in the eight-foot to win with her final rock. It was a back-and-forth battle with the two teams throwing some haymakers at each other. Team B.C. scored two three-enders while Team Alberta had one.
"It was good for us to battle like that and have a bounce-back win," said Walker. "That wasn't the best game that we played, but to grind through that win will be good for us going forward."
Team Northwest Territories (1-1, Yellowknife) also hit the win column, shading Team Ontario's Hollie Duncan (0-2, Woodstock) 7-5. Kerry Galusha throws lead rocks but skips the Territories team while Jo-Ann Rizzo throws skip stones.
The 18 teams are split into two pools of nine, and will play a complete eight-game round robin. The top three teams in each pool advance to the playoffs where it will be further reduced to a Final Four and a Page playoff system.
Making the playoffs is key, but teams are also eyeing the No. 1 spot which gives them a big advantage in the sprint to the finish. Pool winners get a bye into the semi-finals of the first round of the six-team playoffs.
The final goes Sunday, Feb. 6.
The 2022 Scotties Tournament of Hearts continues Sunday with draws at 2 p.m. and 7 p.m. (all times Eastern).
Live scoring, standings and statistics for the 2021 Scotties Tournament of Hearts are available at www.curling.ca/scoreboard/
TSN and RDS2 (streamed on ESPN3 in the United States) will provide complete coverage of the 2021 Scotties Tournament of Hearts. CLICK HERE for the complete schedule.
This story will be available in French as soon as possible at https://www.curling.ca/2022scotties/nouvelles/?lang=fr