Crawford keeps rolling!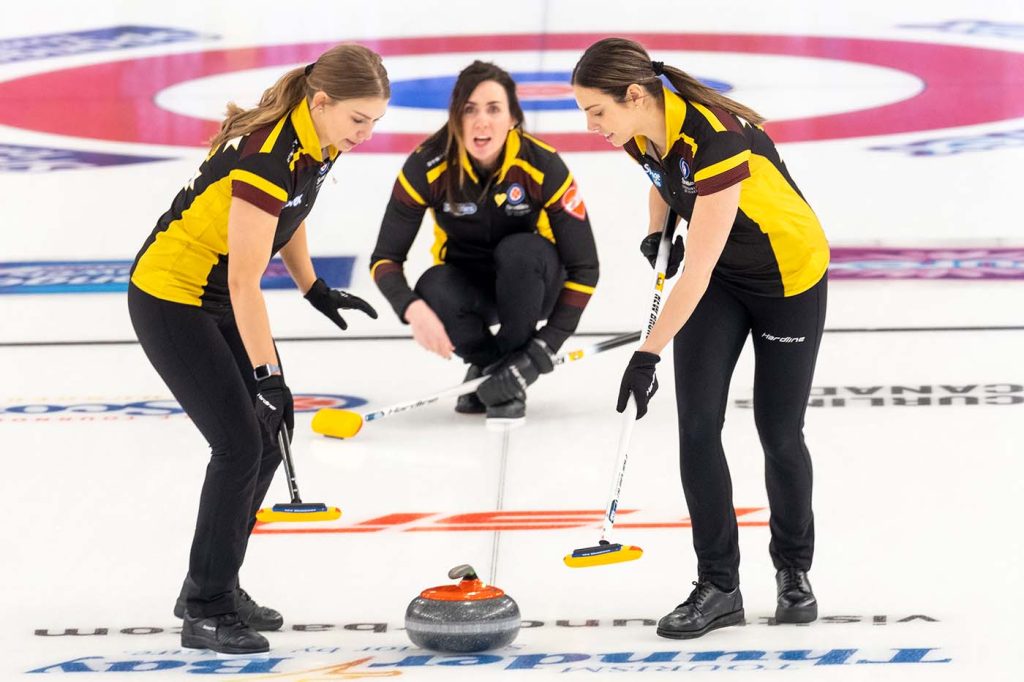 Team New Brunswick on an early run at Scotties Tournament of Hearts
Did anyone pick Team New Brunswick's Andrea Crawford to win the women's title at the 2022 Scotties Tournament of Hearts this week in Thunder Bay?
Well, perhaps not many outside of her home province.
But there she was Sunday afternoon, basking in the glow of a 3-0 start at the Scotties, alone in first place in Pool A, and turning doubters into believers that her plucky team from the Capital Winter Club in Fredericton could win the Canadian women's curling championship. A national title for a New Brunswick team hasn't happened since Mabel DeWare skipped her Moncton outfit to the title in 1963.
Team New Brunswick still has a long way to go to pull off a 'Rocky' moment this year, but team members, including vice-skip Sylvie Quillian, second Jill Babin, lead Katie Forward and coach Daryell Nowlan are confident they can be one of the top three teams in Pool A to qualify for the playoffs.
"It feels really good to be 3-0 at this point," said Crawford, who bounced Team Nunavut (0-3, Iqaluit) skipped by Brigitte MacPhail 6-3 Sunday afternoon at the Fort William Gardens in Thunder Bay, Ont. "We struggled a bit today to figure some things out, but we've been playing the way we want to play. We showed a lot of grit and determination today."
It's the first time in 10 appearances at the Scotties that Crawford opened with three straight wins.
Crawford admitted she's getting a ton of support from folks back home in New Brunswick.
"It's been truly amazing," she said. "We can really feel the love coming back to us from New Brunswick and all our fans across Canada, for that matter. It's been awesome."
Crawford has the spotlight alone after hometown favourite Krista McCarville's Team Northern Ontario (2-1, Thunder Bay) dropped from the unbeaten ranks after losing 8-5 in a battle against Team Wild Card 3 (2-1, Ottawa) skipped by Emma Miskew.
Team Wild Card 3 gave up an early deuce, but after squaring matters after three, had Team Northern Ontario tied up in knots in the fourth end. McCarville, with the hammer, faced four tightly bunched enemy stones in the top four-foot with no chance to score, and her double attempt only eliminated one. It proved to be the difference in the game.
"It's starting to feel a little less weird every game," said Miskew, who has stepped into the skipping breech with regular skip Rachel Homan off to the Olympics. "The team is playing great in front of me, so I'm just trying to see the game from the house side."
Team Wild Card 1 (2-1, East St. Paul, Man.) also moved into the tie for second after defeating Team Prince Edward Island (1-2, Charlottetown) skipped by Suzanne Birt. Team Wild Card's Selena Njegovan, skipping in place of Tracy Fleury who is on the sidelines under COVID-19 protocol, scored eight straight points to start the game and cruised to a 9-1 victory.
"We put our rocks in the right place and left them a lot of hard shots," said Njegovan, explaining the large margin of victory over a very good Islander team.
Njegovan said she's starting to get a feel for skipping.
"Now that we've got a couple of games under our belt, I'm feeling a lot better out there," she said.
In the only other game in Pool A Sunday, skip Penny Barker guided Team Saskatchewan (1-1, Moose Jaw) to an 8-6 win over Team Newfoundland and Labrador (0-2, St. John's) skipped by Sarah Hill.
The 18 teams are split into two pools of nine, and will play a complete eight-game round robin. The top three teams in each pool advance to the playoffs where it will be further reduced to a Final Four and a Page playoff system.
Making the playoffs is key, but teams are also eyeing the No. 1 spot which gives them a big advantage in the sprint to the finish. Pool winners get a bye into the semi-finals of the first round of the six-team playoffs.
The final goes Sunday, Feb. 6.
The 2022 Scotties Tournament of Hearts continues Sunday with an evening draw at 7 p.m. (Eastern).
Live scoring, standings and statistics for the 2021 Scotties Tournament of Hearts are available at www.curling.ca/scoreboard/
TSN and RDS2 (streamed on ESPN3 in the United States) will provide complete coverage of the 2021 Scotties Tournament of Hearts. CLICK HERE for the complete schedule.
This story will be available in French as soon as possible at https://www.curling.ca/2022scotties/nouvelles/?lang=fr