Polars no pushovers!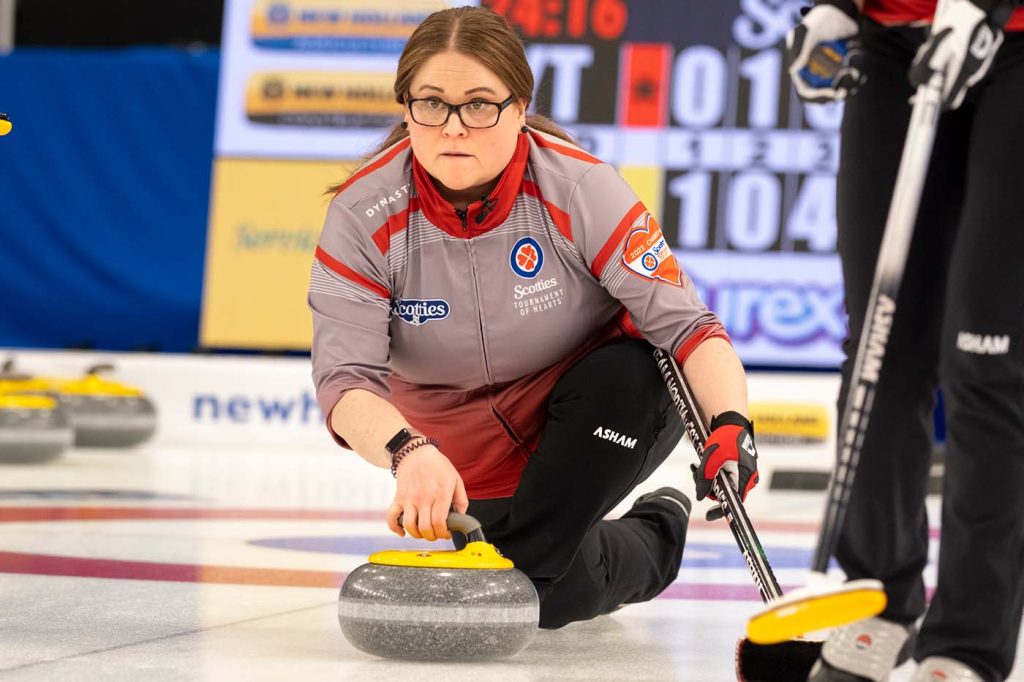 More travel boosts fortunes of Team Northwest Territories at Scotties Tournament of Hearts
Skip Kerry Galusha got tired of getting kicked around at the Scotties Tournament of Hearts.
So she decided to do something about it. She knew the only way to get better and compete with the big girls was to travel and get experience on the ice against other teams. So she and her teammates from the Northwest Territories packed their bags and headed south for a spell.
That decision is making a difference at the Scotties Tournament of Hearts in Thunder Bay, Ont.
The 44-year-old skip has guided Team Northwest Territories (2-1, Yellowknife) into contention in Pool B after defeating Hailey Birnie's Team Yukon (0-3, Whitehorse) 13-4 Monday afternoon. Galusha throws lead rocks while Jo-Ann Rizzo throws skip stones. The team is rounded out with third Sarah Koltun, second Margot Flemming, alternate Megan Koehler and coach Shona Barbour.
There's a long way to go, but the Polars are looking anything like those pushover teams of the past.
"We know that living in Yellowknife is hard when you're trying to compete," said Galusha, playing in her 15th Scotties, in addition to two pre-qualifier events. "It takes an extra day to get anywhere, and expensive. But we knew that if we wanted to make playoffs at the Scotties we had to play more and get the experience against these top teams."
Koltun said it was a great bonus to quality to play in the Pre-Trials qualifier in Ottawa last September and the 2021 Home Hardware Curling Pre-Trials in Liverpool, N.S. in October. Usually the team sits dormant while other southern teams go at it.
"That was a new experience and something we didn't have on our schedule or ever expected to get to," she said. "We were pleased to represent a team from the north at the Pre-Trials."
With the help of sponsors, the team hung around to play three more events in Ontario and did well in all of them.
All of which has led to improved performance and results at Fort William Gardens.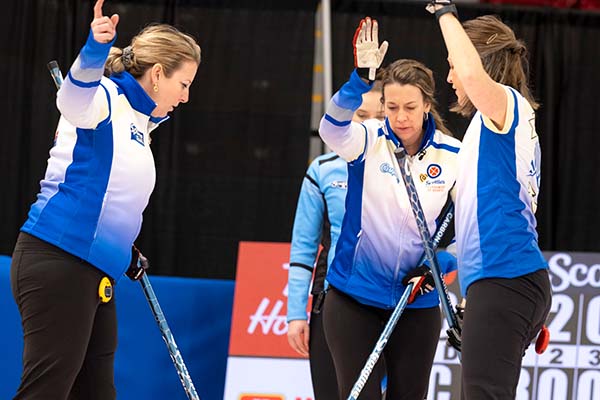 "I was telling Margot, our second, last night that there was a score out there that was 7-1 and I said 'that used to be me at one point,'" smiled Galusha. "It was like why are we here? It's not fun to lose every game and not have close games."
Team Galusha is tied with Christina Black's Team Nova Scotia (2-1, Dartmouth) for third place. The Bluenosers had the afternoon bye.
Meanwhile, two-time defending champion Team Canada (4-0, Gimli, Man.) kept rolling on like an express train through the Pool B field. Team Canada, skipped by Kerri Einarson, bounced Laura Walker's Team Alberta (2-2, Edmonton) 10-5 in the TV feature game.
Hot on Einarson's heels, though, is the youngest team in the field skipped by Mackenzie Zacharias. The 2020 world junior champs representing Team Manitoba (3-0, Altona) knocked off Hollie Duncan's Team Ontario (0-4, Woodstock) 8-7 in an extra end.
In the only other game on the docket Monday afternoon, skip Mary-Anne Arsenault guided Team British Columbia (1-3, Kelowna) to its first win after defeating Team Quebec (2-2, Laval-sur-le-Lac/Glenmore) 8-5.
The 18 teams are split into two pools of nine, and will play a complete eight-game round robin. The top three teams in each pool advance to the playoffs where it will be further reduced to a Final Four and a Page playoff system.
Making the playoffs is key, but teams are also eyeing the No. 1 spot which gives them a big advantage in the sprint to the finish. Pool winners get a bye into the semi-finals of the first round of the six-team playoff.
The final goes Sunday, Feb. 6.
The 2022 Scotties Tournament of Hearts continues Monday with a draw at 7 p.m. (Eastern).
Live scoring, standings and statistics for the 2021 Scotties Tournament of Hearts are available at www.curling.ca/scoreboard/
TSN and RDS2 (streamed on ESPN3 in the United States) will provide complete coverage of the 2021 Scotties Tournament of Hearts. CLICK HERE for the complete schedule.
This story will be available in French as soon as possible at https://www.curling.ca/2022scotties/nouvelles/?lang=fr