Number crunchers!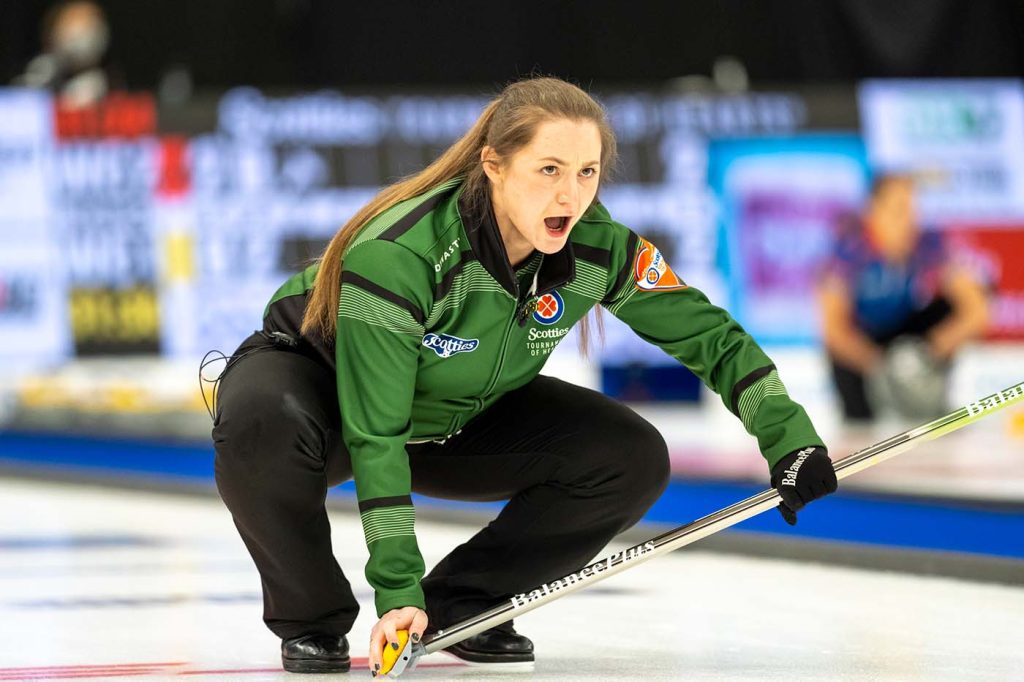 Team Saskatchewan gunning for coveted playoff spot at Scotties Tournament of Hearts
Three members of Team Saskatchewan at the Scotties Tournament of Hearts are all self-described numbers geeks.
Well, one wonders what they think of these numbers: 3 and 2.
They represent Team Saskatchewan's record at the Scotties Tournament of Hearts in Thunder Bay, Ont., which is a pretty good start on the road to the playoffs in Pool A.
The team, representing the Moose Jaw Ford Curling Centre, came into Thunder Bay running under the radar, but they have garnered a little more attention after knocking off skip Suzanne Birt's Team Prince Edward Island (2-4, Fredericton) 9-6 on Tuesday.
"That was a really big win. We're in a really good position right now," said Saskatchewan skip Penny Barker. "We have a lot of momentum going into our next game. We're playing really well."
This is Barker's second appearance at the Scotties, and she'd like to forget the first. She went 1-10 in 2017 at St. Catharines, Ont., and tied for dead last.
"We did not have the experience we have now," said Barker, trying to explain her performance in Ontario. "There was that excitement and we put a little pressure on ourselves to win."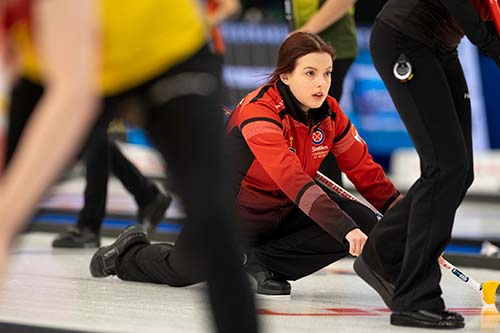 Then there are those number geeks. Barker is an associate actuarial statistician, while third Christie Gamble completed an MBA in Finance, and lead Danielle Sicinski is a chartered professional accountant. Even second Jenna Enge is involved in numbers — those on the outside of houses and buildings. She's a letter carrier for Canada Post.
But none of them look at Curling Canada's stats sheets for any info. They may not like some of them — they were tied for 15th in team shooting percentage entering the game — but their win-loss record is good enough to keep them in sight of the leaders.
"For me it doesn't matter because that's the past," said Barker. "We want to make shots in the future. After the competition I'll go back and look at those numbers."
The win moved the Flatlanders into a two-way tie for third place with hometown favourite Team Northern Ontario (3-2, Thunder Bay). Krista McCarville had a chance to stay tied for second but lost 8-5 to skip Sarah Hill's Team Newfoundland & Labrador (2-3 St. John's).
"It was a struggle for all of us," said McCarville. "We need to be the Team McCarville we know we can be."
It was status quo at the top of the nine-team standings Tuesday as skip Andrea Crawford of Team New Brunswick (5-0, Fredericton) had the day off to reflect on her hot start.
Meanwhile, Team Wild Card 1 (4-1, East St. Paul, Man.), skipped by Selena Njegovan, grabbed sole possession of second place after winning a spirited battle over Team Wild Card 2 (2-3, Regina), skipped by Chelsea Carey, hanging on for a 9-6 win.
In the only other game on the afternoon session, skip Emma Miskew kept her Team Wild Card 3 (3-3, Ottawa) in playoff position with a dominant 14-1 win over Team Nunavut (0-6, Iqaluit) skipped by Brigitte MacPhail.
Making the playoffs is the first priority, of course, but teams are also eyeing the No. 1 spot which gives them a big advantage in the sprint to the finish. Pool winners get a bye into the semi-finals of the first round of the six-team Page Playoffs.
The final goes Sunday, Feb. 6.
The 2022 Scotties Tournament of Hearts continues Monday with draws at 2 p.m. and 7 p.m. (all times Eastern).
Live scoring, standings and statistics for the 2021 Scotties Tournament of Hearts are available at www.curling.ca/scoreboard/
TSN and RDS2 (streamed on ESPN3 in the United States) will provide complete coverage of the 2021 Scotties Tournament of Hearts. CLICK HERE for the complete schedule.
This story will be available in French as soon as possible at https://www.curling.ca/2022scotties/nouvelles/?lang=fr