Team Canada eyes three-peat!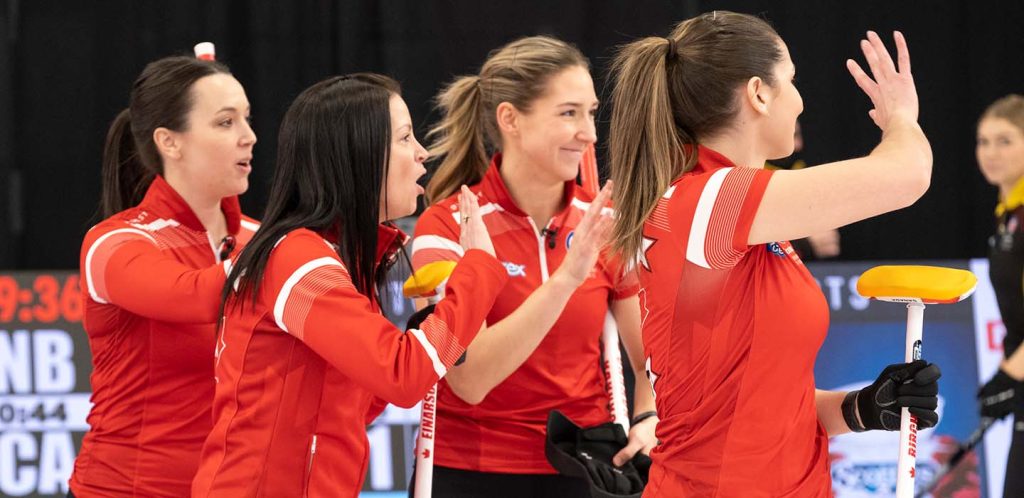 Team Canada back in a final of the Scotties Tournament of Hearts
Team Canada skip Kerri Einarson advanced Sunday to her third consecutive Scotties Tournament of Hearts final, and she hopes it ends the same way as did the first two — with a win.
Einarson and the rest of Team Canada (Gimli, Man.) moved to within one win of completing a three-peat of championships after defeating skip Andrea Crawford's Team New Brunswick (Fredericton) 8-4 in the Scotties semifinal at Fort William Gardens in Thunder Bay, Ont.
The win lifts Team Canada into Sunday evening's final against skip Krista McCarville's Team Northern Ontario (Thunder Bay), which will be backed by a small but vocal crowd cheering on the local favourites.
"It definitely is going to be a really good game," said Einarson, who shot a solid 89 per cent in the game. "But we've been playing really well, so if we can keep the pressure on them, we should be good."
A third national title would also lift Einarson and her team into elite company Nova Scotia's Team Colleen Jones, Team Jennifer Jones of Manitoba and Saskatchewan's Team Vera Pezer as other skips with at least back-to-back-to back championships. Team Colleen Jones won four in a row during her brilliant career.
Einarson and the rest of her terrific team from the Gimli Curling Club — vice-skip Val Sweeting, second Shannon Birchard and lead Briane Meilleur — continued their superb play this week and exacted a measure of revenge over Team New Brunswick, which won their previous meeting in the Page playoff seeding round on Friday. It was Team Canada's only loss of the week after rolling to an 8-0 record in the round robin.
Team Canada picked up two in the first end with the hammer, and applied the pressure throughout. Crawford had trouble getting any traction and her team was held to only four single scores of one. However, New Brunswick had a great opportunity in the seventh end to tie the game, but over-curled on a freeze attempt on the button. Einarson followed with a delicate draw down to her own shot, pushing it back a few inches, and after a measurement, scored two.
"Definitely that was a big deuce that we scored," she said. "It was also key scoring a deuce early. We got our rocks in some really good spots, and put a lot of pressure on them."
It was a disappointing ending for Crawford whom, who showed tenacity this week in her first career playoff appearance.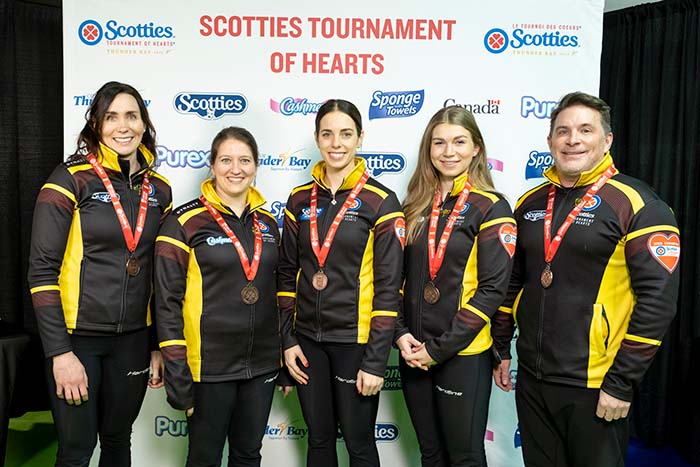 "I wouldn't say we met our expectations. It was really disappointing the way we finished our game last night," said Crawford, who lost to McCarville in the 1v2 Page playoff game. "But we came out today and did our best. But they played amazing.
"We had a hard time getting our multiples. But I'm definitely proud of my team for the way they played this week."
It is the first time in Scotties history New Brunswick has won bronze at the Scotties Tournament of Hearts and last playoff appearance for the province since 1991. The team also leaves with a cheque worth $40,000 for finishing third overall.
The Scotties champion will go on to represent Canada at the 2022 BKT Tires & OK Tire Women's Curling Championship in Prince George, B.C., from March 19-27.
The final will be today at 7 p.m. ET.
Live scoring and statistics for the 2022 Scotties Tournament of Hearts are available at www.curling.ca/scoreboard/
TSN and RDS2 (streamed on ESPN3 in the United States) will provide complete coverage of the 2022 Scotties Tournament of Hearts. CLICK HERE for the complete schedule.
This story will be available in French as soon as possible at https://www.curling.ca/2022scotties/nouvelles/?lang=fr