Dogfight continues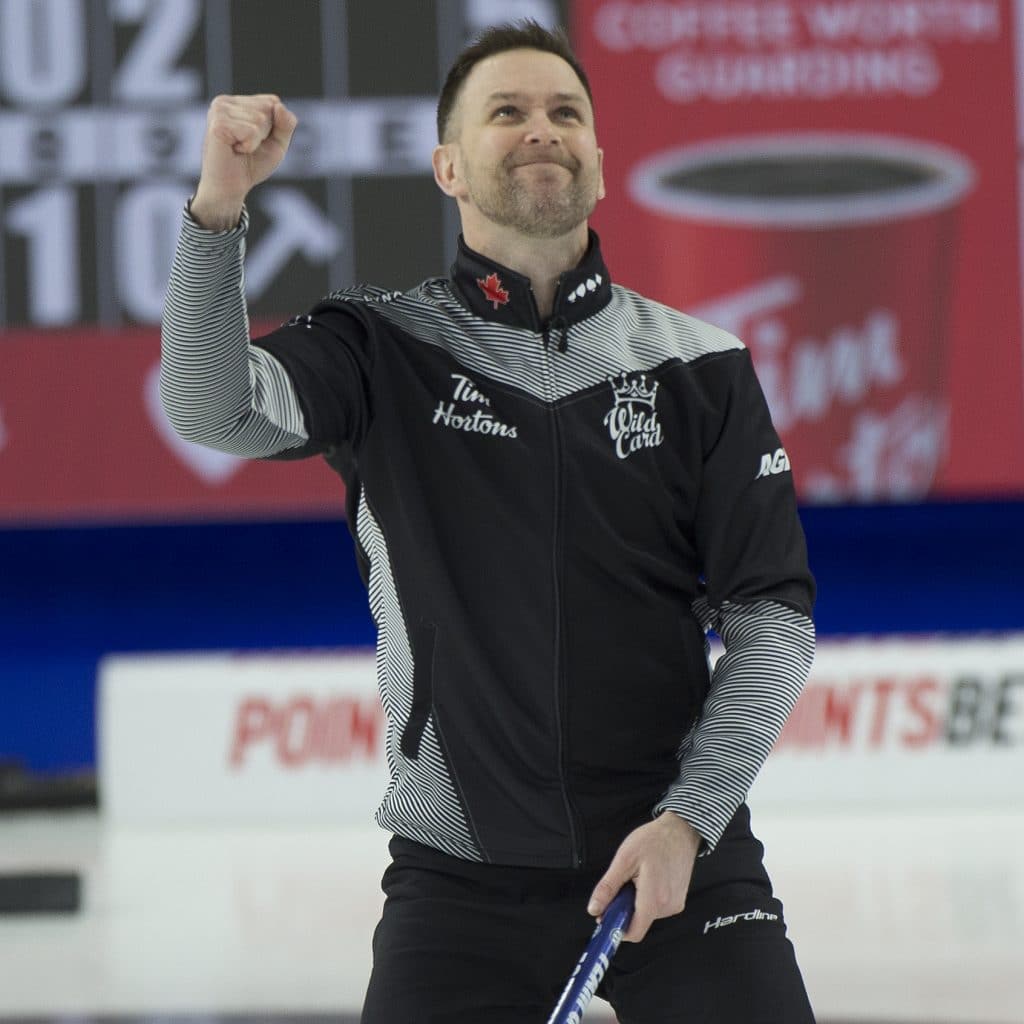 Top seed decided but four teams still fight for playoff spots in Pool B at Tim Hortons Brier 
The dogfight for playoff spots in Pool B at the Tim Hortons Brier, presented by AGI, will go down to the final round-robin draw Thursday evening.
Only Brad Gushue and Team Wild Card #1 out of St. John's, N-L, has a guaranteed spot after a 6-5 extra-end win over Team Wild Card #3 gave the Gushue foursome top spot with a 7-0 record.
"First place, tonight's game isn't going to mean much to us but it will to B.C. so we're going to still come out and do our best, but it does take a bit of the edge off knowing we have first place.," Gushue said after his short angle tap back produced the winning single.
There wasn't much to choose between the two teams as Team Wild Card #1 kept putting stones in the house and Wild Card #3 kept making run backs and take outs to swing the momentum from rock to rock.
"I think the only run back they missed all game was Gunner's last one and that was extremely difficult," said Gushue. "Looked like we had a decent end set up and they would stick a run back and all of a sudden we were in trouble. Just an incredible game…they played at an exceptionally high rate for how tough the shots they played."
Gushue, third Mark Nichols, second Brett Gallant, lead Geoff Walker and coach Jules Owchar had their hands full with Jason Gunnlaugson and his foursome. It was only fitting they needed an extra end to decide the outcome after a measure in ten gave Wild Card #3 a single that tied the score.
The loss stung Gunnlaugson who finishes the round-robin at 5-3 and now needs help in the evening's final draw to make the playoffs.
"We're going to need someone to step up and win a game against a higher seed tonight and that's never a good place to be," he said. "I think we're playing amazing. That is the best team in the nation all year, they've lost domestically twice all season so the fact we took them to a pretty hard shot to win is a good sign for us."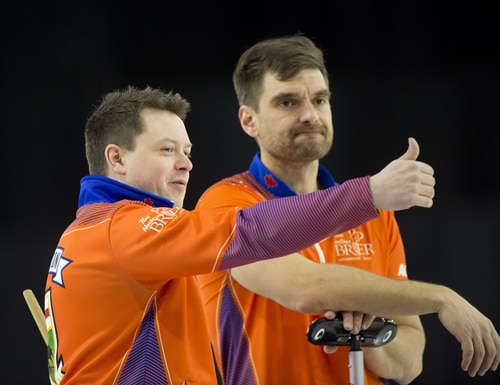 In other games impacting the standings, Mike McEwen and his Team Manitoba (5-2, West St. Paul) rolled by Jamie Koe and Team Northwest Territories (0-7, Yellowknife) 7-3, Mike Fournier and Team Québec (3-4, Dollard-des-Ormeaux) scored five in the second end and stole four in the third en route to a crushing 14-6 defeat that eliminated Team Nova Scotia (3-4, Halifax), skipped by Paul Flemming and Brent Pierce and Team British Columbia (4-3, New Westminster) defeated Peter Mackey and Team Nunavut (0-7, Iqaluit) 9-2.
The results kept four teams still fighting for the remaining two playoff berths available out of Pool B – Northern Ontario, Wild Card #3, Manitoba and British Columbia.
Those issues will be determined in tonight's final round-robin draw at 6:30 p.m. MT. Team Manitoba plays Team Quebec, Northern Ontario takes on Team Nova Scotia and British Columbia meets Team Wild Card #1.
"We had a tough start with a couple of tough teams, we had to catch on to the ice and I think we've done that now and we're playing pretty solid," said B.C. skip Brent Pierce after his team's third straight win. "But, got a tough one tonight against Gushue. Looking forward to that."
Barring any tiebreakers, the top three teams advance to the playoffs beginning Friday afternoon. The final goes Sunday, March 13.

The 2022 Tim Hortons Brier continues with draws today at 1:30 p.m. and 6:30 p.m. (all times MT)
Live scoring, standings and statistics for the 2022 Tim Hortons Brier are available at curling.ca/scoreboard.
TSN and RDS2 (streamed on ESPN3 in the United States) will provide complete coverage of the 2022 Tim Hortons Brier. CLICK HERE for the complete schedule.
For ticket information for the 2022 Tim Hortons Brier, go to www.curling.ca/2022brier/tickets/
This story will be available in French as soon as possible at www.curling.ca/2022brier/nouvelles/?lang=fr