Canadians on a roll!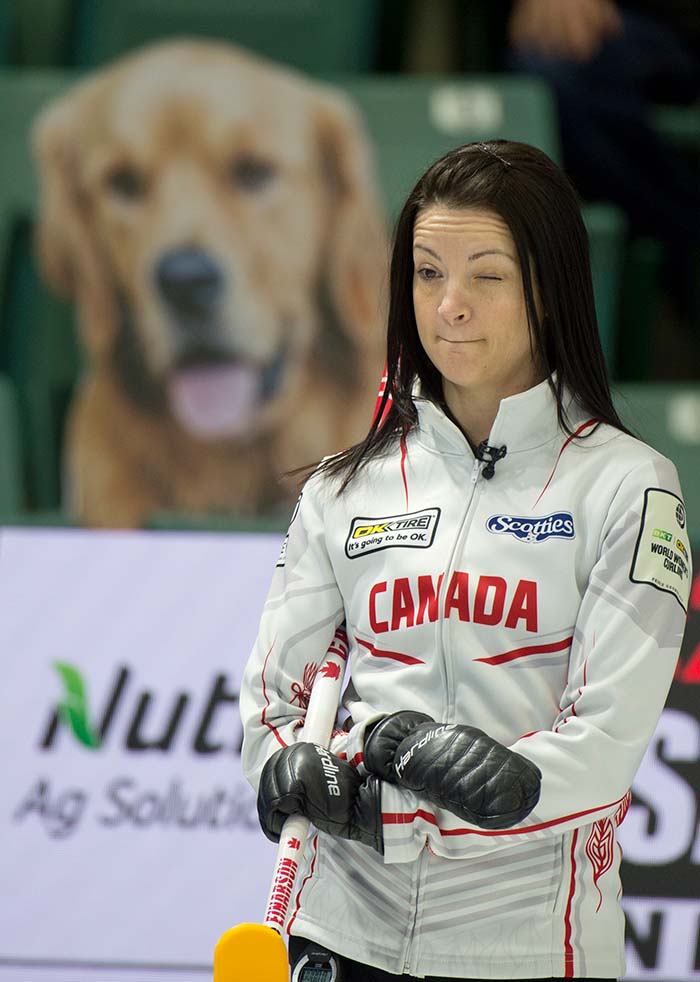 Team Canada wins fifth in a row at world women's curling championship
Skip Kerri Einarson and her Team Canada are looking more and more like the powerhouse that blasted its way through the Scotties Tournament of Hearts last month in Thunder Bay.
The Canadians won their fifth straight game (one was a default win) and moved closer to guaranteeing a playoff position by steamrolling a strong United States lineup 9-3 Thursday morning at the 2022 BKT Tires & OK Tire World Women's Curling Championship, presented by Nature's Bounty, in Prince George, B.C.
The win moved the Canadians into a second-place tie with Team Sweden, both with 7-2 records, in the 13-team, round-robin competition, and only a total collapse would see the host team denied a playoff spot on the weekend.
The top six teams qualify for the playoffs after round-robin play at the CN Centre. The top two teams get an automatic bye into the second round.
Skip Anna Hasselborg's Team Sweden, the bronze medallists at the recent Winter Olympics, had a morning bye.
Canada plays fourth-place Team South Korea, skipped by EunJung Kim, in the evening draw. The Koreans have lost two straight after opening with six straight wins.
"We're in a good space right now. We're feeling very confident going into the rest of the week," said Einarson, who knocked the Americans, skipped by Cory Christensen, back a peg in the standings. The U.S., looking for its second world title, fell to 5-4 and into a ridiculous five-way tie for fifth place with Denmark, Japan, Germany and Norway.
The lead, however, still belongs to the two-time defending champions from Switzerland, who remained unbeaten after nine games and moved two games clear of the field at the top of the standings. The Swiss, skipped by Silvana Tirinzoni and Alina Paetz throwing skip stones, defeated skip Madeleine Dupont's Team Denmark 7-3 and officially qualified for the playoffs.
Germany and Norway climbed into the logjam with wins Thursday morning. Skip Daniela Jentsch's Team Germany posted an 8-1 win over winless Team Turkey (0-9), skipped by Dilsat Yildiz, while the Norwegians, skipped by Marianne Roervik, were 7-1 winners over Team Czech Repblic (2-7), skipped by Alzbeta Baudysova.
Most encouraging has been Canada's performance of late, which produced wins over some pretty tough customers, including a 10-8 win Wednesday over Sweden. Einarson, supported by third Val Sweeting, second Shannon Birchard, lead Briane Meilleur, alternate Krysten Karwacki, team coach Reid Carruthers and national coach Renée Sonnenberg, are communicating well, figuring out the ice and putting good ends together.
That is more like the team, based in Gimli, Man., that won the last three Canadian women's titles in impressive fashion.
The Americans felt shell-shock over the first five ends as Team Canada made almost everything, putting extreme pressure on skip Christensen, who is supported by vice skip Sarah Anderson, second Vicky Persinger, lead Taylor Anderson, alternate Sydney Mullaney and coached by Cathy Overton-Clapham of Winnipeg.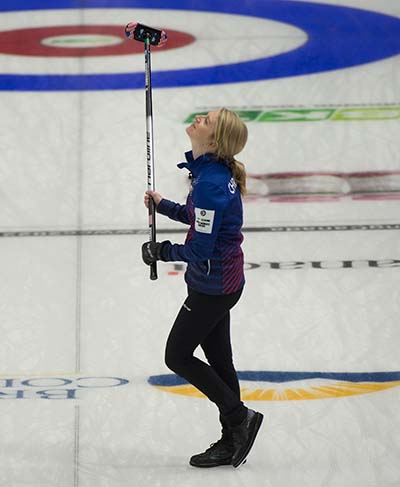 Fans knew it was going to be Canada's day when Einarson made a difficult in-turn draw to corner-freeze on the button to set up a first-end steal.
Christensen didn't help her cause. She drew heavy with her last shot in the second end facing two enemy rocks, and then made another mistake with her final rock in the third, ticking her own shot rock off of the button in a draw for two, giving up one more steal.
It took until the fifth end for Canada to have the hammer.
Sweeting has been a big part of the Canadians success and once again shot in the 90s (97 per cent). But she's knows there's still work to do.
"Three games left and a lot can happen in that time," she said. "We want to stay in the moment and not get ahead of ourselves. It's in our hands to put us in a really good position."
Sweeting says the team has been getting better and better as the week goes on.
"I know we were a little up and down early, results-wise, but it was closer than it looked, and I think we just trusted that," she said. "The girls have their feet on the ice and Kerri's reading it really well and it's resulting in a lot of great shots being made."
Teams Sweden, South Korea, Japan and Italy enjoyed the morning bye. Team Scotland, the 13th team in the field, had to bow out of the competition early after multiple positive tests for the COVID-19 virus.
The 2022 BKT Tires & OK Tire World Women's Curling Championship continues Thursday with draws at 2 p.m. at 7 p.m. (all times PT).
Live scoring, standings and statistics for the 2022 BKT Tires & OK Tire World Women's Curling Championship are available by CLICKING HERE.
TSN and RDS2 will provide complete coverage of the 2022 BKT Tires & OK Tire World Women's Curling Championship. CLICK HERE for the complete schedule.
For ticket information for the 2022 BKT Tires & OK Tire World Women's Curling Championship, go to www.curling.ca/2022worldwomen/tickets/
This story will be available in French as soon as possible at www.curling.ca/2022worldwomen/nouvelles/?lang=fr