Slip, slidin' away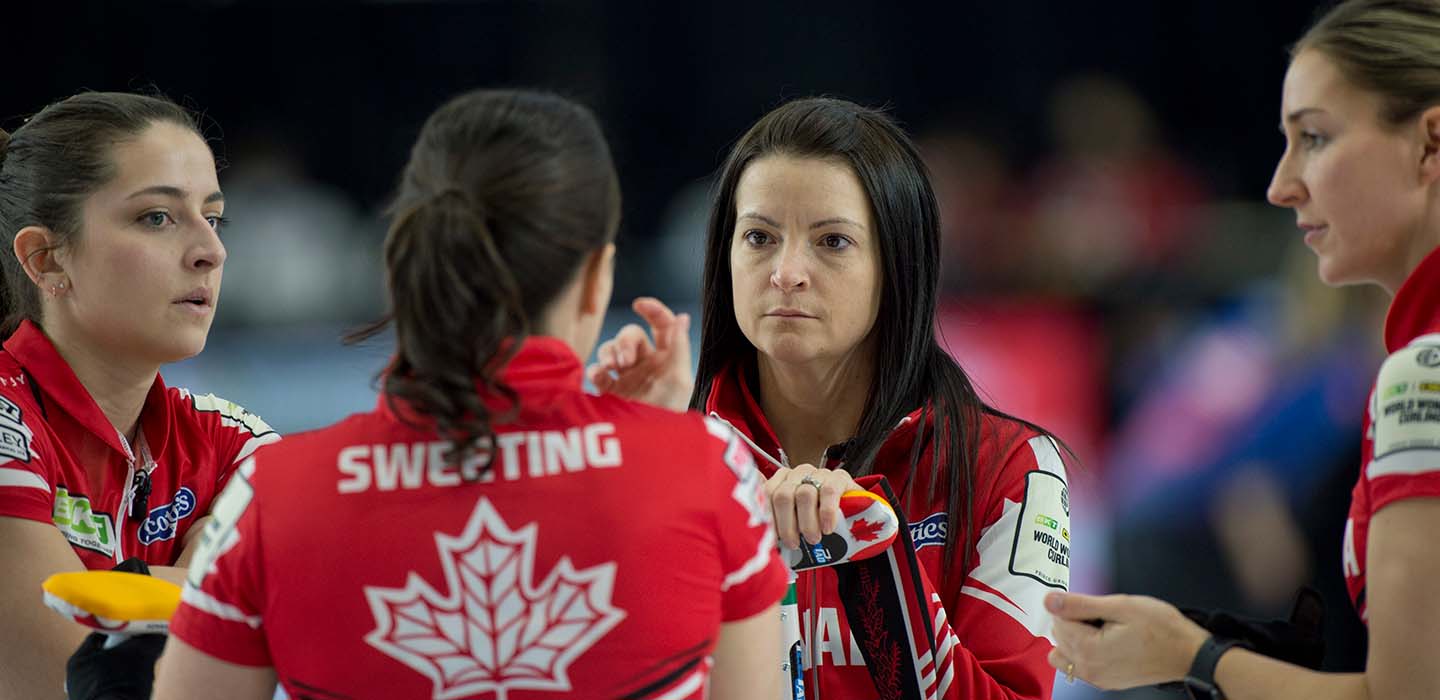 Late meltdown denies Team Canada playoff spot 
It was there for the taking, but Team Canada skip Kerri Einarson's bid for a playoff spot at the 2022 BKT Tires & OK Tire World Women's Curling Championship, presented by Nature's Bounty, in Prince George, B.C. will have to wait another day.
The Canadians could have wrapped up a coveted playoff spot with a win Thursday evening against Team South Korea, skipped by EunJung Kim, but a few loose ends and a couple of key misses down the stretch kept the rejoicing on hold for the host team, which suffered an 8-7 extra-end loss in front of the home crowd at CN Centre.
The Canadians cooled off considerably from their hot run through the middle of the schedule. Meanwhile, the South Koreans, who were reeling from three straight losses, put up a resilient fight all night, stealing singles in the 10th to tie and one in the extra end to pull their bacon out of the fire.
The win helped the Koreans pull into a two-way tie with Canada for third place with 7-3 records.
Two-time defending champions Switzerland, skipped by Silvana Tirinzoni, clinched first place and a first-round bye into the playoffs earlier in the day with its 10th straight win against zero losses.
It took a while for the Canadians to get the motor running, but it looked like they had just enough gas to get past South Korea, scoring three in the eighth to lead 7-5.
But South Korea kept fighting. Einarson had a chance to secure the win with a hit and inside roll hit facing two opposing stones in the 10th but rolled too far away. And in the 11th, her tapback in the four-foot came in a touch wide and rolled inches too far, giving South Korea the steal and the win.
Einarson admitted it was a missed opportunity for the Canadians to secure a playoff spot.
"I had a shot to win in the 10th and it just ran straight," said Einarson, who is supported by vice-skip Val Sweeting, second Shannon Birchard, lead Briane Meilleur, alternate Krysten Karwacki, team coach Reid Carruthers and national coach Renée Sonnenberg. "I was confident going into 11 but we just had a sloppy extra.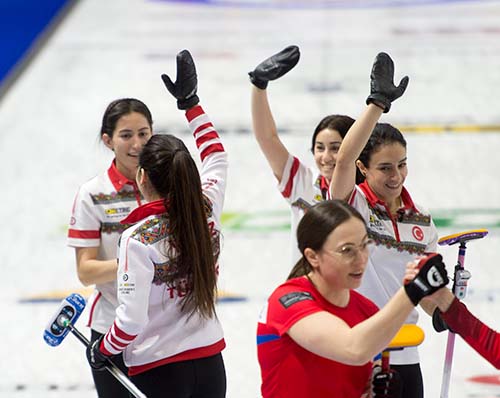 "We're playing well. We'll just park this one."
Canada plays Team Germany in the morning draw Friday at 9 a/m/ and closes against Team Czech Republic at 7 p.m. (all times PT).
Two teams with their backs to the wall and desperate to stay in the race came up with big wins Thursday. Team United States, skipped by Cory Christensen, defeated skip Anna Hasselborg's Team Sweden 5-4, while Team Denmark, skipped by Madeleine Dupont, shaded Team Italy's Stefania Constantini 7-5.
The results improved Denmark and Team United States to 6-4 records and tied with Team Japan in fourth place and very much in the playoff hunt. Team Japan had the evening bye.
Despite the loss, Team Sweden, which already qualified for the playoffs, held on to second place with an 8-3 record.
Team Japan, skipped by Ikue Kitazawa, was idle Thursday evening, along with Switzerland, Germany and Norway.
It was a historic evening as Team Turkey, playing in its first world women's championship, won its first game. The Turks (1-9), skipped by Dilsat Yildiz, defeated skip Alzbeta Baudysova's Team Czech Republic (2-8) 7-5.
The 2022 BKT Tires & OK Tire World Women's Curling Championship continues Friday with draws at 9 a.m., 2 p.m. at 7 p.m.
Live scoring, standings and statistics for the 2022 BKT Tires & OK Tire World Women's Curling Championship are available by CLICKING HERE.
TSN and RDS2 will provide complete coverage of the 2022 BKT Tires & OK Tire World Women's Curling Championship. CLICK HERE for the complete schedule.
For ticket information for the 2022 BKT Tires & OK Tire World Women's Curling Championship, go to www.curling.ca/2022worldwomen/tickets/
This story will be available in French as soon as possible at www.curling.ca/2022worldwomen/nouvelles/?lang=fr