Third seed!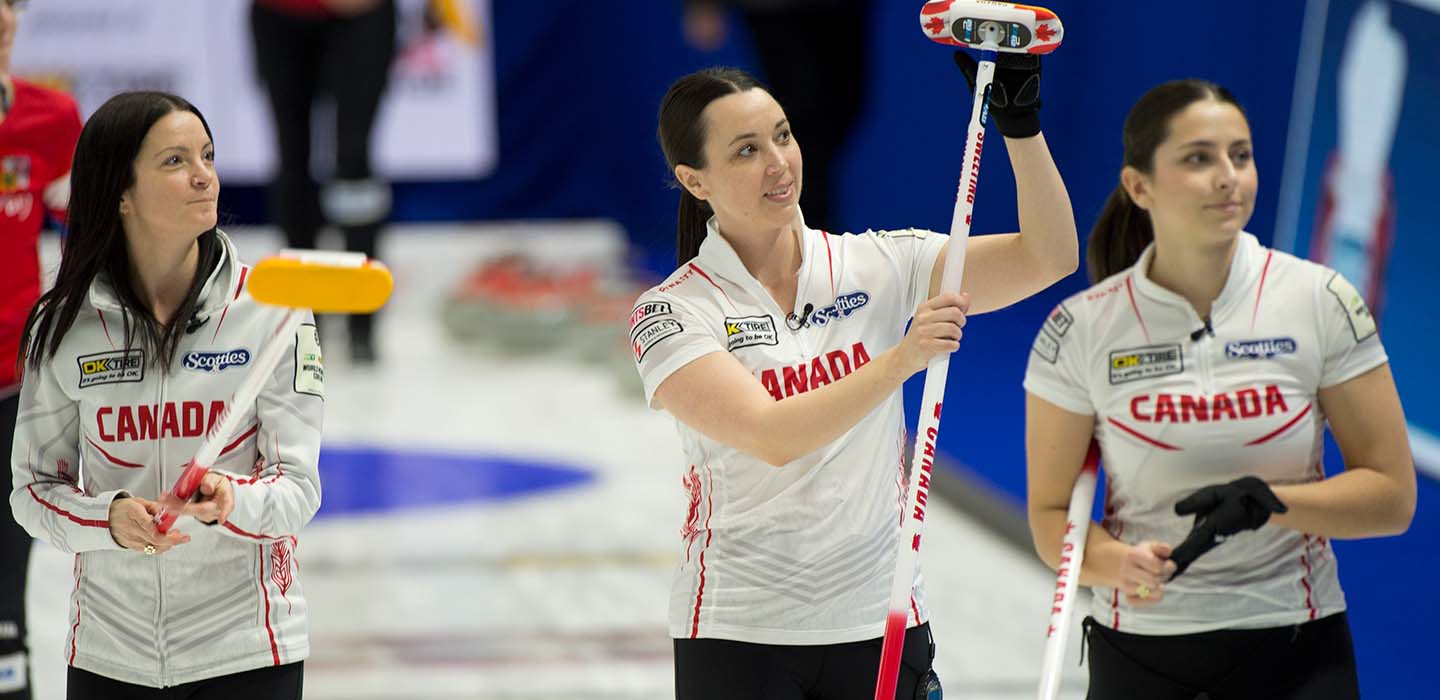 Team Canada takes third in close tiebreaker for playoff bye
Tiebreakers can be cruel in sports, but they will not be a deterrent for skip Kerri Einarson of Team Canada after being mere centimetres away from a bye in the playoffs at the 2022 BKT Tires & OK Tire World Women's Curling Championship, presented by Nature's Bounty.
The 13-team, round-robin competition wound up Friday evening at CN Centre in Prince George, B.C., and when the smoke had cleared Team Canada was tied for second place with Team Sweden and Team South Korea.
All three teams finished with 9-3 records, requiring the tiebreaker process, and because they had finished 1-1 against each other, it came down to Last Shot Draw (LSD) measurements that were tabulated before each game this week. The LSD measurement is the average distance of all pre-game draws to the button (with the exception of the two furthest shots) used to determine the first-end hammer.
Canada missed out by a whisker — a mere quarter of a centimetre on average — and a first-round bye in playoffs. The top two teams – Switzerland and South Korea – earned passes into the semifinals of the six-team playoffs.
"The draw the button was pretty important, but it is what it is," said Einarson, who closed out her round-robin portion with a 9-6 win over Team Czech Republic (2-10), skipped by Alzbeta Baudysova in the evening draw. "We never take the easy route. We're better than last year. We're just happy to be in the playoffs."
Skip EunJung Kim's South Koreans, based on LSD, finished second, behind runaway leaders Switzerland, skipped by Silvana Tirinzoni, which ran the table to finish 12-0 and in the top spot. Her Swiss team is the first to go undefeated in the round robin since Canada's Jennifer Jones did so in 2018 at North Bay, Ont.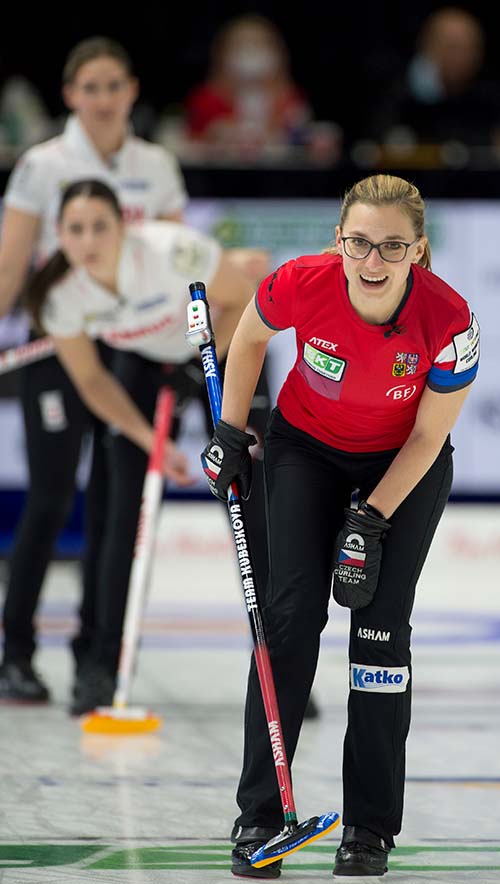 The Swiss never missed a beat, defeating Team Germany, skipped by Daniela Jentsch (5-7) by a score of 7-6.
Skip Anna Hasselborg's Team Sweden, which had the evening bye, remained tied with Canada at 9-3 but finished fourth overall by virtue of head-to-head record.
That means Einarson and her support staff — vice-skip Val Sweeting, second Shannon Birchard, lead Briane Meilleur, alternate Krysten Karwacki, team coach Reid Carruthers and national coach Renée Sonnenberg — will get to face skip Madeleine Dupont's sixth-ranked Team Denmark (7-5) in the qualification round Saturday at 1 p.m. (all times PT). Sweden will face the fifth-ranked Team United States, skipped by Cory Christensen (8-4), in the other qualification game.
The winners will go on to the semifinals at 7 p.m.
The final playoff placements were decided in the clash between the U.S. and Denmark on the final draw. The Americans grabbed fifth place with a 9-5 victory.
Team Canada needed a loss by South Korea to have any chance of finishing second, and that wasn't going to happen. Kim, whose team earned Olympic silver in 2018, scored early and often in a 10-2 win over Team Turkey (2-10) skipped by Dilsat Yildiz, making its world women's debut.
The Canadian win was important for placement — and momentum. No team wants to enter the playoffs following a loss.
"Ultimately we wanted to finish the round-robin strong," said Sweeting. "We got off to a good start and the girls had a good handle on the ice. We were waiting to see where we would wind up and we're super happy with where we're sitting. One extra game to play before a super crowd here so we're excited about that."
Two teams were forced to drop out of the tournament during the week over COVID virus concerns. Team Scotland played two games and pulled out last weekend, while Team Japan withdrew from its final game on Friday afternoon.
Live scoring, standings and statistics for the 2022 BKT Tires & OK Tire World Women's Curling Championship are available by CLICKING HERE.
TSN and RDS2 will provide complete coverage of the 2022 BKT Tires & OK Tire World Women's Curling Championship. CLICK HERE for the complete schedule.
For ticket information for the 2022 BKT Tires & OK Tire World Women's Curling Championship, go to www.curling.ca/2022worldwomen/tickets/
This story will be available in French as soon as possible at www.curling.ca/2022worldwomen/nouvelles/?lang=fr