Crushing defeat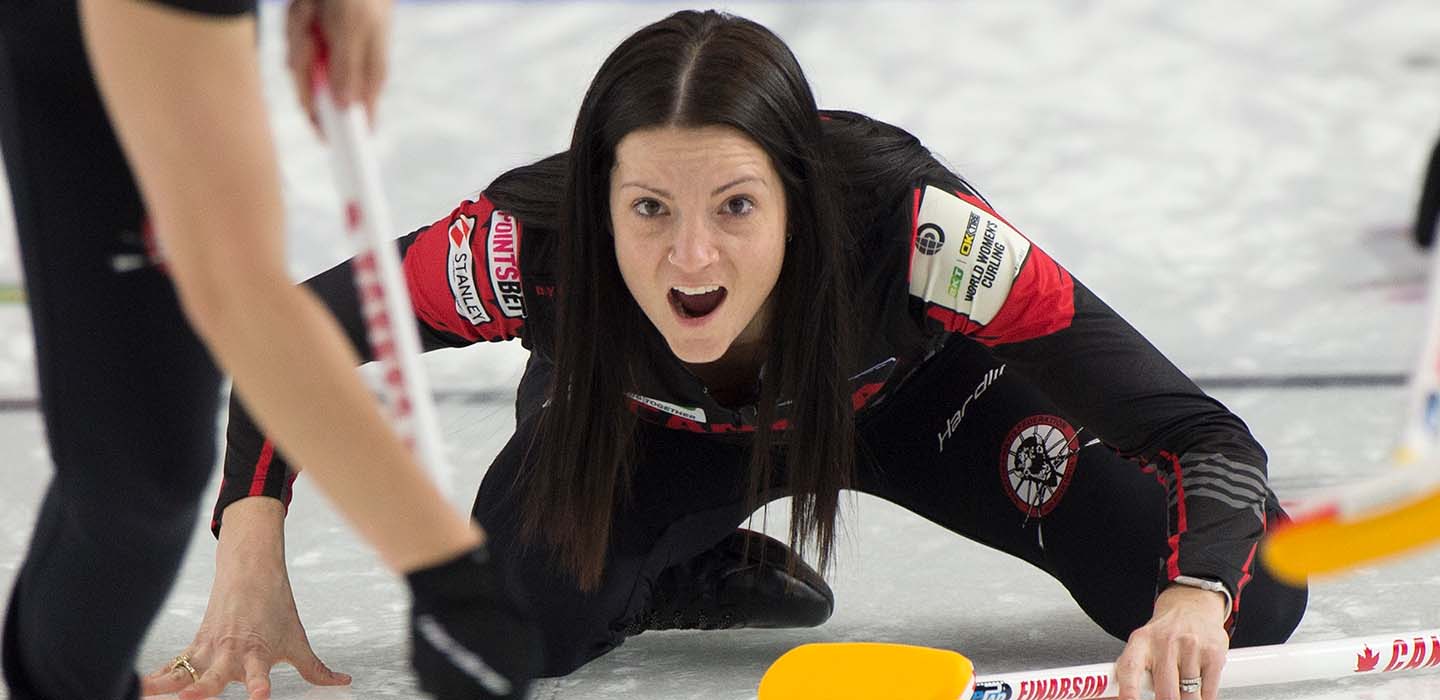 Team Canada lets win slip from fingers at BKT Tires & OK Tires World Women's Championship
Team Canada's bid for a world women's curling championship came to a screeching halt Saturday, and the anguish was apparent on the faces of the team it was all over.
The Canadians, skipped by Kerri Einarson, who had played so well at the 2022 BKT Tires & OK Tire World Women's Curling Championship, presented by Nature's Bounty, in Prince George, B.C., saw their gold-medal dreams go 'poof' in a heartbreaking 9-6 loss to Team South Korea's EunJung Kim in one of two semifinal games at CN Centre.
It was a bitter loss for the Canadians who rolled through the 13-team round robin with a sparkling 9-3 record and had a boisterous Canadian crowd cheering their every shot.
But it wasn't enough and the Canadians will have to play for a bronze medal on Sunday morning in British Columbia.
The South Koreans, who also defeated Team Canada in the round robin, will play for gold against two-time defending champions from Switzerland. The Swiss, skipped by Silvana Tirinzoni, defeated Team Sweden, skipped by Anna Hasselborg, 7-5 in the other semifinal. It was a rematch of their bronze-medal game at the Olympics, won by Sweden. Switzerland stole a point in the 10th end after Sweden's draw ran heavy to secure the win.
The bronze-medal game goes at 11 a.m. and the gold-medal final at 4 p.m. (all times PT).
The Canadians will need to regroup and focus on the bronze-medal game. A win would snap a medal dry spell for Canada at the world women's event. Team Canada hasn't won a medal since 2018 in North Bay, Ont., when Jennifer Jones won the gold medal.
Einarson, who is supported by vice-skip Val Sweeting, second Shannon Birchard, lead Briane Meilleur, alternate Krysten Karwacki, team coach Reid Carruthers and national coach Renée Sonnenberg, said her team will come out firing Sunday.
"We've lost tough games before and come back strong," she said. "We'll just have to park it (loss) and go for the bronze medal tomorrow."
The game was a replay of their round-robin game won by Kim, who is backed by vice-skip KyeongAe Kim, second ChoHi Kim, lead SeonYeong Kim, alternate YeongMi Kim and coach MyungSup Lim. Canada and South Korea swapped points, missed opportunities and some big shots until Canada finally jumped into the lead late in the game.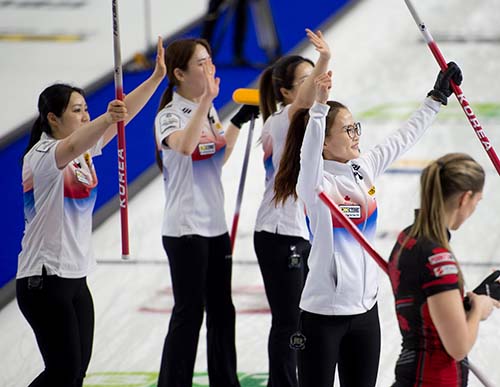 Team Canada's three in the seventh end to go up 6-4 looked like it would be the difference Saturday, but South Korea, just like it had in the round-robin win over Canada came back, scoring two in the eighth and stealing one in the ninth to go up 7-6.
The Canadians played an untidy 10th end and all that was left for Einarson was a long raise double on her own rock for two and the win, but she crashed on a front stone and their fate was sealed.
"I had a shot to win. It was extremely difficult," said Einarson.
Sweeting was crestfallen after the loss.
"It sucks to give away another game," she said. "We fought really hard that game and gave ourselves a really good chance, and ultimately too many misses at the end of the game. Ultimately we just let it kind of slip away."
The Swiss, meanwhile, has a ready answer to why they keep getting to the podium.
"We're working [especially] hard," said Tirinzoni. "We get along very well. I'm so proud how over those four years we became such a strong team. We do a lot of things right." 
Tirinzoni and her team have an opportunity to become the first to win three consecutive gold medals at a world women's curling event when they take on South Korea in the gold-medal game. Meanwhile, South Korea is aiming to win the first-ever gold medal for its country at a world curling championship.
Live scoring, standings and statistics for the 2022 BKT Tires & OK Tire World Women's Curling Championship are available by CLICKING HERE.
TSN and RDS2 will provide complete coverage of the 2022 BKT Tires & OK Tire World Women's Curling Championship. CLICK HERE for the complete schedule.
For ticket information for the 2022 BKT Tires & OK Tire World Women's Curling Championship, go to www.curling.ca/2022worldwomen/tickets/
This story will be available in French as soon as possible at www.curling.ca/2022worldwomen/nouvelles/?lang=fr