World men's opens Saturday!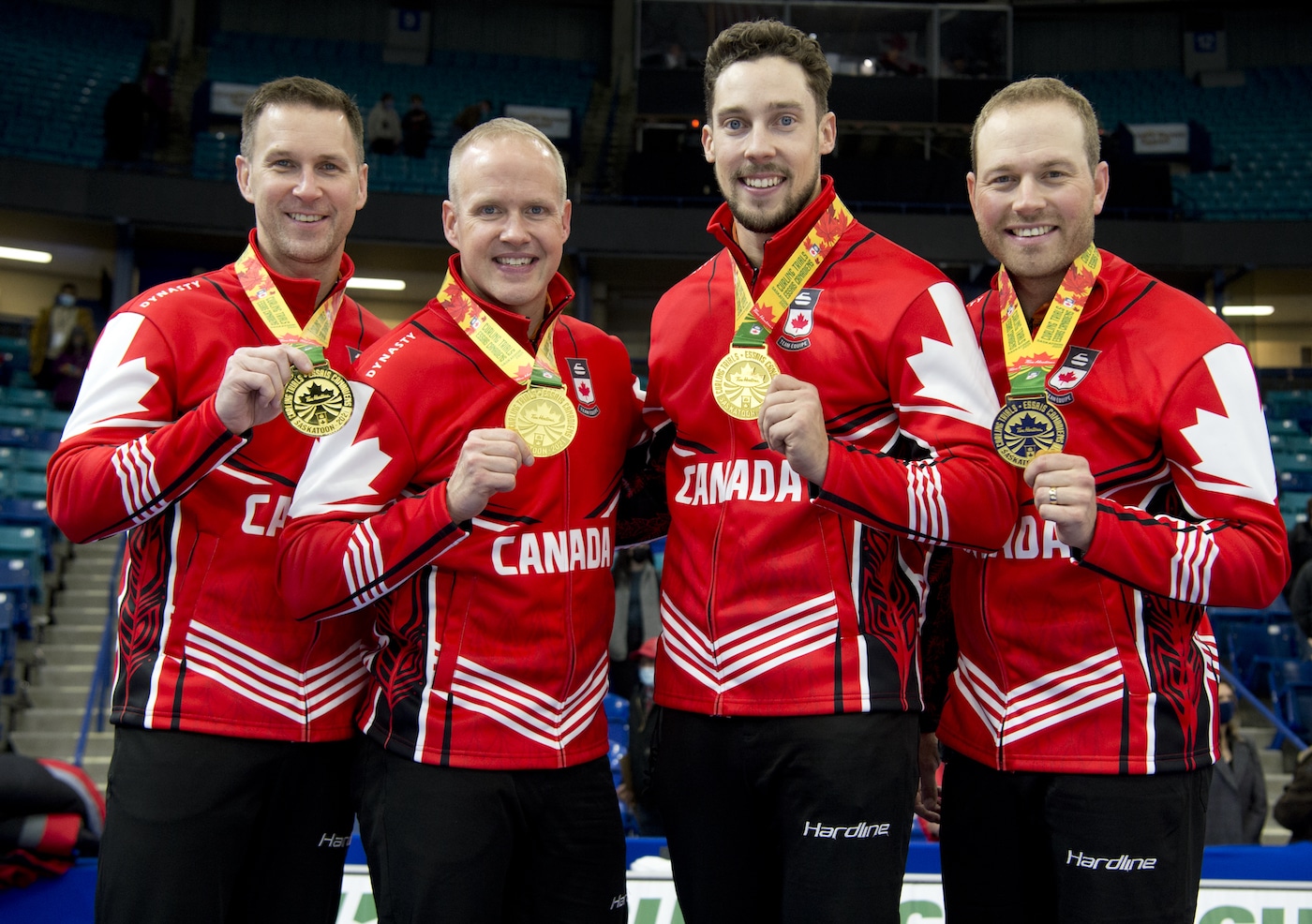 2022 LGT World Men's Championship starts Saturday in Las Vegas
It will be a full Team Canada lineup that takes to the ice on Saturday afternoon at Orleans Arena in Las Vegas for the first draw of the 2022 LGT World Men's Curling Championship, presented by New Holland.
Just around three weeks after winning an unprecedented Tim Hortons Brier, presented by AGI, title in Lethbridge, Alta., with a three-man lineup in the playoffs, Team Brad Gushue will be back to full strength in Las Vegas as it prepares to represent Canada for the third time in the past six years (it would have been the fourth time had the COVID-19 pandemic not forced cancellation of the 2020 world men's championship).
Gushue, second Brett Gallant and lead Geoff Walker will welcome vice-skip Mark Nichols back to the lineup after he was forced to isolate in his hotel room when he tested positive just before the team's first playoff game in Lethbridge.
Team Canada will be rounded out by alternate E.J. Harnden, team coach Jules Owchar and national coach Jeff Stoughton as it attempts to add to an already wonderful season that included winning the Tim Hortons Canadian Curling Trials, presented by AGI, in November in Saskatoon and claiming an Olympic bronze medal in Beijing last month before its historic Tim Hortons Brier victory.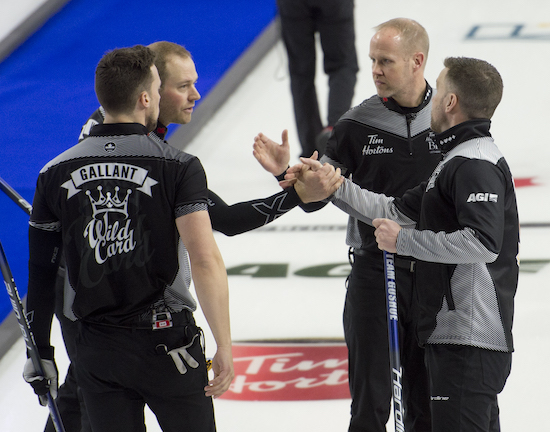 Canada plays its opening game in Las Vegas Saturday at 2 p.m. (all times Pacific) against a Czech Republic team skipped by Lukas Klima and coached by two-time Tim Hortons Brier and world men's champ Craig Savill.
Later Saturday, Canada will take on Norway's Magnus Ramsfjell at 7 p.m.
It will be Team Gushue's second trip to Las Vegas for a world men's championship; four years ago, Team Gushue captured the silver medal at Orleans Arena, falling to Sweden's Niklas Edin in the gold-medal game.
A year earlier, at Edmonton, the same two teams met for the gold medal, with Team Gushue prevailing — Canada's most recent world title.
Edin's Swedes will also be back in Las Vegas, seeking to capture their fourth consecutive world championship after victories in 2018, 2019 at Lethbridge and last year in the bubble in Calgary.
Other competing countries are Denmark (skipped by Tobias Thune), Finland (skipped by Kalle Kiiskinen), Germany (skipped by Sixten Totzek), Italy (skipped by Joel Retornaz and featuring Olympic mixed doubles gold-medallist Amos Mosaner throwing third rocks), the Netherlands (skipped by Wouter Goesgens), Scotland (skipped by Kyle Waddell), South Korea (skipped by Chang-Min Kim), Switzerland (skipped by Yannick Schwaller) and the home-country hopefuls from the United States, skipped by Korey Dropkin.
It will be the 63rd edition of the world men's championship; Canada has won a leading 36 world men's titles, and Canadian teams have reached the podium 54 times in those 62 previous world championships, collecting 11 silver and seven bronze to go along with the gold medals.
The 2022 LGT World Men's Championship will feature a 13-team field. Round-robin play will run through to Friday, April 8, with the top six teams making the playoffs; no tiebreakers will be played, so ties for playoff spots will be broken based on head-to-head results, and if that doesn't resolve the tie, then the pre-game Last-Shot Draw distances.
The top two teams from round-robin play will be seeded directly into the semifinals on April 9, while third will play sixth and fourth will play fifth in the qualifying-round games earlier on April 9.
The winners of the qualifying-round games will advance to the semifinals. The semifinal winners will play for gold on April 10 at 5 p.m., with the semifinal losers battling for bronze on April 10 at noon.
TSN/RDS2, the official broadcast partners of Curling Canada's Season of Champions, will provide live coverage of Canada's round-robin games, in addition to all playoff games. CLICK HERE for their complete broadcast schedule.
The list of teams, schedule information and live scoring can be found on the event website, worldcurling.org/events/wmcc2022/