Still perfect!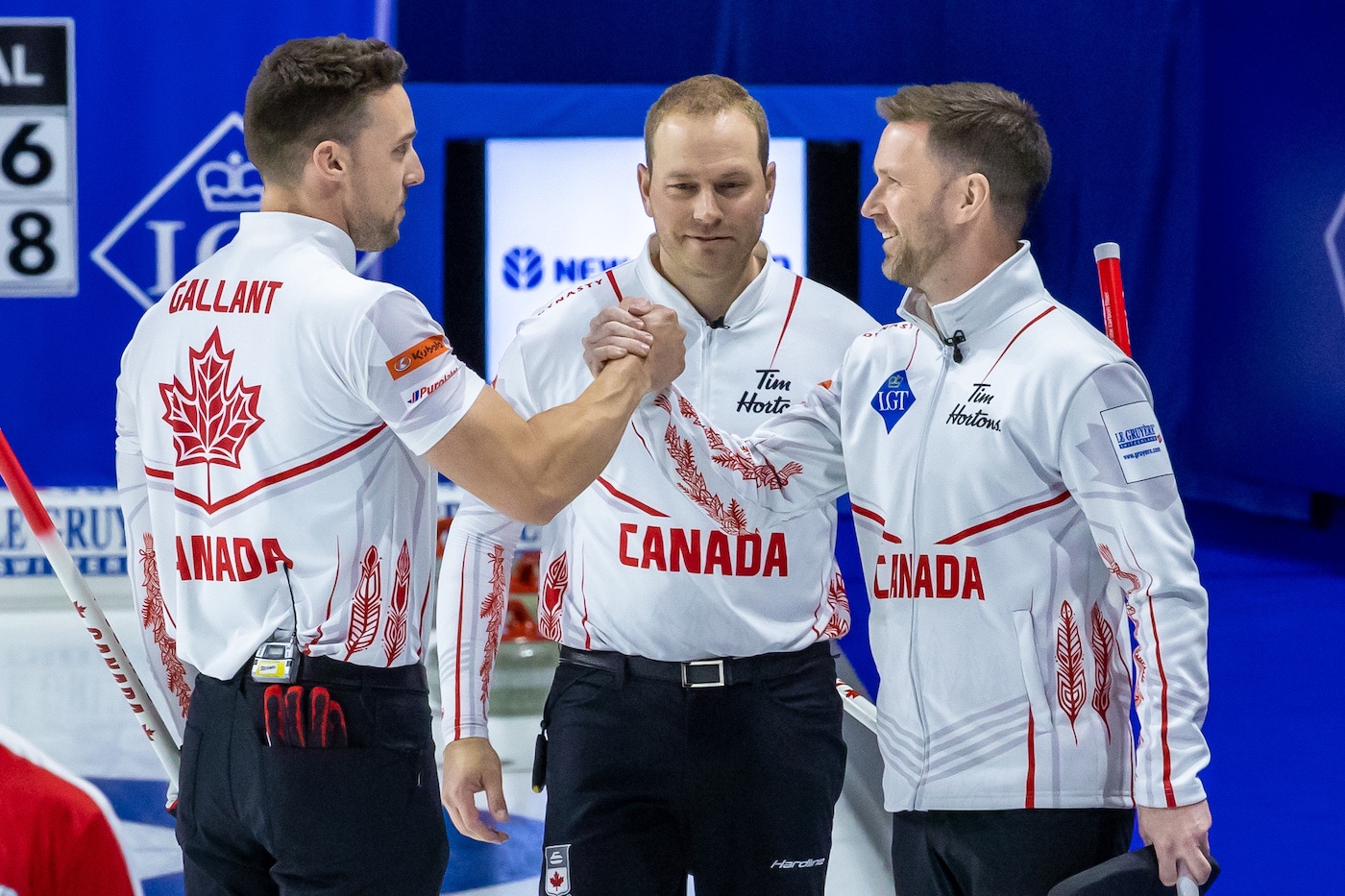 Team Canada completes opening weekend with leading 4-0 record in Las Vegas
A grinding 39 ends of curling has taken a toll on Team Canada at the 2022 LGT World Men's Curling Championship, presented by New Holland.
But considering the four victories that hard work produced, leaving Brad Gushue and his team from St. John's, N.L., (vice-skip Mark Nichols, second Brett Gallant, lead Geoff Walker, alternate E.J. Harnden, team coach Jules Owchar and national coach Jeff Stoughton complete the lineup) alone on top of the standings, it was certainly worth it.
A 10-6 win over Switzerland's Team Yannick Schwaller Sunday night at Orleans Arena in Las Vegas completed a perfect opening weekend for Team Canada, and left the Tim Hortons Brier champs alone on top of the 13-team round-robin standings.
And like the three previous victories, this one didn't come easily.
"We put ourselves behind the 8-ball, but you just keep putting pressure on them, trying to make them make shots," said Nichols. "We were very lucky in the fourth end there to get a break and it kind of turned the momentum."
Schwaller, vice-skip Michael Brunner, second Romano Meier, lead Marcel Kaeufeler, alternate Simon Gloor and coach Bernhard Werthemann jumped out to an early 4-0 lead, taking three in the first and stealing a single in the second.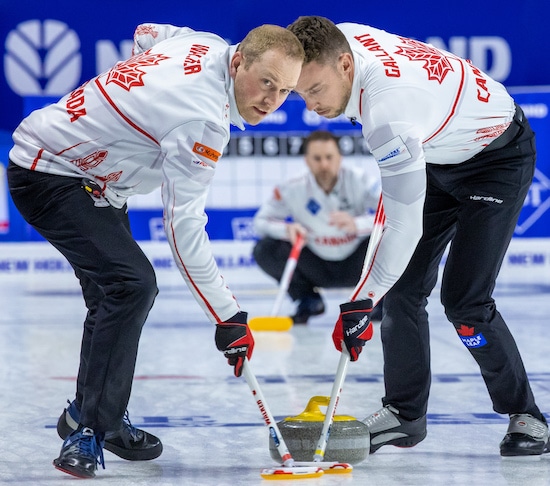 After a blanked third end, Canada was in tough in the fourth end to generate a deuce to get back into the game until a massive miss by Schwaller on his final shot when his takeout attempt jammed and rolled out, leaving Gushue an out-of-the-blue open hit for a game-tying four.
That lit a fire under Team Canada, who forced the Swiss to a single in the fifth, and put deuces on the scoreboard in the sixth and eighth ends — the latter thanks to a wonderful tap by Gushue on a mostly buried Swiss stone biting the button.
Switzerland conceded after Canada stole two in the ninth.
"We just beared down and tried to get as much out of the game as we could," said Gushue of his team's approach when it went down by four. "We've had that happen so many times as a team and most times we get it down to last rock. It's such a big hole and you're just hoping maybe to make him draw the four-foot at the end of the game or something like that. Obviously the miss he had in four really put us back in the game and gave us a chance to win. And then we executed so well after that. I think we felt a little bit more comfortable, and I think the intensity ramped up a little bit and that led to some more shots being made."
Canada was the only team to play four times on opening weekend, and will play one-game days Monday and Tuesday — both at 2 p.m. (all times Pacific).
"I'm really tired," said Gushue, whose team takes on Italy's Team Joel Retornaz (2-1) on Monday. "Everything we've gone through this last little bit and then playing two-game days back to back at a world championship with the intensity here, it's fatiguing. So having two days where we have one game a day, that's going to help."
And, of course, having a perfect record from the opening weekend — the only team to escape the first two days unscathed — will help ease the aches and pains.
"4-and-0? I'm very thrilled," said Gushue. "I only practised four times between the Brier and here, so I was a little concerned that the rust might catch up to us or we might not be as sharp. But we got through it. Lots of big games left, but 4-and-0, we couldn't ask for much more."
In the other games Sunday night, Italy was a 10-7 winner over Finland's Team Kalle Kiiskinen (2-1); Team Sixten Totzek of Germany cruised to an 8-3 victory over Team Korey Dropkin of the U.S.; and Norway's Team Magnus Ramsfjell (2-1) downed Team Kyle Waddell of Scotland (1-2) 7-4.
Team Lukas Klima of the Czech Republic (1-2), Denmark's Team Tobias Thune (1-2), South Korea's Team Soo-Hyuk Kim (1-2), Team Niklas Edin of Sweden (1-2) and Team Wouter Gosgens of the Netherlands (0-3) all had byes on Sunday night.
For Team Canada updates, go to www.curling.ca. Follow us on Twitter, Instagram and Facebook.
TSN/RDS2, the official broadcast partners of Curling Canada's Season of Champions, will provide live coverage of Canada's round-robin games, in addition to all playoff games. CLICK HERE for their complete broadcast schedule.
The list of teams, schedule information and live scoring can be found on the event website, worldcurling.org/events/wmcc2022/