Back for more!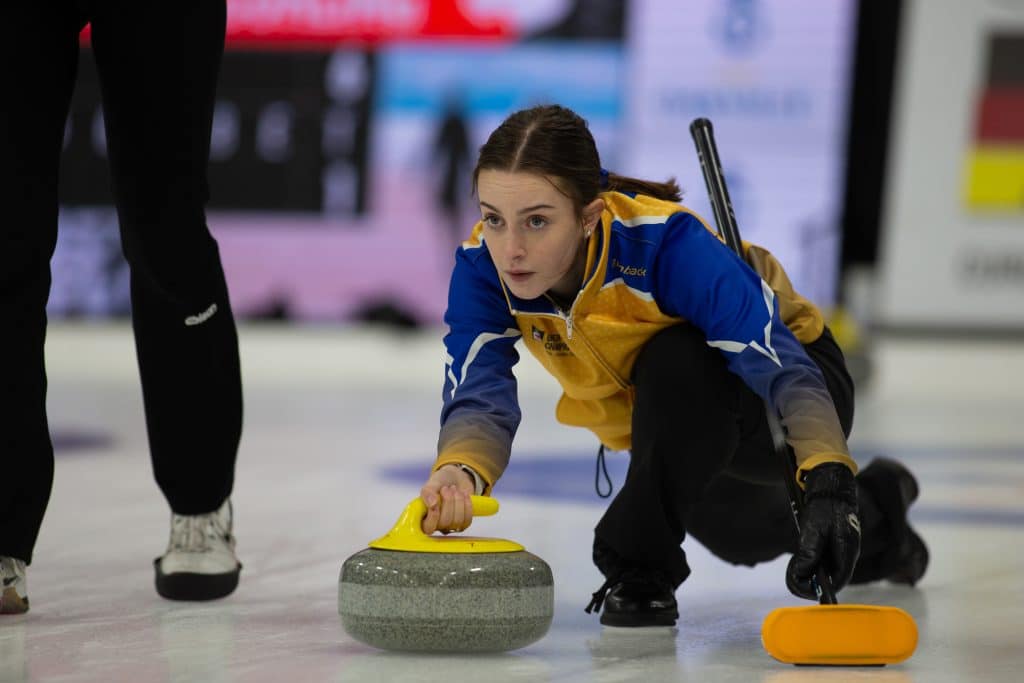 For the second time in just over a month, Claire Booth is earning wins on the national stage in Alberta blue and gold
Alberta's Claire Booth has already had quite a season.
Her and her Calgary Curling Club rink of third Kaylee Raniseth, second Raelyn Heston, lead Kate Ector and coach Deryk Kuny have been travelling quite a bit in the last month in the name of representing the wild rose province.
And while they're in Oakville, Ont., representing Alberta #2 at the 2022 Canadian Under-18 Girls Championship right now, it was just a few short weeks ago they were in Stratford, Ont., representing Alberta #2 once again at the 2022 New Holland Canadian Junior Women's Championship.
They did a little better than just representing however; they finished the event on the podium, earning themselves a bronze medal at the U21 event.
It certainly bodes well for their chances here at the U18 iteration of the Canadian girls championship and they recognize that their experience in Stratford may win them the day as they've already cemented their spot in the championship playoff bracket of the 2022 U18 championship, beginning Friday.
"The week is a grind. We know it," said Booth. "But we're ready for it."
Alberta #2 finished their round robin on Thursday afternoon taking on Ontario #2's Charlotte Johnson (3-3; London) in draw 17 and continued their winning ways with a tidy 6-5 win over the home province representatives.
The offence was firing early for Booth and Alberta #2, who set the tone with a blank in the first end and followed it up with a score of three in the 2nd.
"We had a pretty strong start with a great team shot for three," said Booth after the win. "Just a really good game all around. We stayed with it and never gave up, so that's really nice."
Booth would earn the early lead and never trail in the match, playing keen defence and eventually not needing to throw their final stone in the eighth end.
Despite their obvious success at the U21 Canadian Juniors this year, Booth is staying focused on the task at hand at this U18 event.
"We're always going to play hard," said Booth. "We had a great run in Stratford and we kind of surprised ourselves with the results. Nothing is ever a given so we gotta keep grinding it out and keep pushing."
And despite not winning their provincial championship to earn a berth in either the U21 or U18 Canadian events, Booth isn't letting that undermine their goals of winning on a national stage.
"It's a little different, I guess, not winning and getting the heart," said Booth. "But we worked so hard all year to get the second berth based on points. You just have to keep representing. It's different but it's still nice."
Alberta #2 sits in the interim top spot in girl pool B with only Nova Scotia's Sophie Blades (4-1; Chester) able to usurp their spot. Blades will need a win over Northern Ontario #1 this evening to catch and pass the Alberta #2 rink.
The final draw of the round robin is set to go this evening at 8:30 p.m. (all times eastern), with the playoffs beginning Friday morning at 8:30 a.m.
The top three teams of all pools will earn a berth in the championship bracket and be in podium contention. Teams outside the top three spots in their pool will be funneled into a championship consolation bracket, as well as additional B1, B2, C1 and C2 playoff style brackets based on their record to ensure every team, no matter their record, gets a taste of playoff style bracket play all while determining conclusively their final ranking in the national event.
For teams, results, schedules, pool standings, live-streaming schedule and other event information, CLICK HERE.